Sunday, 29 September 2019
Wainsgate Concert: ME and Deboe
On Saturday 5 October
3pm, doors open at 2.30pm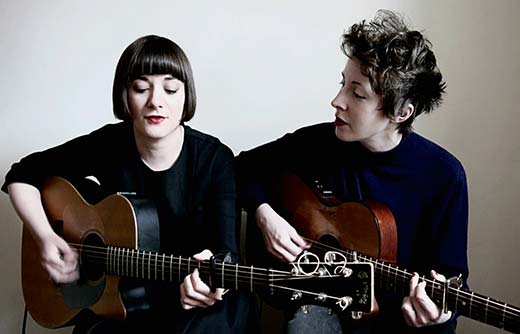 The Wainsgate summer concert series continues into October with the excellent Chester-based acoustic duo ME and Deboe making a welcome return to Wainsgate Chapel, having kicked up a veritable musical storm there back in 2013.
A simple combination of two voices and two guitars make up ME and Deboe: a cocktail of infectious rhythms, haunting melodies and clever lyrics is the potent and satisfying result. Liverpudlian Sarah Deboe and Mercy Elise, whose roots are in Halifax, move effortlessly between powerful chords and delicate, percussive riffs to bring a stripped-back and distinctly original sound to both their own music and to some well-chosen covers.
ME and Deboe have effectively been on a non-stop live tour over the last few years, bringing their unique brand of energetic acoustic music to audiences across Europe and America. As Tom Robinson said of them on BBC Radio 6: "There are no tricks here…the duo's driving riffs and sumptuous vocal harmonies are effortlessly intertwined to devastating effect…"
ME and Deboe will be performing at 3pm with doors opening at 2.30pm when the licensed bar will also be open. Tickets for the concert which are only available at the door, cost ££10 and £8 concessions, with a special £3 ticket for under 18s.
Forthcoming concerts
The final concerts in the 2019 Wainsgate series are Morecambe's Deep Cabaret (20th October) and a performance-poetry event with Clare Shaw and Ian Humphrys (19th October).
There is further information about all these events plus details about how to get to Wainsgate Chapel at www.wainsgate.co.uk