Tuesday, 15 October 2019

Win tickets to see The Rails at the Trades Club
On Thursday 24 October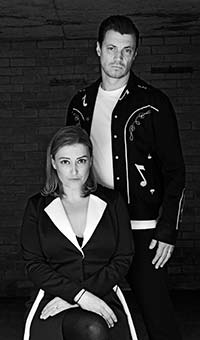 The Rails are on the road promoting their third album Cancel The Sun, and HebWeb readers can win a pair of tickets for their gig at the Trades Club on Thursday 24 October.
The Rails are Kami Thompson, who is part of the legendary folk-rock dynasty headed by her father Richard, and her husband James Walbourne who also tours with The Pretenders.
This time round they are touring with a band to plug their new album which is using a much wider musical palate than their first two albums.
"I think if you ask most touring bands going up and down England I'd say 90% would say the Trades is their favourite spot," notes Kami. "We love the way it is run, you always feel welcome and the crowds are great. It's such a beautiful part of the word and it is a highlight of any tour."
To win a pair of tickets all you have to do is tell the HebWeb the name of their debut album. Send your entries to the HebWeb by midday on Tuesday 22 October.
Email your answers by 12 noon on Tuesday, 22 October.
Email your answers to the HebWeb