Wadsworth Parish Council Civic Chain is missing!
Tuesday, 29 October 2019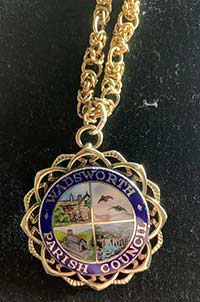 The civic chain of office belonging to Wadsworth Parish Council has been lost and a reward is offered for its safe return.
The chain which is believed to be in its box, was lost at around 9.30 pm on 27th August 2019. The black square box containing the chain was either left in the council chamber at Hebden Bridge Town Hall or dropped between the Town Hall and the Market Place car park on Hangingroyd Lane.
The chain is made of silver gilt and has the same medallion as the one shown in the photograph, which is taken from the partner's chain. There is a double chain holding forty tablets each engraved with the names of past Chairpersons.
Anyone knowing the whereabouts of the chain are requested to return it by contacting Mr David Bell the current Chairman of Wadsworth Parish Council on 01422 842597.
A reward will be made to the person returning the chain.