Town Council grants available to support 'Green' community projects
Friday, 1 November 2019
Each year Hebden Royd Town Council welcomes applications from community groups to apply for a financial grant from the Council's Community Funding Budget to support projects, activities and events that benefit the residents of Hebden Royd.
Having declared a Climate Emergency in March 2019, Hebden Royd Town Council recognises the serious threat posed by climate change and the need to initiate and support projects which protect the environment and reduce our carbon footprint. The Community Grants Committee therefore welcome, and will prioritise, such projects.
Adrian Horton of Slow the Flow Calderdale, said: "Hebden Royd Town Council recently awarded a grant to Slow The Flow Calderdale to part fund our new Opportunity Mapping Project in Mytholmroyd. This mapping exercise identifies realistic locations on a field / street level of detail, where residents, businesses and organisations in Mytholmroyd can contribute to flood alleviation through natural / sustainable interventions. (See HebWeb News, 18 Oct)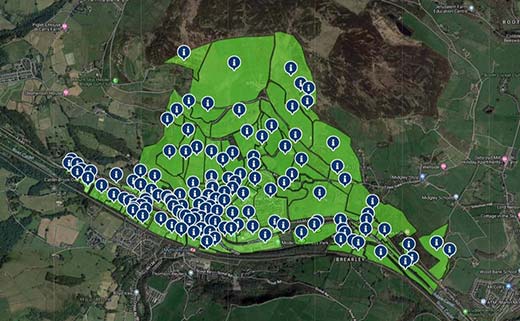 "Climate Change is now the single most important challenge we face around the globe and as such, the community, as well as Government, has a responsibility to reduce the many impacts of Climate Change. This Grant has enabled us to open up dialogue with land owners and householders and make suggestions as to how they can make a positive contribution to flood risk and surface water reduction."
Cllr Scott Patient, chair of the Climate Emergency Committee, said: "Slow the Flow have been instrumental locally in encouraging the community to help make the valley more flood resilient. Their excellent work in Hardcastle Crags has seen hundreds of volunteers stuffing gullies and building leaky dams. This new project takes it one step further, to Mytholmroyd, still very much picking up the pieces from Boxing Day 2015, this mapping identifies ways we can pull together as a community and use our homes, gardens and land to slow the flow."
Completed applications for grants will be submitted to the next available meeting of the Community Funding Committee. The submission deadlines for this are: 1st December 2019 and 1st February 2020.
Need help with your funding applications? You will find us friendly, approachable and interested in all the many and varied activities going on in the Hebden Royd area. If you are unsure whether your group or project is eligible to apply, please contact the Town Clerk, Jason Boom on 01422 842181 or email for an informal chat, and to discuss your application.