Grace Petrie announces special fundraiser for Labour
Monday, 4 November 2019
Hope Baptist Chapel
Saturday 9 November 7-11pm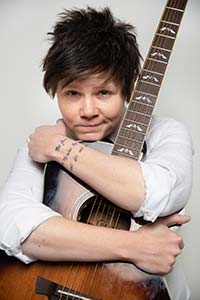 Protest singer and folk songwriter Grace Petrie has announced a special fundraiser at Hope Baptist Chapel supporting Josh Fenton-Glynn who is Labour's candidate in Calder Valley at next month's General Election.
Grace's gig on Saturday 9 November comes after only a year after she played a sell-out gig at Hope Baptist and she was booked after issuing an invitation on social media to play benefit gigs in key marginal seats like Calder Valley that Labour are fighting to win.
"When Grace said she was looking to play benefit gigs in marginal seats like Calder Valley where we are battling hard to overcome a majority of just 609 votes, I tweeted her immediately," says Josh Fenton Glynn. "I'm delighted to say she agreed, and given Grace sold out last time she was in Calder Valley tickets are already selling fast, so I wouldn't delay in booking.
"Grace has been singing songs about the damage the Conservatives have done to communities like Calder Valley since 2010 and she is really putting her money where her mouth is by agreeing to raise some much-needed funds for our campaign."
Over the last decade Grace has won herself a huge fan base from across the folk, punk, comedy and alternative scenes thanks to her honest songwriting and relentless touring.
Last year she released Black Tie, an ode to self-expression that quickly became a queer anthem that cemented her place as one of the most important songwriters and activists of her generation.
Earlier this year Grace was the special guest on a UK arena tour supporting Frank Turner who had been impressed by her debut album 'Queer as Folk', and she is currently providing tour support for Emmy winning comic Hannah Gadsby. Grace has also appeared in Radio 4's The Now Show, recorded a Radio 2 in session for Jo Whiley, and has been a contributor to the hugely popular Guilty Feminist Podcast.
Support comes from hotly tipped local performer Isaac Hughes-Dennis who describes himself as a politi-folk comedy musician who combines eloquent wit, upbeat tunes and bold political statements.
Armed only with his trusty ukulele and a razor-sharp wit Isaac has already supported big name comics including Lucy Beaumont, Jon Richardson, Mickey P Ker, and Tez Ilyaz in the Victoria Theatre and the Square Chapel. Isaac has been a regular at the Hope Baptist's Saturday afternoon acoustic sessions and last year released his debut album 'Welcome to the Revolution'