Save the 589 bus service
Saturday, 23 November 2019
There is anger throughout the Upper Valley at the decision of First Bus to cut the 589 bus service from 8 December.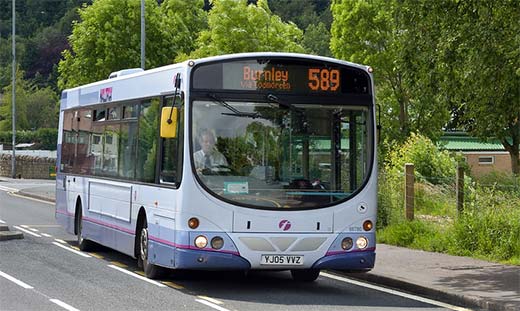 An online petition has already attracted nearly 1000 signatures, by early Saturday morning.
Due to the closure of Calder High, Sowerby High and Todmorden 6th forms, many students are travelling to Burnley College. This change means that students will have to get the 6.44 bus in the morning and may not get back into Hebden Bridge or Mytholmroyd until after 7pm in the evening.
What follows is a letter to the HebWeb from all 9 Calderdale councillors of the Upper Calder Valley. In the 24 years of the HebWeb, few issues have seen such unity among our local representatives.
This is a joint letter from Upper Valley councillors re the proposed cancellation of the 589 bus service that affects a lot of people up and down the valley.

In the past few days councillors from the Todmorden, Calder and Luddendenfoot wards have been inundated with calls and e-mails from people concerned about the impact of plans to stop the 589 service between Todmorden and Burnley.

This will affect many who need public transport the most - school and college students, parents with young children and people travelling to Burnley for work every day.

For example, everyone in Cornholme, just two miles from Todmorden town centre - this now means just one bus an hour. How will people access the basic services they need like shops and healthcare with such an inadequate 'service'?

This decision is particularly inexplicable as the service is well-used and usually crowded.

However It is happening because First Bus is currently for sale and systematically getting rid of or reducing its "least profitable" routes, putting profit before people.

Local councillors have already raised the issue with the operators and will lobby the West Yorkshire Combined Authority. However due to the bus privatisation introduced almost 35 years ago by the then Conservative Government the final decision still rests with the operator.

Whilst we are trying to encourage more people to travel by bus or train to reduce emissions and tackle the climate emergency, actions like this loss of vital public transport actually forces people back into their cars and onto the roads, possibly having to make up to 4 extra journeys per day. For those without transport it leaves them socially isolated and stranded unable to easily get to work or school

Under our new manifesto Labour has pledged to give all councils powers and resources to take bus services back under local control. Under 25s would get free bus travel, much needed for those struggling to pay fares.

Think carefully about how you vote

Scott Patient, Roisin Cavanagh, Jane Scullion (Luddendenfoot ward)

Josh Fenton-Glynn, Sarah Courtney, Dave Young (Calder ward)

Silvia Dacre, Steve Sweeney, Susan Press (Todmorden Ward)

Your Upper Valley Councillors
---
Sign the petition: Save Our Bus Service