Slow the Flow win Community Foundation Award
Thursday, 5 December 2019
Slow The Flow have told the HebWeb that they are absolutely delighted to win this year's Community Foundation for Calderdale Award for 'Best New Charity' at the recent award ceremony at The Venue in Barkisland.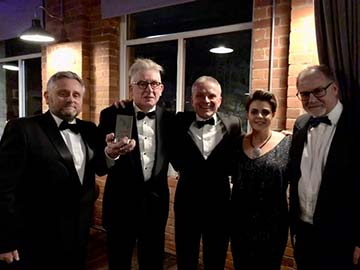 Adrian Horton from Slow The Flow said, "Climate Change is having a huge affect on the world's weather with warmer and wetter seasons. The increased flood risk is a direct result of climate change and unless we find ways of combating flood risk, it will only affect more and more communities like Calderdale.
"We all have a role to play in combating the effects and causes of climate change and it is one which Slow The Flow and the community in Calderdale are embracing very enthusiastically. This award is for all of our volunteers, over 400 of them, since we started in 2016."
Slow The Flow Calderdale continue their work in the Calder Valley. Visit www.slowtheflow.net for more info on how you can get involved.