Morning Star Election Special and Trades Club Benefit - update
Monday, 23 December 2019
Pete Lazenby has reported to the HebWeb that "We had a great afternoon at the Trades yesterday and raised £800 for the Morning Star fighting fund.
"Here's a couple of photos of performers the Sentimentalists, and the ukulele revolutionary from Todmorden Isaac Hughes-Dennis.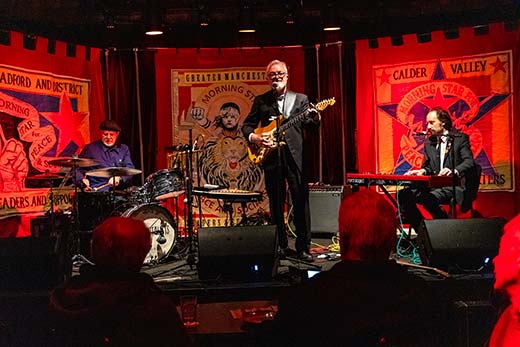 "They performed against the background of the banners of Morning Star support groups from Greater Manchester, Bradford and Calderdale. All the banners were created by Joan Heath, and the stage was bathed in red light for the performance."
---
Morning Star Election Special and Trades Club Benefit
Thursday, 5 December 2019
Morning Star Northern Reporter and Calder Valley resident, Pete Lazenby, has contacted the HebWeb with details of the Morning Star Election Special, and about a forthcoming fundraiser to be held at the Trades Club on 22 December.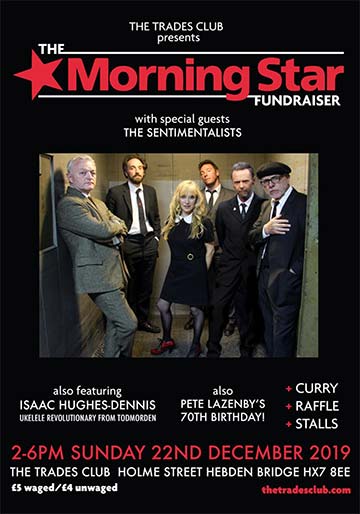 Pete told us, "Calder Valley supporters of national daily labour and trade union newspaper the Morning Star have been busy distributing a special free Election Special edition of the Morning Star which features first-hand reports of the effect of austerity on education in Calderdale - more than £39 million cut from school budgets, head teachers having to work as kitchen hands, gardeners and caretakers, cuts to Special Educational Needs and healthcare courses, and teachers having to take food to work to feed kids arriving without having eaten breakfast because their parents are too poor to feed them.
"Food banks in Calderdale are one of the few thriving aspects of social care, and expect to be at their busiest-ever over this year's festive season. Thanks for this dire situation must go to Calder Valley Tory MP Craig Whittaker for the contribution he and his government have made to the health, happiness and prosperity of our valley."
The Morning Star Election Special includes features by members of the Labour Party's shadow cabinet and national executive committee. And it's free.
If you can't get a copy from the usual outlets, email peterlazenby@peoples-press.com.
On Sunday afternoon, 22 December, from 2pm to 6pm, there'll be a gig at Hebden Bridge Trades Club to raise funds for the Morning Star.
Pete adds, "The paper's slogan is simple: 'For Peace and Socialism.' If you share those ideals please join us."