Protesting against school cuts
Saturday, 7 December 2019
On Saturday 7 December, heads, governors, parents were amongst those who took to the streets in the Calder Valley. They engaged with members of the public to highlight the "dire situation" of school funding by challenging the Government record on school funding.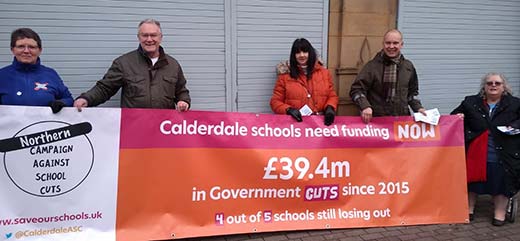 Sue McMahon, spokesperson for Calderdale Against School Cuts, told the HebWeb, "When heads can't afford to replace staff, when subjects are axed, when school leaders are forced to take on the role of site manager, midday supervisor, grounds maintenance, cleaner, supply teacher, it's clearly time to get the message out, that schools can't go on like this.
"As local authority services have also been cut, we no longer have any Educational Psychologists, if a school wants advice they have to be placed on a waiting list to see someone from Manchester. Many members of the public told us their concerns about the lack of funding for special educational needs. It was clear that Government austerity impacts on both individuals and public services. With so many services being cut, schools have had to become the fourth emergency service.
"We can't and won't tell anyone who to vote for, but we can and will present the facts."