Jon Richardson and Friends were at the Picture House
Monday, 9 December 2019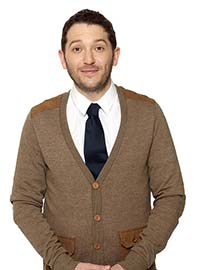 8 out of 10 Cats Does Countdown panelist and comedian Jon Richardson hosted a night of comedy at Hebden Bridge Picture House to raise money for Slow The Flow Calderdale.
Over 500 people crammed into the local iconic venue for an evening of humour and entertainment. Supporting Jon Richardson were some very talented comedians. They included Lucy Beaumont, Lloyd Langford, Nick Doody, Harriet Dyer and Danny Buckler and also included talented local performer Isaac Hughes-Dennis.
They all performed completely free to support the work of Slow The Flow to promote natural flood management and to continue to provide solutions to reduce flood risk in Calderdale.
Bede Mullen, Chair of Slow The Flow Calderdale said, "It was incredibly generous of Jon to put on this gig and to attract some very funny comedians to support him and help us raise a lot of money to continue our work to promote natural flood management.
"We are developing our programme for 2020 so this money will help hugely to support our ambitions for next year.
"Jon has been very generous in his support of us and other charities in Calderdale. We are privileged to have his support".
More info on the work of Slow The Flow Calderdale can be found at www.slowtheflow.net