Flood Alleviation Scheme for Hebden Bridge
Tuesday, 8 September 2020
The Environment Agency is working with Calderdale Council to design and build a Flood Alleviation Scheme for Hebden Bridge.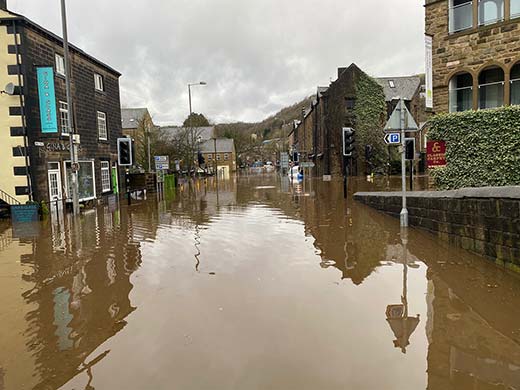 Hebden Bridge is at risk from flooding from rivers, the Rochdale Canal and surface water. It is located in a steep sided valley where three rivers meet – River Calder, Hebden Water and Colden Clough.
Hebden Bridge has had serious floods six times since 2000 and many smaller flooding events. See HebWeb reports of previous floods.
The Hebden Bridge Flood Alleviation Scheme (FAS) is currently being developed, led by the Environment Agency, to improve protection for 544 properties.
The scheme will consist of:-
Raising and strengthening river walls
Using glass panels and raising barriers to minimise any intrusion on river views
Improving protection to riverside properties
Installing a canal overflow
Improving the drainage of surface water with a series of gully systems and pumping stations Construction in Hebden Bridge is currently expected to start Summer 2021.
An interactive google map with more information about the work is being developed.  The map will enable the selection of a location to access a description and approximate duration of the work taking place. 
Consultations with local councillors and community representatives will provide further updates on progress of the scheme. The project team has also taken part in community forums such as the Hebden Bridge Business Forum and the Disability Access Forum to get feedback on proposals for the scheme.
The Environment Agency is also working with Yorkshire Water to investigate using reservoirs above Hebden Bridge to store water and help reduce flood risk.