Monday, 30 November 2020
Christmas Tree sales return to Hardcastle Crags
Buy a Christmas tree to help your local woodland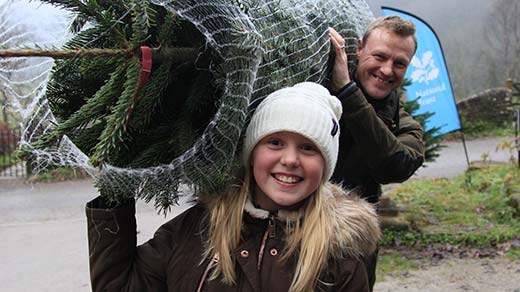 There's something special about bringing a real tree into your home at Christmas, and at Hardcastle Crags, every tree sold will help the trees growing in the surrounding woodland. The sustainably sourced, British-grown Christmas trees will be available to buy from the Midgehole Road car park on weekends from the 5th December, and the money raised will go back into looking after the woodland and wildlife.
National Trust Countryside Manager, Craig Best, said, "We're really pleased that we can hold our Christmas tree sales again this year and that so many people want to support the work we do for nature at Hardcastle Crags. Our rangers are working hard to create a sustainable woodland that benefits wildlife and ensures the trees are here for generations to come."
The Nordmann firs are available in a range of sizes, with sales from 9.30am – 3.30pm on the 5th, 6th, 12th and 13th December. Prices range from £40 – £57. All the sales take place outside and extra safety measures will be in place.