Rock on at the Trades

Monday, 11 May 2009

It's time to turn the amps up to 11 at the Trades Club as popular local rock band Revolver make a welcome return on Friday 22nd May.

Revolver played a sell out gig last year at the Club and since then have earned a solid reputation as the best live rock act in Calderdale building up a very loyal following.

Their set of carefully chosen covers range from soulful interpretations of Fleetwood Mac hits through to raucous versions of Stooges classics. Support on the night comes from Hebden Bridge's Electric Brains playing their mind melting indie-garage wig outs.

The Trades was a big supporter of the first Big Green Weekend last year so the concert room is being turned into a green space for the weekend.

On Saturday 23rd May the celebrations kicks off with the People Get Ready DJs. Badass DJs Johnny Boy, Dillinger P and Frank Panther play a heady mix of Motown, Northern Soul, Ska, Reggae and classic 70s hits celebrating the golden age of disco. The dress code for disco queens is 70s ghetto fabulous and more bling than Mr T.

Treesponsibilty welcome yet more DJS on Sunday 24th May coming together to celebrate the end of the Big Green Weekend with all proceeds going to help establish Hebden Bridge as a Transition Town. DJ Small S and Ed Trance from the Full on Friends Collective are spinning the discs and anyone who visited or worked at the Big Green Weekend are invited.

The green events finish off with a family friendly film festival on Monday 25th May kicking off at 1pm. Kick back with pancakes and tea to watch a collection of quirky and educational films including the cartoon madness of the mighty Carbon Weevils.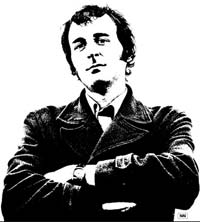 Once the big screen has been raised then its time for new folk legend Alasdair Roberts to plug his universally acclaimed new album Spoils which even managed a five star review in the The Sun newspaper.
For eight years Alasdair has been combining intense reworkings of ancient death ballads with his own songs which would be the perfect soundtrack for a David Lynch movie. But it's as a live performer that he reveals the sly genius behind his songs with a calm, clear voice drawing the audience into his twisted world.
"The last time Revolver played the room was packed and we realised that the rock audience along the valley has been disgracefully neglected for far too long so it's good to have them back," Trades Club spokesperson Paul Clarke told the Hebden Bridge Web..
"The Trades has always been a huge supporter of environmental campaigners along the valley so we're absolutely delighted to hook up with the Big Green Weekend to bring some of the best DJs in West Yorkshire to celebrate what we know will be a massively successful weekend.
"Alastair Roberts has been plugging away for nearly a decade but his new album has won rave review after rave review so this could be your last chance to sample his twisted genius in a small venue as this is definitely his breakout year."
Tickers for Revolver (£6), People Get Ready (£7.50), Big Green Weekend Party (£6), Big Green Weekend filmshow (£2) and Alasdair Roberts (£9) are available from the Trades on 01422 845265 or boxoffice@tradesclub.info
Big Green Weekend website
---
Listen now
---
Previously on Hebweb
Dr Feelgood back at the Trades
Nick Harper hits the peaks at the Trades
May Day weekend at the Trades Club
Peter Kay rocks the Trades Club
Squeezing out the hits at the Trades
Southern Tenant Folk Union at the Trades
Becks and The Bullets back at the Trades
It's Ho-Hoedown Time at the Trades
Australia's Emily Barker plays the Trades
St Patrick's Day Shenanigans at The Trades

We try to make sure that the Hebden Bridge Web news is correct,
but if you are aware of any errors or omissions, please
If you have comments on Hebweb news please make
a contribution to our
© Hebden Bridge Web