Local writer and storyteller, George Murphy interviews local characters and personalities
---
Heather Wilson, (also known as H)
I was born in London, adopted at 17 months old, moved to Warwick for 10 years, then back to London again, to the Lucy Clayton Modelling School.
I left London in 1993 to do my Art Degree in Ipswich, Suffolk.
23 years on, I have my Shop/Studio upstairs in Bridge Mill, above Innovations in St. George's Square, where I paint bespoke water colour pictures which tell the client's life story.
---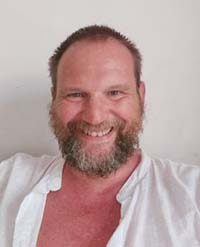 Marco Nizzardo - I was born very little in 1970 in Florence, where I grew up my first 10 years.
My English mother came from Guernsey. Father had a restaurant called The Sword, near Piazza Santa Maria Novella. We moved north in the 80s, near Milano. Father had a restaurant called il Passatore after a famous Italian brigand (the Italian Robin Hood, who used to rob the rich, full stop).
---
Amanda and Debbie Elwen Amanda and Debbie have worked in the Ending Violence Against Women and Girls sector for 25 years and are the founders of the first EVAWG Hub in the UK. Debbie was recently identified as one of the most influential women in the UK for her work and Amanda sits on the board for Women's Aid National. Read their questions and answers.
---