Local writer and storyteller, George Murphy interviews local characters and personalities
---
Bryony Mylroie-Smith
Meet a highly educated, super fit, much travelled, born and bred Hebden Bridge woman, who set up a successful business, had a child and then had to deal with COVID!
A story for our times to continue the series of The HebWeb Interview into 2021.
---
Malcolm Struthers
The story of a recent offcumden: Malcolm describes what attracted him and his husband to Hebden Bridge, the team work involved in Happy Valley Pride and the Film Festival, why he changed careers, his hero, a dog rescue, love for running and Iceland and much more!
---
Andrew Bibby
Andrew Bibby has lived in Hebden Bridge for over 30 years and has certainly made his mark, not least for having been a key member of the team that led to the rebuilding of the Town Hall. Andrew tells George Murphy of his interest in walking, running, singing with choirs and the Community Land Trust. As a journalist and author, Andrew's works include books about the English landscape and outdoors and, recently, a trilogy of crime fiction titles set in the Lake District.
---
Mary Agnes Krell
Professor Mary Krell is Director of Teaching and Learning for the School of Media, Film and Music at Sussex University. In normal times, she commutes each week from Mytholm to the south coast. She's also, in non-Covid times, producer and director of the Grand Northern Ukulele Festival (GNUF) which attracts visitors and performers from across the world.
---
John Billingsley
A tale of a writer and offcumden, expelled from school, rebellious in Essex and Paris, of a boat and three ladies - one of them an iron one - of escapes to Mytholmroyd, Japan and Hebden Bridge; a man wrapt in nature, libraries, magazines and music …
---
Heather Wilson, (also known as H)
I was born in London, adopted at 17 months old, moved to Warwick for 10 years, then back to London again, to the Lucy Clayton Modelling School.
I left London in 1993 to do my Art Degree in Ipswich, Suffolk.
23 years on, I have my Shop/Studio upstairs in Bridge Mill, above Innovations in St. George's Square, where I paint bespoke water colour pictures which tell the client's life story.
---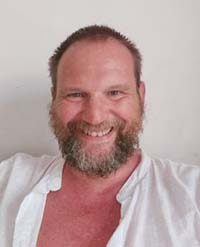 Marco Nizzardo - I was born very little in 1970 in Florence, where I grew up my first 10 years.
My English mother came from Guernsey. Father had a restaurant called The Sword, near Piazza Santa Maria Novella. We moved north in the 80s, near Milano. Father had a restaurant called il Passatore after a famous Italian brigand (the Italian Robin Hood, who used to rob the rich, full stop).
---
Amanda and Debbie Elwen Amanda and Debbie have worked in the Ending Violence Against Women and Girls sector for 25 years and are the founders of the first EVAWG Hub in the UK. Debbie was recently identified as one of the most influential women in the UK for her work and Amanda sits on the board for Women's Aid National. Read their questions and answers.
---