Police step up "high visibility patrols" - more info and details of local police officers and contacts
Rail trees - Network Rail apologise for failing to liaise over felling. See Yorkshire Post
Artists needed - for proposed centre for visual and creative arts - 16 June
Commons vote on 42 days - Halifax MP Linda Riordan votes with rebels; Calder Valley MP Chris McCafferty doesn't.
Festival sells out first big event - and the Box Office doesn't open till Saturday - more info - 11 June
| | |
| --- | --- |
| Death of Lord Savile, local landowner, keen grouse shooter and opponent of windfarms. A member of the House of Lords for 60 years, his family home was Walshaw Lodge, just beyond Hardcastle Crags - 7 June | |
Fire Horses - a new novel from Mark Piggott, who grew up in Hebden Bridge
International festival loves local too - See 12 items of Festival news - 6 June
A Fair Trade Wine Tasting and social evening, organised by the Coop Members' group - see events
The future of the Green Belt - 3 June
Hebden Bridge as a Transition Town?
Find out more

Rail changes for Hebden Bridge - three (faster) trains an hour to Manchester and three carriages at peak time - 27 May
2008 HB Arts Festival programme - highlights include Phill Jupitus, Ed Byrne, Blake Morrison, The Elephant Man and music evenings with Baghdad Lullabies, Martin Roscoe, Maria McKee and the Eduardo Niebla Experience - see also latest festival news - updated 6th June
Handmade Parade - more info
HebWeb Radio latest - details of Dave Boardman's weekly programme on Hebden Bridge from Phoenix Radio, Dave's interview with Patsy Skeet and Chris Ratcliffe about arriving in Hebden Bridge in the 70s, and "Under the Bridge", a video of a town of alcoholic children
Town Council Cut Festival Grant - read more
Thursday, 22 May 2008
Hebden Bridge MP Chris McCafferty made an impressive contribution to last night's abortion debate: "If women have no access to legal abortion, they resort to illegal means. Women will go to any lengths and will take any risk to end an unwanted pregnancy" - read transcript and how she fends off, among others, Ann Widdecombe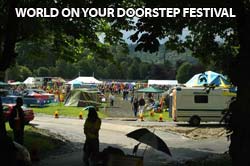 World On Your Doorstep - Hebden prepares
- Volunteers needed! - updated 19 May

COUNCIL ELECTIONS - Lib-Dems beat Labour by just 53 votes in Hebden Bridge. Lib-Dems hold Luddenden Foot ward. See results
Policing Hebden Bridge and the Upper Valley - public meeting report and links to police contact info - 30 April
Former mayor Stewart Brown has been arrested and questioned in connection with possession and distribution of indecent images of children - see Courier article
Latest photos of Ian Coates' trip round the world on a Honda - see Hebweb feature -

12 April
Solstice with cider - 2nd International Cider Festival, at the Stubbing Wharf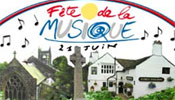 Luddenden Music Festival
21st June - see events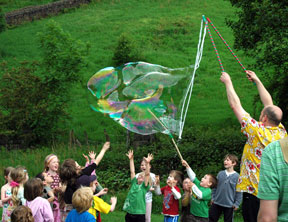 Salem Fields Fun Day 2008
More photos and info
Strawbale Building workshops
come to Hebden Bridge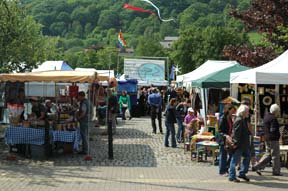 Big Green Weekend
Above: Big Green Market on the Marina. More photos and a selection of the highlights. Suggestions sought for next year - see forum
Small ads - homes sought or wanted, or more offbeat items, eg: help wanted "maintaining dreads" added 20 May.
New Hebweb section - Archive - 18 May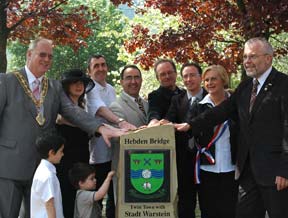 Hebden Bridge in Europe - "superb"
say twin town visitors - more photos
updated 14th May
Network Rail destruction - now postponed until the beginning of June - see forum - 8 May
Events: including Local History summer programme
Hebden Royd Town Council's Town Talk no 11
Acts and stallholders wanted for the next Eastwood Festival - see news in brief
Expanding local company, Aspire Technology, still has vacancies. Director, Chris Bingham tells the Hebden Bridge Web: "We offer a great working environment, no need to travel into the busy city centres." - more info - 4 April
GARDEN STREET: 10 essential questions put to the Calderdale Chief Executive