Tuesday, 12 March 2019

Number eleven of the regular column from local writer and story-teller, George Murphy.
---
Murphy's Lore 11
---
Businessmen's lunches
It was the first Chinese restaurant in Ellesmere Port and my first restaurant ever - my parents not being restaurant type people. I'd studied the menu in the window display and saved up for weeks. I carefully ordered my two courses, but the waitress said, "I'm sorry, we're only doing businessmen's lunches."
"Typical!" I said and stomped out.
I knew I'd never be a businessman and restaurants weren't for the likes of me.
Breaking News …
A Hebden Bridge woman has been fined and given a Community Service Order after neighbours reported she was seen in cafes, pubs and restaurants in town without Rex, her cocker spaniel. According to one witness, while Mary was out wining and dining, Rex was tethered outside his house in what neighbours say was 'no better than a kennel!'
World Book Day
A young person we know hasn't wanted to read books with us after school. Sometimes books can feel like homework for kids these days. So I bought her a book about a boy who was worried he'd cracked his bum. She liked that.
One day I told her the tale of King Midas and the golden touch - and she didn't need to see illustrations, she got her own pictures in her head. But last week she remembered that books can also be magical. She turned into Fantastic Mr Fox for a whole day.
Council Tax bill
The Council Tax bill arrives and despite living in an unadopted, potholed road, we are now paying £1,824.87 per year. It's a regressive tax because people in the grandest houses pay a much smaller proportion of their income than the rest of us. Thank you, mansion-owning Michael Heseltine for that.
There's also a regional inbalance. Up north, we live in houses that are worth a lot less than those in London, but on average we pay more Council Tax. Not that this is reflected in better services. According to the Institute for Fiscal Studies, the government pays local authorities 27% less than in 2010. Kensington and Westminster have £30 million in their savings account, some of which they could have used for making tower blocks safe, but the poorest urban areas in the north are less able to raise money from other sources, so services are frequently cut.
Butter up award
Sometimes the toast lands butter side up.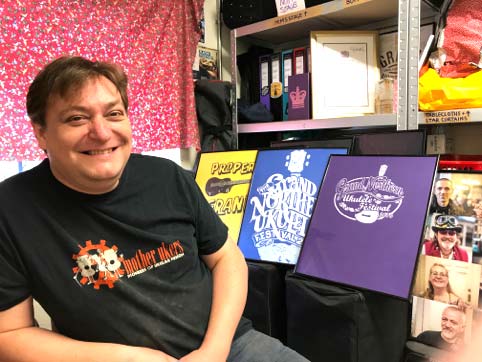 This is Rob Collins, the Hebden Bridge Luthier. That's an award from the Queen on his shelf, awarded to Rob, his dynamic wife Mary and unpaid volunteers for organising the annual Grand Northern Ukulele Festival. Now he's the first winner of this even more prestigious award. I'll have a piece of toast in his honour.
Not only does Rob make guitars and ukuleles, he can sing and play without looking at the strings. This week he 'made me smile' with his delightful duet reprise of a Cockney Rebel hit with a visiting UKE playing lass at our Hebden Bridge Ukulele Jam.
The grey invader
At Midgehole, I locked the back door and returned to find a squirrel sprinting in an anti-clockwise fashion around the sitting room, bouncing off the soft furnishings en route.
Present Wife said, "I'll have to go, I'll be late for work!"
I said, "Not so quick, we're in this together."
I slowly edged round the room, causing the grey invader to add variety to its next lap by bouncing off my belly. I threw cushions below the window and opened it.
Next time round, Nutty leapt off this soft mountain (the cushions, not my belly) and with one bound was free, joining its nonchalant looking mate on the wall opposite.
"You may go now," I said to Present Wife, in a calm, but rather masterful manner.
Fred - who had a raptor on his head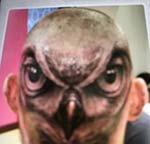 A relative sent a photo of a nephew's tattoo. Remembering Hitchcock's The Birds, I felt inspired to write a cautionary tale, as a warning to other youngsters. These tales have lots of Capital Letters - in the antique style used by Hilaire Belloc.
Fred meets a young woman in Blackpool…
'It's Freddy the Eagle,' she said wit' Grin,
His Front Face said, 'It's a Peregrine.'
Fred wor short and Fred wor slim,
Beverley made two of him.
They wor sat on t' rail at end o' t' Pier,
With Fish Suppers and cans of Beer,
When a flock of Seagulls swooped on Fred,
Attacking t' Bird on t' back o t' head!
But even while her Fred wor mobbed,
Bev made sure his Fish worn't Robbed.
Fred faught on and Gave No Quarter,
Until he toppled into t' Water!
Onlookers rushed to t' end o t' Pier,
And saw Fred's Bird Face disappear…
Then t' Gulls flew off, quite Satiated.
Bev looked at Fred's Fish…
They say She Ate it.
So don't put a raptor on your head -
Why not a budgerigar instead?
Next week: The B word: a politics special!
---
If you would like to send a message about this piece or suggest ideas, email George Murphy
---
Previously