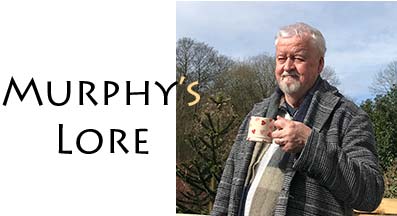 Welcome to the second series of the popular HebWeb column from local writer and story-teller, George Murphy.
Murphy's Lore Two: 1 - Monday, 23 March 2020
---
The C Word
It seemed such an affable word.
Corona: 'visible gaseous clouds around the sun'.
Corona: 'the aureola around nipples.'
What I remembered was the Corona pop lorry coming down our street in Ellesmere Port every Friday teatime and moms lining up to buy crackers, crisps, chocolate marshmallows, Lurpak and fizzy pop. Friday was Corona night, when moms didn't cook.
Herd immunity
At first it was like a phoney war. We were too busy fighting Storm Ciara and dodging Dennis to pay Corona much attention. The February rain seemed never ending. Round here, homes, shops, businesses and lives were wrecked.
Compared to flooding, Coronavirus didn't seem too bad. It didn't crash over flood barriers and smash against doors leaving a trail of brown, contaminated sludge in its wake. Instead, it invisibly smeared surfaces, walls, doors and door handles; it was massively more widespread but less targeted than the attacks by KGB agents in Salisbury. It didn't respect frontiers or act under orders. It was amoral and urgent, the death rate doubled every few days. Even so, when questioned on news channels, most victims said the virus felt like a mild dose of flu.
It was the old people, in places where reporters didn't roam, isolated on cruise ships or in overcrowded hospital wards, people whose lives were kept going by medical intervention, the thousands of sick, elderly people from Wuhan to Woking, who were dying.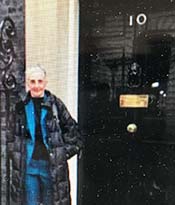 Corona, and Corvid-19, its new kid on every block, took a while to grip our attention, yet it even insinuated its way into the lives of the powerful and the empowering. Debbie Elwen from our street was chosen as one of the 10 Most Inspirational Women in the Country and was invited to Downing Street. On Monday she chatted with Nadine Dorries, the Health Minister. On Tuesday the minister tested positive for the virus and Debbie went into self isolation.
Meanwhile, the Chief Medical Officer said:
KEEP CALM
AND HAVE A BIT OF A CARRY ON
We were told to go to soccer matches, concerts and parties and spread the virus across 'the herd'. By doing so it would lose its virulence. In football parlance, we should all 'take one for the team'.
So we went to York.
Score draw
Sunday, March 8th:
Just as we got to the station exit, after whizzing along on the new sprinter train, with the wonders of ancient York awaiting us, I said, "I think I've left my manbag on the train."
Present Wife, (aka Kath, Kathy, Kathleen, Kate, Katy or 'the long suffering' - depending on which member of the tribe or friend is talking to her) sat down in a resigned and dignified manner with our remaining luggage. I managed to get assistance from a chirpy Northern Rail guard - happy perhaps to be renationalised (part of a cunning Tory plan to steal Labour's election pledges) - who helped me search our carriage while PW waited.
Eventually, I realised that my manbag was no longer on the train. I collected the composed and patient PW and we walked in silence towards The Judges Hotel, pausing with our cases at a pedestrian crossing. As the cars finally slowed to a halt, with the exquisite timing of Arya despatching the Night King with a Valerian dagger, PW said in clipped tones:
"Wasn't your charger in that manbag?"
The little green man came on and PW set off.

Ouch! 0 - 1
I was glad that my bedtime reading, a 900 page biography of Oscar Wilde, was in one of the wheelie suitcases. I would have been haunted by Oscar if his life story had ended up in some railway lost luggage department in a manbag.
"A MAN BAG?!"
Monday, 9th March:
We'd just been out with Jenny, an old friend, and wine and tapas had been consumed. Now, romance was on the menu.
My true love glanced up as I hopped about in a tipsy attempt to sashay out of my chinos. In the unflustered manner of a female bird of paradise underwhelmed by her prospective partner's courtship dance, she said, "Your underpants are on back to front."
0 - 2
Tuesday, 10th March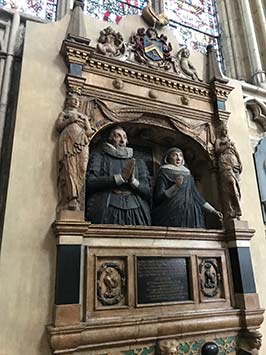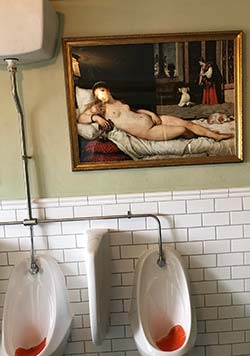 We hit the magnificent Minster in the morning and then had lunch at a chic new pub called The Shaking Madness. I was struck by the art work in the Georgian interior, especially in the gents.
Apart from the classical nude above the urinals, there was also a plaster statuette of the virgin, strikingly juxtaposed next to a reproduction of Gustave Corbet's L' Origin du Monde. John Ruskin would have fainted on the spot.
On the replacement train home (the sprinter train having presumably pulled a hamstring), PW discovered she'd lost our front door key. As she rummaged frantically through her handbag, I gently reminded her about the necessity of taking particular care when looking after front door keys, especially as we haven't got a back door.
PW had form with keys. As the train jogged on, the words 'Lyme Regis, 1992' hovered, unspoken, in the air.
1 - 2
Back at HB station I got a strange notion. I asked the ticket man, just on the off chance, if a manbag had been handed in. He raised a non committal eyebrow, the physiognomic equivalent of that annoying Yorkshire dialect word 'Appen'.
Appen: probably yes, but quite possibly no.

We arranged to meet at the door of the lost luggage department, which was approximately two metres to the right of his little window. And there I was reunited with my manbag, my charger and a new pair of woollen gloves (£6 from Sainsbury's) I'd quite forgotten about.
In my ongoing secret soccer game (ok, what other sport is out there?), I wondered if getting my bag back meant I was now quits with PW. In the absence of VAR adjudication, I decided it was too late to alter the score.
As it happens, when we got home again, we didn't need to break in because darling son had arrived before us. "The cat's been locked in," he said. "She's done a poo on the landing. Have you had a nice time?"
Like Stevie Gerrard, after fatefully slipping on the Anfield turf and thus relinquishing the Premier League title, the mistress of the keys trooped upstairs to deal with the cat poo, while I put my luggage down, washed my hands for at least 20 seconds, kissed Jude's head, started to whistle and then light-heartedly made a brew.
2 - 2. Get in!
Lunch at Leila's
Friday 13th, March: I met Chris, my esteemed editor at Leila's in Albert Street, to discuss the forthcoming paperback. The Persian proprietor told us about the massive support he'd received from locals to get the cafe looking as good as before. He said his mother still lives in Iran. I didn't tell him that American satellites have photographed mass graves on the outskirts of towns. Perhaps he knew

Stone me
Meanwhile, at the stonemasons' life went on as usual.
Crying Bulgarians
We've enjoyed the latest season at The Picture House, Once upon a time in Hollywood, Little Women, Parasite and Emma, although in Meet the Richardsons, John says all the films at Hebden's 'art house' cinema are about 'crying Bulgarians'.
Since the flood, the naked metal frameworks of the front rows of seats have looked like an art installation.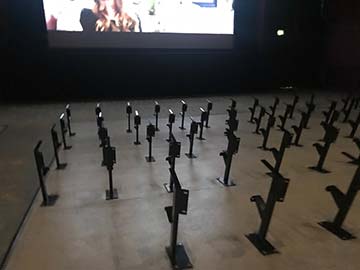 Beware the ides of March
Sunday, 15th March:
The papers say over 70s will soon be banned from going out.
I met my historian friend Alan on the towpath, enjoying what might be his last few days of freedom. He informed me that the Spanish flu got its name because Spain wasn't involved in the first world war and so they were the first to report the outbreak. His parting words were, "One good thing: this virus might wipe out the Brexit majority!"
Ah, Brexit, now what was all that about?
Outside the Old Gate, Mike Haslam of Foster Clough, was supping a pint and reading The Observer. He said, "If I'm told to stay at home, I'll include the moors in my definition of 'home'."
Oy, bighead
Darling daughter brought Rosie round for a last visit before the possible lockdown.
I took a couple of snaps and couldn't help noticing something disconcerting about my selfie. Granny looked fine, but I seemed to have sprouted a giant head. Perhaps this was a worrying new symptom?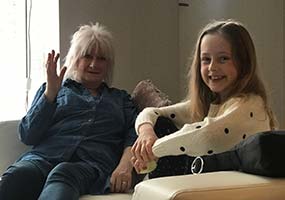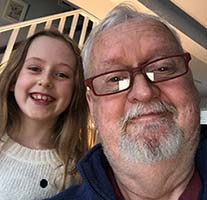 Adventures for men with dentures
On Facebook, Campbell Malone wondered if disgruntled, laid-off aircrew might be re-employed to raid clandestine midnight gatherings of pensioners at bowling clubs and tea dances.
My neighbour Peter Riley told me about a secret rendezvous spot on the moors, where third age folks will gather each month when the moon is full. The fuzz might hunt us and chase us, but will they dare to come within two metres?
I remind him that I'm underage and still legal.
Don't stop!
Our friend Jenny told us about a trip to London where she paused to find her bearings and the woman behind her was so intent on studying her phone that she smacked into her. London Woman shouted, "Don't Stop!" at Jenny, then moved on, her phone still clutched close to her face.
Perhaps London Woman will read this one day. Told in the manner of a pompous northerner (think Steve Pemberton addressing Benjamin in The League of Gentlemen), here's a cautionary tale:

Joan, who spent too long on her phone and wor eaten
Her parents were quite fond of Joan,
And they bought her a mobile phone,
So she could do her homework speedier,
Copying chunks from Wikipedia.
But smartphones have magnetic powers,
Joan fiddled on her phone for hours.
Until one day she wor offended,
On Facebook she had been unfriended.
She screamed and shouted,
"It's not fair!
I wor just about to unfriend her!"
Her father pondered,
"What's to do?"
Till mother said, "Let's go to t' zoo!"
And father said, "To enjoy us stay,
Put that blessed phone away!"

For Joan had once loved animals,
But sometimes childhood pleasure dulls.
She trudged through all t' best part o't zoo,
Past lions, tigers, kangaroo,
Whose glories were all lost on Joan,
Who could not use her mobile phone,
But got revenge upon her kin,
By looking as miserable as sin.
Until, at t' giant reptile house,
Her parents chatting spouse to spouse,
Past giant ferns all dank with heat,
Joan sneaked off, to send a tweet.

Extremely bored and overheated,
'I want my parents dead!', she tweeted.
Then on through steamy jungle wandered,
With both eyes on her phone she blundered
Past DANGER! signs she did not see,
All alone, but feeling free.
Till, by deep pools that smelt unhealthy,
She paused to send her friends a selfie.
When a hungry crocodile -
Or perhaps it was an alligator -
Photo bombed! Then promptly ate her.


Alerted by a noisy crunch -
The reptile having Joan for lunch -
The zookeeper, a plucky feller,
Sacrificed his best umbrella,
And propping open t' creatures jaws
He dived inside to great applause.
For Joan's father, a cautious chap,
Had bought a phone location app,
And t' creatures dark insides wor braved,
And t' smart phone, though not Joan, wor saved!

So think on: put down that phone,
Or else you might end up like Joan!
From Hippy Valley, (2018) Fantastic Books Publishers
Keep clean and carry on
Monday, 16th March
According to M.D. in Private Eye, so far this winter the death rate in the UK is down by 5,000 per week on previous winters. He reckons it's because we're washing our hands more often. Elsewhere, we noticed a figure that men make up 70% of the fatalities. PW says perhaps that's because men don't wash up as much as women do. Or wash their hands after going to the toilet.
Tuesday, 17th March
I had four events lined up for this week. I email each organiser to say that I won't be going. Can't help wondering what will happen to groups like Living Well, the Todmorden group supporting women with cancer, where I performed with the hilarious H the Hatwoman recently. Will they continue to meet?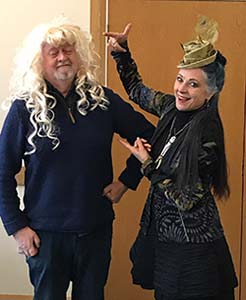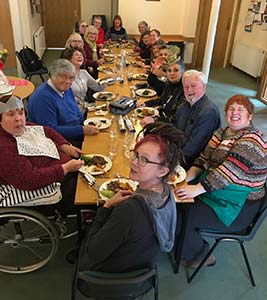 Wednesday, 18th March
Before we are banned from public gatherings we join almost the entire white haired population of the valleys to stock up on compost and spring flowering bulbs at Gordon Riggs.

Where d'you live?
Down the grid.
What street?
Pigs' feet,
What number?
Cucumber.
When Rosie was a toddler we taught her that rhyme, but we must have made too many visits to the Walsden Garden Centre. When we prompted her by saying, "Where d'you live?" She said, "Gordon Riggs."
Thursday, 19th March
Rory Stewart has said the government have got it wrong. "This is the very last chance now of following the policy of suppression. A suppression strategy involves much more radical action – not just isolating the elderly, it's isolating everybody. It's shutting all schools and universities immediately. It's shutting all pubs, clubs, gyms. The most prudent move would be to impose isolation on the whole country and start testing vigorously."
At the 5 o'clock news briefing Johnson says, "We should be turning the tide, in 12 weeks."
Friday, 20th March
Someone says that carers will be regarded as unpaid essential workers. I meet up with Jude behind Innovation. He shows me the hand wipes he's carrying. We get served outside and the waiter says parents have just brought lots of nursery aged children into the cafe. "They're going to be alright, but what if they pass it onto us?"
5pm News Briefing: The government changes tack! The suppression strategy comes into force from midnight. People are banned from social gatherings, they must keep apart to save lives. Except, apparently, in shops.
The National Trust decides to make all their parks and gardens free of charge for a year.
Saturday, 21st March
The first day of the big lock down. People flee to wild places to enjoy their isolation en masse. The Highlands are gridlocked with camper vans. There are queues on ski slopes. Skegness does a roaring trade.
The National Trust changes its mind. Parks and gardens are shut till further notice.
At least Gardener's World is back on the tele.
Sunday, 22nd March
Mothering Sunday.
There's a ray of hope in the news from China which has had several days with no casualties at all and is starting to ease its lockdown, but as students return from Europe to Asia its governments are annoyed that the West has been so lax in its response.
Niall Ferguson in The Sunday Times argues that our leaders should have followed the example of South Korea, which used testing and lock down. Their fatalities so far are around 100. In Britain the death toll estimates range from 20 thousand, if we start suppression now, to half a million if we don't.
It's a beautiful day in Hebden and it's hard to feel down in the dumps when it is spring and the bird is on the wing. Tristan who has taken over as Chair of Shaggy Dog sends me a reminder that, as his dad would have it,
Spring is sprung
The sun is riz
I wonder where the birdies is?
They say the bird is on the wing,
But how absurd!
Surely the wing is on the bird?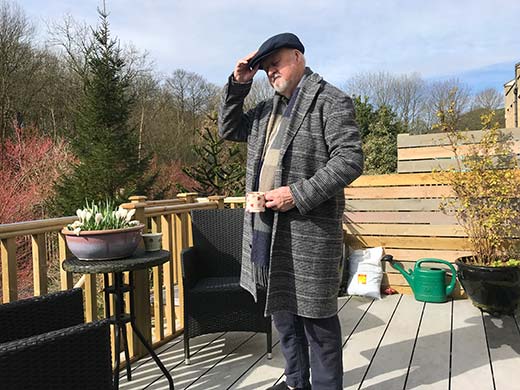 ---
If you would like to send a message about this piece or suggest ideas, email George Murphy
More Murphy's Lore
See the Murphy's Lore home page for all 53 editions.
---