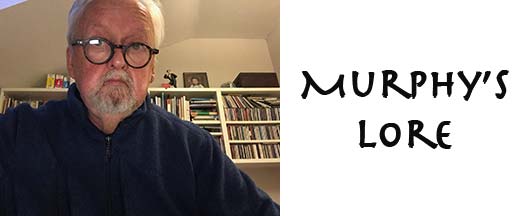 George Murphy: "When Murphy's Lore was published by the HebWeb, the responses that most warmed my cockles were, 'I laughed out loud,' and 'I cried with laughter.'
"Although sometimes it has been necessary to assure readers that, "Yes, I really can be that gormless."
"In case you are wondering, I'm glad to announce that PW (my long suffering and present wife) has agreed to stay with me, at least for the time being. The first series first appeared here on HebWeb and it tracked a politically charged and polarising year in the Upper Valley in the lead up to Brexit. Little did we know what was to follow."
Browse all Murphy's Lore pages at your leisure by clicking on the links below.
---
Series 1 - 2019
Murphy's Lore 1 - Bucket list, Christmas presents, help the aged, car repairs, the birds and the bees and Acre Mill.
Murphy's Lore 2 - Crime Stopper; baths, bikes and philosophy; the facts of life; the birds and the bees and floods
Murphy's Lore 3 - the cormorant and the shag, insurance, home truths, a guilty secret, Constabulary Duties, Belle Vue Cinema and more on the Birds and the Bees.
Murphy's Lore 4 - Extinction Rebellion, Rat Man, King Coal, Dixie Dean, open fires and disasters.
Murphy's Lore 5 - banks doing a bunk, a dead cat, Cassandra, home banking, passion interrupted and a mining tragedy remembered
Murphy's Lore 6 - dogs, local news coverage, tall footballers, small women, a bus hijack and a stuck up post mistress.
Murphy's Lore 7 - Postman's Knock, Pablo Neruda, jogging shorts, sex, and late night phone calls in this and a romantic chanson.
Murphy's Lore 8 - Midsummer Night's Dream, mental health, dog attacks, drones, book launches and spot the poet!
Murphy's Lore 9 - Zen and Zips, Sid Field, falsies, shopping lists, wandering minds, Mr Cholmondeley's brakes, dog memorial,Radio Daze and a Catch 22.
Murphy's Lore 10 - the IT girl and the pharaoh, stories we tell ourselves, family revelations, how not to sedate young children, Eco Warriors and Momo and a restaurant drama. Reader's letter: a 'man they can't stand' puts the record straight.
Murphy's Lore 11 - shepherding squirrels, a 'Butter Up' award for a luthier, recommendations on head tattoos, Fantastic Mr Fox, a moan about the regressive Council Tax, Chinese restaurants and the class system and the latest Dog City News.
Murphy's Lore 12 - a politics special: a child's view of politics; election strategists; a Guardian man is trapped; Capability for Work tests; Peterloo and all that; Jo Cox; next week's headlines and politicians in corn fields.
Murphy's Lore 13 - floods, sex surveys, Date Nights, Lorraine Kelly, rats and insurance men, Frank Sidebottom and A Fairy Tale of Hebden Bridge.
Murphy's Lore 14 - include kingfishers and naturalists, industrial heritage, stonemasons, impressive butterflies, what to stir your tea with, gap years and the history of asylums, pheasant plucking and battery farming.
Murphy's Lore 15 - the dangers of misusing embrocations, Demon Dog Woman, private names for private parts, H is for Heather, witness protection, Secret Gardens and vasectomy after care.
Murphy's Lore 16 - young and old, including Ginger Girl, not walking on water, forgetting words and the perils of saying dewberry, a deadly legume, Park Life Cafe, Betty Rosen, first memories of drawing and strange places to put grass.
Murphy's Lore 17 - apocryphal tales, Uncle Billy and a tape worm, kids stories, a soldier's cup of tea, fowl play, the Pace Egg play, more true tales and the Ballad of Acre Mill.
Murphy's Lore 18 - Japanese combovers, strange greetings,Titsalina Bumsquash, keeping up to scratch in the bedroom, May Day memories, Romeo and Juliet and The Tod Triangle feature this week.
Murphy's Lore 19 - strange coincidences and precognition, the Yorkshire Ripper documentary, a reader's first kiss, folk music folk, name dropping, The Butter Up Award and Mel Gibson and the librarian.
Murphy's Lore 20 - caviar and chihuahua, rebel songs and words, Cyril Smith MP, poorly designed underpants, blaming parents for their poorly children, the Grand Northern Ukulele Festival, Hugh Massingberd , a Scouser's guide to tawkin' Yorkshire and nymphs - and why buskers should run away!"
Murphy's Lore 21 - Sunday runs and a White Blossom Tour, a Hippy Terrace, precognition and happy coincidence, Ivy Benson's All Girl Band and an over-sized jacket, doctors who use jargon as secret codes and a medic's advice on avoiding bowel cancer.
Murphy's Lore 22 - memories of teenage hitch hiking, Keith Waterhouse, the Lesley Molseed murder trials, the Blackpool Grand National ride, a canal boat gathering and a posh party, skinny dipping and fishing for nymphs.
Murphy's Lore 23 - The Trades Club in the 1980s, a gentle stroll through bluebell woods, John the Barber, a dizzy turn and taking care with medicine, my brother Percy gets me out of a tight spot, further reflections on the Stefan Kiszko case and The Yorkshire Don Juan visits Liverpool.
Murphy's Lore 24 includes, touring in the deep south, Larkin and Morris, B&B food, the art of complaining, treacle pudding and an early bird, storytelling in primary schools, Christine McMahon, a hidden child revealed and ways of executing moles. Plus readers write.
Murphy's Lore 25 the EU in Mytholmroyd, the trials, tribulations and triumphs of Burnley Road school, what Rodin's thinker was thinking, spelling tests and physical chastisement, a cautionary tale of Joan and her mobile phone, house husbandry and SELL BY dates, Sir Bernard Ingham and Boris Johnson.
Murphy's Lore 26 Treesponsibility and rewilding, why are skinny models fierce and big models bouncy and bubbly, further cogitations on men's underpants, Yorkshire dialect and the remarkable Mr Hartley, four Faber poets, a toast for a new cafe and Fancy Man Stan.
Murphy's Lore 27 includes Scarf Woman, spelling mistakes, Indian head massages, the biter bit, a secret formula for failing at football, two Michael Jacksons, a herd of bulls, The Handmade Parade, an elusive bobber and Mrs Pomfret's pommes frites.
Murphy's Lore 28 - This week a coherent thread runs through Murphy's Lore from Shibden Hall, to the Red and Green Club via Gentleman Jack, Ann Walker and John Lister to a disappearing MP, an encounter with men in overalls, a defence of light verse, a guitarist reciting Hilaire Belloc, a nod to local poet, a surreal encounter and a reflection on practical jokes. 
Murphy's Lore 29 -This week there's reflections on Memory, Steam Punk, Job Interviews, The Forgotten War, Piano Sing-alongs, Walls with ears, The Moorcock, a lass in a blue dress and a man with black eyes, darts playing, hospices and Canadian Pond Weed.
Murphy's Lore 30 A wet weekend in Wales, this sporting wife, Frantic Friday, advice to a duke, a Thai toast, hidden perils on Britain's beaches, a jam and a joke, a dad in disguise and rules for everything.
Murphy's Lore 31 This week, Murphy's Lore includes, a cat in a bin, a mental brassiere, home made bikinis, Murphy the Murderer, treadmills and whipping posts, home Pride, Spiked magazine and fake news, a protest song and a reader reveals all.
Murphy's Lore 32 This week, George considers whether childbirth is tougher for men, are men tougher than women, how 13 is lucky for some, is it good to eat Huimans, fires in derelict mills, what Georgian surgeons got up to, what Georgian schoolgirls got up to, the use of artificial phalluses in posh places, and imagines life as a Carry on Film. Plus readers write from far and nearer.
Murphy's Lore 33 This week's issue uncovers the strange coincidence of Calder Valley residents falling out of bed, with possible connections to a breakaway fascist enclave, Francis Bacon and football at the barber's, long lost families, discovering relations at Morrisons, doppelgängers and dads, Jack Whitehall's ancestors, Uncle Herbert's Machine and why Uncle Eric was given away.
Murphy's Lore 34 This week's offering: A Great Canal Journey remembered, when to let go of loved ones, the writing of radio plays, a blind piano tutor, a significant wave, an escape to Playtopia, comics aren't what they used to be, the tough of the track, Murray Halberg's underpants and an appearance from Little Percy.
Murphy's Lore 35 This week's Murphy's Lore includes brains and how they deceive us, Turkish torture, tourist enquiries, cricket and testosterone, an Innovation ovation, a Pigg who took to her bed, a groom who wore white, the C word and an anniversary song. Tuesday, 27 August 2019
Murphy's Lore 36 In Murphy's Lore 36 there's Plato, Old Etonians, Donald Trump and Shaggy Dog people, a scarecrow and a WPC - when WPC was PC - a missing Mrs, CROWS, CART, NASA, Dick Braine, an article on articles, Frank usurps Jack and Sue and Fu Fu. Monday, 2 September 2019
Murphy's Lore 37 includes a time traveller on a mission, some bum notes, nincompoops and the art of patriotic swearing, inspirational and instructive mottoes, Once upon a time in Hebden Bridge, a toast for The Picture House, the past as a foreign country and why no deal's a big deal. Plus a reader's reminiscence. Monday, 9 September 2019
Murphy's Lore 37 includes a time traveller on a mission, some bum notes, nincompoops and the art of patriotic swearing, inspirational and instructive mottoes, Once upon a time in Hebden Bridge, a toast for The Picture House, the past as a foreign country and why no deal's a big deal. Plus a reader's reminiscence. Monday, 9 September 2019
Murphy's Lore 38 includes children's rhymes and games, where to find 'Pencilvania', balls against walls, ladles and jellyspoons, kippers and knickers, how to shoot Indians, the best chips in the valley, September Break and Dylan Thomas. Monday, 16 September 2019
Murphy's Lore 39 This week's items include tales from a towpath, a Hobbit with a baby, a Head in a dress, herons and humans, political science and the naming of boats, a Dove Cottage garden, a dislocated jaw, a bucket list revisited and some sketches of Lowry. Monday, 23 September 2019
Murphy's Lore 40 This week there's a leaked letter to a Moggy, Boiler Man to the rescue, a Silver Anniversary, a Grimm exhibition, a double trouble oven, Pizzas and Fleabags, Danny La Rue and Prince Edward. Monday, 30 September 2019
Murphy's Lore 41 includes a successful sisterhood, meatballs and Ikea furniture, Heights Road and Pink Elephants, Ted Hughes and his uncle, the Piece Hall, a forgotten bread riot, Dickie Davies and a missing gold medal. Monday, 7 October 2019
Murphy's Lore 42 includes swift ways to lose weight, growth spurts in old age, a racist on a train, train surfing in Victorian times, the death toll at Summit Tunnel, Malory Blackman, Jack's Barbers, Robbie Burns and John Clare, Grace Poole's malady, the first Mrs Rochester, Cary Grant's mother and Topsy Legge. Monday, 14 October 2019
Murphy's Lore 43 includes Johnson pulls it off, Extinction Rebellion, hearing aids and radio, the hitchhiker, Roman soldiers and wine, Hebden Bridge's pub crawlers and Mr Plod, no more Nigels, and a musical hell. Monday, 21 October 2019
Murphy's Lore 44  there's a Thought for the Day, memories of Le Grand Depart, Franglais and yoghurt, witches at Old Chamber, Grimm tales at Gibson Mill, a toast for Print Bureau, deaf workers and mill fires, cocker doodles, spacecraft in Todmorden and why pumpkins are agitated.
Monday, 28 October 2019
Murphy's Lore 45  This week's offering includes Father Dougal on Brexit and the Irish border, Century Plants and late flowerings, The Tod Book Festival, ageism, sexism and driving insurance, driving test blues, Letsbe Avenue, getting the bird from a female reader and a comic strip retelling of the Boxing Day flood.
Monday, 4 November 2019
Murphy's Lore 46  In this week's Murphy's Lore you can have a go at playing Leonardo's game and spot a swimming man, there's psychosis and horror, a warning about The Dipper, why Munch wasn't screaming, rough screams and smooth, The Night of the Hunter, becoming Dewey eyed about libraries, Lest We Forget, a cricket team remembered, the art of choosing surprises, waiting times under the Tories, Perambulations and an American handshake.
Monday, 11 November 2019
Murphy's Lore 47  This week Murphy's Lore puts its best foot forward with tips on footwear, walks out on a megaphone mum, ponders on a Ken Loach film, a surprise present, a Basque poet, a limping spy and names for your back passage.
Monday, 18 November 2019
Murphy's Lore 48  This week includes dreams, Rugby League towns, the Heimlich Manoeuvres, a lethal kiss, death at a dinner party, a clever bugger, Leila's Kitchen, Japanese Love Hotels, 15 minutes of fame, the White Album and a crushed strawberry suit.
Monday, 25 November 2019
Murphy's Lore 49   This week, George, inspired by a visiting comet, coins a new term. He references a Flanders and Swan admirer, writes an appeal for our missing MP, feels sad about Pangolins, enters a Snake Pit, toasts Mooch and reports on a gig in a Methodist Church. He also celebrates two Australians who have brightened his days.
Monday, 2 December 2019
Murphy's Lore 50   Murphy's Lore 50 includes a parcel puzzle, a hybrid Donald, Boris and Doris, two birthday parties, a new comedy club, Vox pops from the red wall, Mr Stott's diaries and a reader writes about a snake pit!
Monday, 9 December 2019
Murphy's Lore 51   In Murphy's Lore 51 there's a Nightmare on Downing Street, a pair of painters, a secret party, the author does a man's look, there's a 2CV in the snow, a cartoon comment on Christmas, a dream song, a butter up award and a plug for a book.
Monday, 16 December 2019
Murphy's Lore 52   This week Murphy's Lore gives a valedictory farewell to 2019 and looks forward to the roaring and pouring 20s with trepidation, there's a town suffering from exitpollitis, a visitor from a land on fire, memories of Christmas past, readers' letters and a fashion faux pas, Mother Christmas and a dash of Dahl, Mildred Dredge and Engelbert Humperdink, a little red man and Clare Shaw. Nostradamus shares his 2020 vision.
Monday, 23 December 2019
---
Series Two
Murphy's Lore Two Episode 1 This bumper first issue includes The C Word, herd immunity, a score draw in York, lunch at Leila's, musical masons, Oscar Wilde and the importance of being under age, an expanded head, the full story of Joan and her phone, hand washing, events postponed, down the grid, Rory Stewart, government suppression and winging it.
Monday, 30 March 2020
Murphy's Lore Two Episode 2 Tales from an offcumden, includes a carry on in a cafe, a diary of the pandemic, what experts agree on, DIY on the front line, what hides under kilts, EpiPens, Slack top and bottom, a scenic cemetery, when to cry wolf, the Earth takes a breather, bats, hedgehogs, pangolins, a hairy toe, a kissing tree, the birds and the bees, gardeners who can't garden, butter up awards, fame at 96 and readers write.
Monday, 6 April 2020
Murphy's Lore Two Episode 3 In Murphy's Lore, Lockdown Diary there's a question to Bob Dylan, a salute to a big man, time travel, care workers, a big and a little dog, hobyahs, a brothers Grimm grim tale, a tunnel discovery,  the mystery of Mr E, a salute to a centurion, a red wine temptation, PW and the frightening man and meeting up at the Omega Point. Monday, 20 April 2020
Murphy's Lore Two Episode 4 includes a tale from Turvin, hunters, breeders, sky writing, haircuts for men, a president in hiding, a psychiatrist in action, Shakespeare's birthday, the farmer and the lion, the Doctor's Patient, bluebells, wild garlic, red skies, swallows, ducks, a man rehearsing and Nora starring in Britain's Got Talent. Monday, 4 May 2020
Murphy's Lore Two Episode 5 In this issue, Nora does a duet with herself, there's Jon, John and Grayson, domestic abuse and a hanging judge, a randy professor and an artful woman, Poundland and Mr Big, VE Day and a passing poet, a fancy man and Boris, New Zealand versus England, a fable and a folktale and a Fairytale of Hebden Bridge! Plus Readers Write.. Monday, 18 May 2020
Murphy's Lore Two Episode 6 In this episode of lockdown diaries there's a new bridge, sightings of nymphs, a billy goat rescued, a warning to buskers, dangers down a well, blubber boy, social distancing worries, William Holt and Trigger, nymphs in Todmorden, bird song and rewilding and an errant adviser. Tuesday, 2 June 2020
Murphy's Lore Two Episode 7 This episode includes a village under siege and a cautionary tale, Sir Sheer Calmer, Mr Malaprop and Miss Airedale, garden visitors and ladies' gardens, slavery and statues, Mama Dot and JK Rowling, Mans' Span and Maya Angelou. Monday, 15 June 2020
Murphy's Lore Two Episode 8 In Episode 8 of Lockdown diaries, there's the Father Ted model for shopping, a tornado over Tod, alien encounters and Frank Bough, missing cattle and locked toilets, a cautionary tale, passion in a bookshop, ponds, UFOs and The Todmorden Triangle. Monday, 29 June 2020
This week it's a Beatles, books, shops, pubs and performers special! Monday, 13 July 2020
What We Did in Lockdown, the Wuhan Whistleblower, a 1950s murder, Clare Balding, Steve Tilston and more. Monday, 27 July 2020
This episode focuses on our animal instincts, a staycation, our MP's BAME blame and ends with reasons to be cheerful, unless you're a male peacock spider. Monday, 10 August 2020
Episode 12 features art in the valley and artists we have lost, Percy Shaw and Ken Dodd, a stall holder and Vincent Van Gogh, memories of Strays restaurant, a policeman and Frank Bough, overdue compensation and Acre Mill. Monday, 24 August 2020
In this episode there's a staycation and a devil's bridge; our debt to viruses; Vesper flights and The Offing; Coleridge and football transfers; a favourite kiss and John Cooper Clarke; a footballer's curse and a plankton daughter; tips for husbands and John Prescott's jowls; Amanda and Debbie and Boris; and a Slow Dancing song. Monday, 7 September 2020
In Lockdown Diaries 14 there's grannies and vicars, Ben Nevis and Petey the Snake, hippies posh and poor, Martin Parr and the mother of parliaments, dentists past and present, a second wave, Irish proverbs, testing and nesting, Marco Nizzardo and Italy's Robin Hood. Monday, 21 September 2020
In Episode 15 of Lockdown Diaries there's a Golden Acre and a mother's pride and joy, cures for Covid and what would Margaret Thatcher do, a funeral of a stonemason and a Heptonstall story, a spaceship house and autumn leaves, mortality, a view from above, a dental visit and a sick President, an adolescent regret and the Earth in a spin. Monday, 5 October 2020
In Episode 16 of Lockdown Diaries there's student shame and an island quiz, Shakespeare and Shipman, Corfu and Mull, a Hebden hero and a cure for buskers, Miller Lee and boggarts, Bob Pegg and the man from Luddenden Dene, Fiery Jack and Amazing Grace … and the second wave hits the north. Monday, 19 October 2020
In Episode 17 there's hospital dramas, a Martian postcard, a strange encounter with hippies, a PM with dead pheasants, a mathematical fable, spies and an Android Hospital, Robert Jenrick and memory foam mattresses, good news, bad news and fake news, Jack o'Lanterns and the smells of yesteryear and the perils of rambling. Monday, 2 November 2020
Episode 18 includes a lax MP, Mischief and Plots, bonfire nights of yore, Ted Hughes on his yacht, a President Elect and one who won't leave, Remembrances, Friday 13th, the girl in white and a cautionary tale.. Monday, 16 November 2020
In this episode, there's a lost stadium, supermarket shopping and parking matters, vaccines and the promise of spring, a magpie and The king of the cats, dead eyed Queens, computer problems and granny power, Tier 3 and one story that leads to another. Monday, 30 November 2020
There's winter weather, Ted and Sylvia, Dickens's artful nose, naming, shaming and pickpockets, Tier 3, Lost in Lockdown, Zooming, a train journey, a 70th birthday, a Yule poem and a song. Monday, 14 December 2020
There's artful graffiti, Krampuslauf greetings, a cry out for carols, a crime scene, The Yule Cat as a capitalist conspiracy, booze and Dorothy Parker, Midnight Mass in days of yore, a Nativity, a folk a tale, a warm up rhyme and a New Year's wish. Monday, 28 December 2020
There's good read recommendations, TV reviews, First footing, sad couplings, walking on ice, Nora remembered, Lockdown 3, homeschooling, a saint on a pillar, storming the Capitol, Ginnungagap, hide and seek and a solo duet. Monday, 11 January 2021
In Lockdown Diary, Episode 23, there's dreams unreal and surreal, underground poems, trouble with toilets, trying to find Todmorden, bad news and good news, a flood avoided,  CND & C&W.  Monday, 25 January 2021
There's Whisky George, a film pitch rejected, poems censored, a President demented, a gruesome tale, rude awakenings, absenteeism and lateness, singing to Tommy Steel, Lewis Carroll and John Tenniel, Shania Twain and Kylie Minogue, music remembered, getting Joe's number and readers who wrote. Monday, 8 February 2021
In episode 25, there's Ted Hughes down the pit, dad dancing in the 60s, first loves, vaccinations, grandfatherly advice on love, Heathcliffe and Cathy, Ted and Sylvia, a septic isle and sceptic care workers, a Hebden Bridge Love song and a man who said too much. Monday, 22 February 2021
In episode 26, there's memories of caning and slippering, the power of the pen, Bob All Over, children and Long Covid, crowds at the Town Hall, middle age, 6 word stories, a wooden box, a grim Grimm and Wisdom Reservoir. Monday, 8 March 2021
In episode 27, One year on, and the UK is top of the league; children go back to school and care homes start to unlock; Alexa and The Boss; Oprah and the Royals; Halifax Holly; a likely lad and Van Morrison commuting; encounters with celebs; responses to Covid; Don the Drone and happy endings; council tax and interior designs; a monster over the mountain and Readers Write. Monday, 22 March 2021
In Episode 28 of Lockdown Diaries, there's badgers alive, dead and badgered; dogs brutish and brutalised; Algy and Helen; spouses' grouses; pangolins and swallows; qualzucht; Liz and the White Swan; Back Answers and Readers Write. Monday, 5 April 2021
In Episode 29 of Lockdown Diaries, there's Nazis, Windsors and a blackmailing spy, politics and jam, the sex lives of sheep, Boris on the sofa, a nation moans, the Duke's Award, yellow wallpaper, a man on the moors, a bird in a church, unforgotten children, a history of sex and the games girls played. Monday, 19 April 2021
In Episode 30 of Lockdown Diaries, there's a watchdog bitten, an al fresco pint, the life of an introvert, a tongue meat tale, a bash street kid, principal boys, mill fire Saturdays, a local fairy tale, the march of the toads, Sofology, Cornholme versus Hebden Bridge controversy and much more! Monday, 3 May 2021
In Episode 31 of Lockdown Diaries, there's a boiler on the blink; Buckells and Boris; bumbling villains; an eagle, a cat and a doe; a many brained creature; a pet theory and a savage slaughter; triumphs and disasters; a honeymoon on the rails; the mating life of Argonauts; minding your Ps&Qs; Sannakji live and choking; a museum without walls, a famous wartime tale and much more! Monday, 17 May 2021
In Episode 32 there's a celebration of Bob Dylan's birthday, a whinge at politicians and princes, memories of Dylan concerts, storytellers in the park, memories of Ron the runner, a megaphone in the Square, folk tales, Beatles, Bob and a hurricane. Monday, 31 May 2021
In Episode 33 of Lockdown Diary, there's a city on a hill, Holbein and Anne Boleyn, a blind man and a sculptor, a lost yes and no bag and generosity thwarted, Ruskin's View, a lesson from Akala, Piers and a choice of Keirs, a new cafe, a Scottish rhyme, two local writers and how not to read a whodunnit. Monday, 14 June 2021
In Episode 34 of Lockdown Diary, there's a grand day out gone wrong, Ronnie Barker v Compo Simmonite, advice from Mo Mowlem, opium and cannabis in literature, a Rev on the run, lost and found relatives, being frank about Frank, Tod and UFOS, a midnight ramble, a spice road tale and Hancock gets a grip. Monday, 28 June 2021
In Episode 35, there's birthday memories, a famous correspondent passes by, tips for armchair sports fans, a reader recalls a royal, the battle for Batley, how storytellers rule the world, a Covid denier, a changing view of changelings, Covid cases rising and a tour of Open Studios. Monday, 12 July 2021
In Episode 36, there's Readers' book recommendations for the beach and the bedside; a thought experiment for sporting defeat; a football hero and his singing neice; a Smart poet's guide to cats; Victoria Wood and Julie Walters; Freedom Day tribulations; a Triangle princess; memory tips; Boris's great gamble and variations on a theme by Cole Porter. Monday, 26 July 2021
In Episode 37 there's sporting feats, a Whitby staycation, Usain Bolt in Midgehole, a journey up the Khyber Pass, ET at the Olympics, a handy guide to death, Fred, who had two faces on his head, and much more! Monday, 9 August 2021
In Episode 38 there's crown green bowling and a famous musician, men who had nannies and the nanny state, working class Tories and street fighting kids, a monologue about a bog and an alternative witch, a Portuguese folk tale and Paula Rego, bats in the belfry, a missing vampire, and more! Monday, 23 August 2021
There's an elephant on a towpath, a murder in a vicarage, two types of horror, two types of Sandman, three David Hartleys, dodos and ammonites, two Binky Beumonts and the trouble with puns, a Samurai love story and an anniversary song. Monday, 6 September 2021
In this final episode of Lockdown Diary, there's a botanical investigation, a Fosbury Flop, refrigerator mothers, beasts and blondes, mind matters and a spiritual laxative, Emma and Aubrey, Old Sodbury and his brother, a Hebden Bridge centurion, JS Bach and Horatio Clare, a man and two women, a cat in a carriage and a fancy man to avoid. Monday, 20 September 2021
---
If you would like to send a message about these episodes,
email George Murphy
---