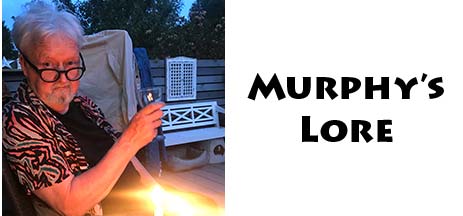 Continuing the second series of the offbeat HebWeb column from local writer and story-teller, George Murphy.
This episode focuses on our animal instincts, a staycation, our MP's BAME blame and ends with reasons to be cheerful, unless you're a male peacock spider.
Murphy's Lore Series Two
Episode 11: Lockdown diary
Monday, 10 August 2020
---
Monday, July 27th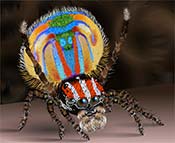 I read the Observer article, Why a generation is choosing not to have children, featuring a pressure group called The voluntary human extinction movement. I think this movement might die out before we do! We know someone who had a dozen miscarriages before she gave birth - that's how we got our granddaughter. The drive to pass on our genes is powerful. This male peacock spider, for instance, has made a proper effort.
Tuesday, July 28th
Went to Halifax and queued for an Italian in the arcade. The guy in the mac two metres ahead of me didn't move when the queue shifted forward. I said, "Excuse me, are you going to the restaurant?" When he turned round I saw it was Tom, who has a look of a poker faced David Walliams. Tom said when it started to rain he joined onto the queue, but he didn't want any food, he just wanted to be dry.
Jude once told me an affectionate tale about Tom. A taxi turned up at his supported living place and Tom wouldn't get inside. Shirley, another resident, wound her window down and shouted, "Tom, will you get into this bloody taxi now!" Tom refused, saying, "The booking was for ten o'clock and it's only nine fifty eight."
At Luna a balding guy at the table ahead of me waved and grinned. I went a bit Hilary Clinton, pointed back at him and waved as if we were long lost pals. Then, I spent the rest of the meal avoiding his eyes, racking my brains to remember who the hell he was. When he'd paid his bill, and ambled towards the door, I said, "Remind me, where do I know you from?"
He said, "You don't, I was waving to a mate walking past the window."
Wednesday, July 29th
We met PW's cousin Val and her husband John at the Piece Hall. The sun made an appearance and the old place looked handsome and all the better for the kids playing in the fountains. The shops were open and a bandstand was being erected in the square. It was almost like old times.
John said he had read up on Blondin, the tight rope walker, who long ago crossed above the heads of the spectators from one corner to the next "without a safety net and with a man sitting on his shoulders." That was in 1851.
For a moment we all looked up and imagined him passing above us.
Thursday, July 30th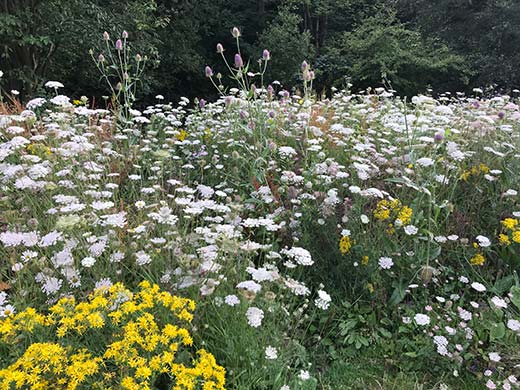 This morning I walked back through the park along the riverside path. Wrens were noisily chirping and feasting in the wild flower border. I came out into an opening near the skateboarders, where a figure was sprawled in the dew damp grass with a hood half over his comatose face, surrounded by a halo of empty lager cans.
Sometime after 9 pm, there was a ping on my phone. Matt Hancock has tweeted new rules to prevent people meeting friends and relatives in their houses. The ban applies to a vast swathe of the north, including Calderdale. The last minute rush was probably to get the rules in place before Eid, when Muslim families traditionally feast together.
Friday, July 31st
Today our MP made a name for himself by attacking the BAME community for "not taking Coronavirus seriously". It was on LBC, so he must have contacted them and said he had something newsworthy to say.
Around the world people in overcrowded housing have suffered most from this pandemic and now it's affected the terraced streets and back to backs in Halifax.
Saturday, August 1st
In Boots, Shaggy Dog Chairman, Tristan Langlois told me that Matt at Stubbing Wharf had rung to say the storytelling venue won't be available for the foreseeable future because of social distancing measures. The club's been held there for quarter of a century and I've made dozens of friends amongst the audience and the performers.
I said, "I suppose, in Covid terms, that's not a tragedy, but it's really sad."
I think Tristan said, "It made life more vivid."
Today, in The Times, Craig Whitaker is described as "one of the more hapless Conservative MPs". The Guardian, in an Editorial, called him "Chris (sic) Whittaker … the … 'racist MP".
On FaceBook, I posted that Whitaker's was a calculated intervention to whip up support from white voters. Puzzle poet John Foggin agreed. "He knows exactly what he's doing, the dog whistling bastard."
Knob news is good news
There was an interesting item in The i. The key points were:
Malcolm MacDonald's penis fell off after a blood infection, so he threw it in a bin.
Professor David Ralph took a skin flap from Malcolm's arm and rolled it up to make a new organ, with its own blood vessels and nerves.
Delays have meant the penis has been grafted onto his arm for the last four years, but Professor Ralph hopes to move the penis to its rightful position by the end of the year.
Malcolm understood the humour of his plight, saying, "It's not every day you see a man with a penis on his arm."
Sunday, 2 August
The birds and the bees …

Monday, 3 August
We're on our first mini break of the year. We tried to set off through that great escape hole under the motorway at Ainley Top, but they were still working on the dual carriage way. When we eventually found a way onto M62 East, the slip road onto A1 south was shut, with little prior warning and no indication of an alternative route. Charlotte SatNav sent us north before setting us on the old road again, and facing the right way, twenty minutes later. Which reminded me of a poem by Winston Plowes, although he was heading west.
M62, J 22

You could cut the air with a paper knife
and reopen the wounding word
restrained in a window envelope
still dying to be heard

Deja vu on the M62;
as we passed we didn't know
that England's highest motorway
could make us feel so low.

With only hard shoulders to cry on
in this day of contraflow tears,
as the two of us crossed over Yorkshire
both red and white roses appeared

Fog lights reflected our faltering start
and the road noise was unrelenting;
constantly more than two chevrons apart
you were never the one for relenting.

Winston Plowes, from
Tales from the Tachograph, with Gaia Holmes
Stopover
Stamford's a handsome place. My enjoyment of our short stay was increased by watching PW chatting away chirpily to the full length mirror image of the B&B owner, until I finally said, "He's behind you!"
Tuesday, August 4th
It's almost a mystic ritual heading for the seaside for my annual toe dip, as if that briny element can somehow be transformative. Which reminds me of this poem by Gaia Holmes, although she was heading north.
In Passing
A6, Northbound

We might have passed each other
at Gretna Green
as you headed South
and I headed North
up through Kingussie, Aviemore
and Invergordon
to where the road runs out
at Dunnet Head.

We might have passed each other
on the skinny road through Biggar,
you counting road kill
and clocking the miles,
me shedding my clothes
on the passenger seat,
high on the promise of brack and brine,
stitching my self back in
to my selfie skin.

Gaia Holmes, from
Tales from the Tachograph (with Winston Plowes)
Wells next the Sea
The annoying thing about Wells next the Sea is, it's not next to the sea. PW says the narrow main shopping street is like Covid Alley, with no more than 10 per cent of the staycation crowd wearing masks.
Wednesday, August 5th
I caught up with recent Covid developments on HebWeb. Calderdale now has the 6th highest rate of infections in the country, although there were zero new cases in the Upper Valley last week.
Tim Swift, the council leader, has told The Guardian that it's hoped to develop a Calderdale track and trace team by next week, saying there are "two or three gaps" in the national system that it would plug with its own model. He said the national call centre-based approach was fine for some areas, but was failing to understand "something as basic as getting names right" in communities where full names do not always "fit neatly into a first-name-surname function".
The Vicar of Stiffkey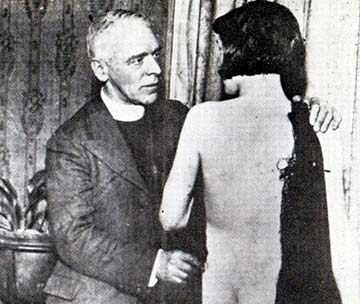 Dennis the B&B owner asked if I'd heard of the Vicar of Stiffkey, which is just down the road from here.
I said, "Was he the vicar who went round London saving fallen women?"
Dennis said, "Yes - saving them for himself."
This photograph was a crucial piece of evidence in his 'trial' at Norwich Cathedral in 1932.
After he was defrocked, the vicar was forced to find another career. He used his notoriety to become a seaside lion tamer, only to be mauled to death by a lion called Freddie on Skegness promenade, after accidentally standing on its tail.
George Bernard Shaw, perhaps indignant at the establishment treatment of the vicar, called him "the last Christian to be fed to the lions."
Theft by Finding
I'm enjoying these David Sedaris diaries. As a student and part time handyman in the 1980s, he kept a record of the phone-ins to late night Chicago radio stations.
One woman was asked, "Where's the most unusual place you and your husband have made love?"
She thought for a bit and then said, "… In the butt?"
Thursday, August 6th
We walked down to the quiet part of town and happily gazed at the water and the marshes in the sunlight. A young guy who'd broken his leg and was in a wheelchair parked himself right next to PW. When she shimmied along the seat to keep her social distance his mum came and sat down in the space she'd vacated.
So we got up and walked off in high dudgeon - well, not that high, but with a lofty disdain.
Strays
In Wells, there's a shop called Strays that hasn't reopened after Lockdown and I reminded PW of the restaurant of that name in Hebden in the late 70s. It advertised itself as a cooperative. We went there on the first night and the ovens didn't work properly. The place was packed and the management kept plying the customers with free wine while they tried to get the food cooked. By the time the meals came everyone was already filled with Merlot and bonhomie. PW said I should find out if anyone else remembers that occasion.
Friday, August 7th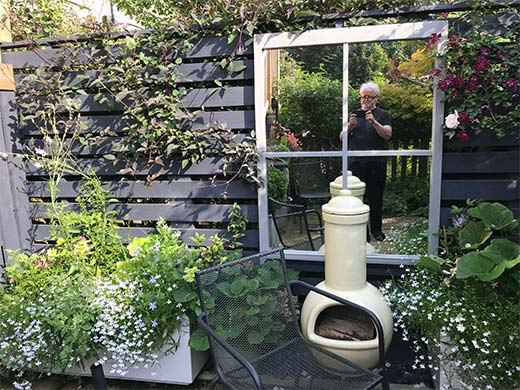 We kept the air conditioning on for the frazzling drive back from Norfolk. Whilst I brought the luggage in PW ran round watering her pot plants.
Saturday, August 8th
On Hebden Bridge FaceBook page I asked if other locals remember Strays restaurant. The replies are still coming in so I'll deal with them in the next episode.
Sunday, August 9th
Reasons to be cheerful
Epidemiologist, Sunetra Gupta of Oxford University has suggested that the UK may have achieved a sufficient level of herd immunity to prevent a second wave of Covid-19. The threshold for herd immunity may have been lowered because many people may already be immune to the disease without having caught it. The number of deaths from coronavirus has fallen from 866 on April 10th to 5 on August 6th. However, despite the professor's optimism, today the national figure for cases has reportedly gone above 1000 again. See HebWeb for updates.
This has made my day: the family of former councillor and journalist, Philip Round have won £300,000 in a case against the former Hebden Bridge asbestos factory. Philip was a great fan of HebWeb "… by far the best community website I've ever seen online; I check in almost every day even though I live on Vancouver Island in Canada".
Dirty dancing
I've done some diligent research on behalf of HebWeb readers and discovered that, as well as sporting dazzling glad rags, the male peacock spider performs a rhythmic, foot stomping courtship dance. I found a BBC clip of this peacock courtship ritual on Youtube that takes a dramatic turn.
Warning: this video is unsuitable for males of a nervous disposition.
Readers write
From Glenda George, who moved away from the area in the 70s and now lives in a beautiful part of Scotland. "Just spent 40 delightful minutes catching up. Lots to like, George!"
---
If you would like to send a message about this piece or suggest ideas, email George Murphy
More Murphy's Lore
See the Murphy's Lore home page for all 63 editions.
---