Continuing the second series of the offbeat HebWeb column from local writer and story-teller, George Murphy.
In this episode there's a staycation and a devil's bridge; our debt to viruses; Vesper flights and The Offing; Coleridge and football transfers; a favourite kiss and John Cooper Clarke; a footballer's curse and a plankton daughter; tips for husbands and John Prescott's jowls; Amanda and Debbie and Boris; and a Slow Dancing song.
Murphy's Lore Series Two
Episode 13: Lockdown diary
Monday, 7 September 2020
---
Monday, August 24th
Staycation nation
The sun was shining and we took off for a few days, although PW had seen the forecast and said, "It'll chuck it down tomorrow."
From Bolton Abbey to Richmond, the road snaked between cloud coloured walls and through picture book villages. The sun beamed down. The stately cumuli weren't rushing to accumulate. Each time we passed over a bridge, I reminded my navigator to look up from her sat nav and take in the glinting streams and opalescent rivers. When we rose low-geared above limestone pavements, I glanced back from a panoptic vantage point to the distant reaches of 'god's own country'. On another winding ascent, a black sheep stood its ground on the crown of the road but, laughing, and with my foot flat to the boards, we crept round it.
Despite the PR efforts of Dominic Cummings, the roads were quieter approaching Barnard Castle, and further on mansions and socially distancing trees could be glimpsed over high walls in sheep trimmed parklands. We passed castles and fortified farmhouses, glimpsing deer, Jersey cows and those stout sheep you see, in normal years, at Yorkshire Shows. The voice from above directed us along quiet, tree lined lanes, till we finally crunched onto the gravel at the sun drenched Rose and Crown in Romaldkirk.  
As I turned the engine off, PW said, "Make the most of it. It'll chuck it down tomorrow."
Tuesday, August 25th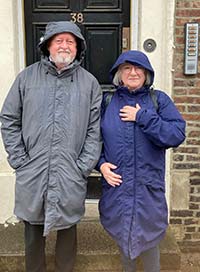 It chucked it down today, but PW had a cunning plan. We drove to Durham city, where we ducked into cafes and shops, to dodge the deluge.
Durham: city of memories and photo opportunities, from the majestically situated cathedral to the humble registry office, now converted to flats, where we married 47 years ago today. I hailed a passing Geordie, who captured the moment on camera, as we huddled between the wheelie bins.
Meanwhile, in Hebden Bridge, the flood siren sounded. Our neighbour Nicola moved our other car onto safer ground. Thankfully, the river didn't overtop its banks. Our E-type jag survived intact.
Wednesday, August 26th
Mist shrouded the A66, but the skies cleared south of Kirkby Stephen. As we breasted a rise, the windscreen filled with this green and pleasant land. We swooped down to Kirkby Lonsdale, where we had a coffee, wafted at wasps, then wandered through the churchyard to enjoy Ruskin's View.
Driving south over the Lune, I looked up river to Devil's Bridge. In several parts of England and Wales there's a tale that's told about bridges of that name. Not long after we got back, Pete Jackson shared a short film about Taffy Thomas and storytelling and it includes Taffy's version of the Kirkby Lonsdale Devil's Bridge story.
Thursday, August 27th
Going viral
According to an article in The Economist, the world is teeming with viruses. A kilo of soil contains a thousand billion virus particles. This isn't all bad news. Viruses cause plagues, but they also stimulate their prey to produce adaptations. The great diversity of life is caused by viruses. Without these adaptations, we wouldn't have eyes, highly developed brains and the ability to read articles in The Economist, although, we might be better swimmers.
Friday, August 28th
On radio 4, I heard the chapter on swifts in Vesper Flights by Helen Macdonald. An image from this reading has settled in my brain: a French airman in the 1st World War, flying above the clouds and noticing a flock of small birds, motionless and sleeping, so still that he could have reached out and caught one.
Today, Extinction Rebellion braved the wind and rain to hang their banner from our medieval bridge.
Sunday, August 30th
Association, football and sky blues
When Coleridge wrote about thoughts flitting into our minds by a process of association, he was inspired by the Halifax philosopher - scientist David Hartley (no, not the coiner). This morning, I came across this beautiful engraving of Hartley by William Blake. Then I caught up with the soccer transfer headlines.
Given half a chance, it's a bit of a sun trap at the front of our house and, even at mid morning, the heat was bouncing back off the decking. Both cats were stretched out like goalkeepers and as I took in the azure sky, dotted with the occasional, unthreatening, white cloud, I thought, 'That sky could play for Everton'. Which reminded me of true blue Paul in Luddenden Foot, who I haven't seen for months - during which time he has become a grandad twice over.
Later, as I was dressing, I looked out again and realised that the swifts have left for warmer climes. Suddenly, the sky seemed paler. It had all gone a bit Man City.
Monday, August 31st
Because of the Bank Holiday and Eat Out to Help Out, Hebden Bridge was heaving. I bought Vesper Flights at The Bookcase, then managed to get a table at Chapter 17 and a half priced coffee. Then I read Macdonald's Introduction to her essays:
"Literature can teach us the qualitative texture of the world. And we need it to. We need to communicate the value of things, so that more of us fight to save them."
Which made me think of The Offing, by Mytholmroyd's Geordie offcumden, Benjamin Myers. At first it seemed a traditional coming of age book. Robert Appleyard looks back to his adolescent roaming just after the war. The narrator uses measured, poetically precise prose. Nature is brought teemingly to life. Dulcie, the towering female protagonist, is witty, prescient and wise. Although the seashore constantly tempts Robert away, there's a magical quality to the way in which he is held in her thrall. There's times when you'll think, 'Oh really?' But it's a romance, vivid with moorlands, car rides and bee swarms and a slowly revealed sad story, and I can see why a company has bought up the film rights.
Tuesday, September 1st
The phone rang and I got a cancellation for a gig in January. I said, of course I understood. He said, "Can we book you again after April?
"Absolutely," I said.
But who knows how long this new normal will continue?
Dead end
PW has made her arrangements and pays into a club, so she keeps on at me to plan for my own demise. Today she was perusing a weighty document about funeral options that had just come through the post, as I happened to be reading an article on archaeology. I said, "Did you know that Bronze Age Brits left their dead relatives outside, to be eaten by scavenging crows and wolves? When the skeleton was completely stripped clean, they turned their loved one's bones into ornaments or musical instruments - which is quite creative when you think about it. And cheap."
If looks could kill.
Wednesday, September 2nd
Whilst PW was in Ruby Shoesday, I sheltered from the rain at The Oxfam shop and bought The Nation's Favourite Love Poems for £1.99. I was struck by how often the poets bemoaned the passing of both time and passion, but I warmed to the still glowing ember in this one.
Jenny Kissed Me

Jenny kiss'd me when we met,
Jumping from the chair she sat in;
Time, you thief, who love to get
Sweets into your list, put that in!
Say I'm weary, say I'm sad,
Say that health and wealth have miss'd me,
Say I'm growing old, but add,
Jenny kiss'd me.

by Leigh Hunt, 1784 - 1859
Designing a questionnaire
I looked back through old issues of The Guardian Q and A.
What was your favourite kiss? John Cooper Clarke: The first one.
Snap! Janet Young was mine, in the dark hallway at Gaynor Fenwick's party. Or was she called Jeanette?
Take that Plato!
The footballer Harry McGuire has appealed against his sentence for disorderly conduct on Mykonos. There was something that didn't ring true about a policeman's reported statement. Apparently, when McGuire was arrested he didn't just shout, "Fuck the police!" He also shouted, "Fuck Greek civilisation!"
Thursday, September 3rd
During The Infinite monkey cage on Radio 4, Jo Brand shared a post from a mother whose daughter was being bullied at her swimming group. The club had labelled kids according to their swimming ability, starting with Bacteria and going via Tadpoles, Frogs and so on, all the way up to Dolphins, but her daughter was still in the Plankton group.
Don'ts for husbands
I found this tiny facsimile book on a shelf. PW must have bought it for me long ago. The author was Blanch Ebbut and the original was published the year before The Great War. It's a book full of finger wagging advice and I wondered if Mr Ebbutt enlisted one year later.
"Don't be conceited about your good looks, it is more than probable that no one but you is aware of them."
"Don't forget to use a reasonable amount of caution should your hobby be dangerous. Your wife doesn't want you to be 'funky', but she has a right to expect you not to take too many risks in your motor-car, bicycle, or flying machine."
"Don't scowl or look severe. Cultivate a pleasant expression, if Nature hasn't blessed you with one."
That third one hit home. Recently, PW has told me not to be so grumpy, mistaking my enjoyment of our badinage for something worse. I protest that I don't feel at all vexed until she accuses me of being so.
I remember John Prescott saying he wasn't grumpy, he just had the Prescott family face. So don't confuse these Murphy jowls with scowls.
QUICK FIRE Q & A: Number 1
To start off this series, here's two for the price of one!
Amanda and Debbie Elwen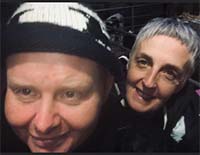 Amanda and Debbie have lived in Hebden Bridge 12 years with their two children Billie Rose (13) and Alfie (11). They have worked in the Ending Violence Against Women and Girls sector for 25 years and are the founders of the first EVAWG Hub in the UK. Debbie was recently identified as one of the most influential women in the UK for her work and Amanda sits on the board for Women's Aid National. During Lockdown they have both continued to work, ensuring that victims of domestic and sexual abuse continue to have access to the best possible services. In this time, they have opened 4 new safe houses and 3 new services, and all this whilst home educating two children. Amanda is also the coach for Hebden Bridge junior football club for under 12 boys.
What has made you laugh loudest?
Debbie: There's a lot of laughter in this house … for example, Billie bought some eye brow razors yesterday and Amanda found them. Three hours later she had shaved every hair on her body. I have moved the dog and the razor from her because I know where it will end.
Amanda: I'm fortunate enough to be able to see the funny side of most things, my colleagues make me laugh every day. I have a very serious job and I think in order to survive it the camaraderie is essential. For example, I am being awarded an Honorary Doctorate this year and my colleagues have made me a sign for my desk that says Dr Knob Head!
What's your favourite film?
Amanda: Anything Debbie doesn't watch! Action films …
Debbie: Anything Amanda hasn't picked …
Who is your hero or heroine?
Both: The women we work with every day, The courage and strength that has to come within is immeasurable.  We don't hear their journeys enough……
How has lockdown been for you?
Debbie: Sunny, constant, scary and so much work….
Amanda: Exhausting, unrelenting and not fair, especially those that were furloughed and enjoying the sun.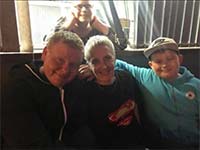 You were featured in Channel 4's 50 Shades of Gay. What was it like having your family on TV?
Both: Those who have small children know how impulsive and honest they can be. There were a few scary moments but we don't regret it at all. We just wanted to share our story and to let people make their own judgements. Far too often LGBT+ parents get criticised.  We just wanted to make the point that being a parent has nothing to do with gender and sexuality and everything to do with love and nurturing.
Debbie: what's it like inside No.10?
Amanda: if she tells you she will have to kill you …
Debbie:  It's like a Tardis, you enter through what looks like a terraced house and you enter a different world of wealth and entitlement. On the stairs there are pictures of all the prime ministers. When we get a new one, some poor member of staff has to move them all down one. Lots of police, and coming from a working class background, getting through security is always a relief. There was nothing to pinch, not even a bar of soap, everything was pinned down!
Amanda: have you missed singing in your band?
Massively so, I miss my buddies, Emma, Cassie and Kathy. If I hadn't been working 24/7 then I could have used this time to write a number one hit! Northern Powerhouse will be making a come back soon.
Can you tell us a moment that changed your life?
Amanda: There have been many moments that have changed … influenced my life course. I was kicked out of home early on for being gay, long story. I was living in a squat at 17 and I had given up on life. I met a clairvoyant in the pub and he told me I would work with kids. In the job centre the next day I spotted an advert for a play worker with Cumbria council. I wouldn't normally have looked at it … I got an interview and I met a woman called Jane Smith. She gave me the job and over the next 12 months she made me believe in myself again. I ended up at university and my life course was changed.
Debbie: By the age of 20 I had two children … At 26 I had a failed marriage, no qualifications, no opportunities and I had started doing some part time youth work. As a single parent I could only claim benefits if I was working 16 hours, but the youth service would only offer 15 hours to unqualified staff. I had to go to university. And that's where I met Amanda….On a Women's study module – we decided right there and then to change the world!
Amanda: And we are still trying … it's not quite like it is in Gilead, but for some women it is not far off.
What is your favourite place?
Debbie: Anywhere hot with a beach, Greece is high up there …
Amanda: Anywhere not hot with a beach. Aviemore!!
Corrie or Emmerdale?
Debbie: Corrie – Its northern and it has terraced streets and a corner shop…..
Amanda: Emmerdale – I'm a farmer's kid – reminds me of home.
To whom would you most like to say "Thank you?"
Amanda: My Grandad, he was my everything……playful, loving, naughty, strong and handsome.
Debbie: My Gran. She was small but determined. She did things she shouldn't have done and didn't suffer fools gladly.
To whom would you most like to say "Sorry?"
Amanda: Debbie is gonna struggle with this…..HA HA
Debbie: I don't think there is anyone I want to say sorry to.
Amanda: Told Ya! Mine would be to a friend at school. My parents thought she was a bad influence, so they stopped us being friends. The teachers backed me as I was from the right side of town with a good family, she wasn't. I'm sorry that I wasn't strong enough to fight for our friendship … We will be here all night if we wait for Debbie to say sorry, she is Taurus and stubborn to the core!!
How do you rate living in Hebden Bridge (floods included)?
Debbie: Love it, it's our forever place.
Amanda: I fancy a move … Only joking … i feel like I can be myself here and that's so important.
What question would you like me to have asked - and what would your answers be?
If you had to choose between kissing (snogging for 1 minute)  Boris Johnson, Pritti Patell or Matt Hancock, who would it be?
Debbie: Oh Amanda, you can't ask that………
Amanda: I can.
Debbie: I wouldn't want to get trapped in a lift with any of them, never mind have physical contact.
Amanda: Mine would be Boris.
Debbie: You would rather kiss him than the other two?
Amanda: Yeah.
Debbie: I' d rather be stuck in a lift with them.
Amanda: You can't have Boris now, cos he is mine. Go on …
Debbie: Pritti Patel, cos it would really freak her out …
Amanda: Oh I dunno, my gaydar suggests different … LOL
Sunday, September 6th
A capella feller
It's hard to follow the Elwens, but here's a song I wrote for our anniversary 2 years ago. When I accompanied myself on the ukulele, PW said she couldn't hear the words properly. So here it is again. It's called Slow Dancing:
Readers write
Thanks to Jo Nunn, Alan Fowler, Brian Donnelly and Roger Munday for appreciative comments on Episode 12, even though I slightly mangled the sense and tense of Roger's note on Strays - which was more organised in meeting customers' needs than expressed in my summary.
Thanks to Glenda George, Mary Krell, Claire Ramsden, Kath Murphy, Nicola Jones, Diane Green, Dave Jackson, Beth Poulson and Campbell Malone, for suggesting questions for Quick Fire Q & A - some of which I have used in this episode.
Paul from Cornwall, thank you for your note. I hope you made contact again with your fellow potter.
---
If you would like to send a message about this piece or suggest ideas, email George Murphy
More Murphy's Lore
See the Murphy's Lore home page for all 65 episodes.
---