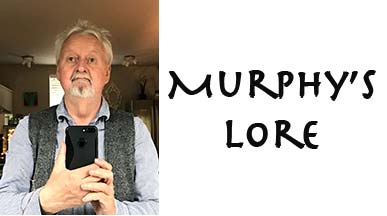 Continuing the second series of the offbeat HebWeb column from local writer and story-teller, George Murphy.
In Lockdown Diaries 14 there's grannies and vicars, Ben Nevis and Petey the Snake, hippies posh and poor, Martin Parr and the mother of parliaments, dentists past and present, a second wave, Irish proverbs, testing and nesting, Marco Nizzardo and Italy's Robin Hood.
Murphy's Lore Series Two
Episode 14: Lockdown diary
Monday, 21 September 2020
---
Monday, September 7th
 
'Don't kill granny'
The Health Secretary has launched a new slogan. There's been a steep rise in Covid cases amongst young people. They don't usually die from it, but their parents' parents might do. Part of the fall out from this pandemic could be kids carrying a life sentence of guilt if granny cops it.
The writer Christina Longden went to church for the first time since lockdown. Singing and hand shaking weren't allowed. The vicar wasn't used to this new normal and forgot to take her microphone off when she went for a wee halfway through the service.
Tuesday, September 8th
Today was Rosie's first day back at school. Granny picked her up at home time and brought her here. I'd worried that we didn't have age appropriate toys for her to play with, but she soon turned a tissue box into a camera, then cut up some old cards, made them into surreal messages and didn't ask for the iPad once. Young kids zoom along in fifth gear and then their gas runs out. She fell asleep on the journey home.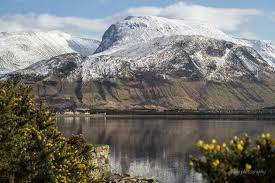 There's a review of Ben Nevis on Trip Advisor that awards the mountain a 1 out of 5 rating:
"Very Steep and Too High. This was almost a FULL day's climbing and my girlfriend was crying at one point. When we did get to the top there was nothing there (Mount Snowden has a pub, restaurant and toilet at its top). Luckily, we had bought some sandwiches and drinks. So anyone else climbing this one - BE WARNED - there are no facilities at the top. The climb basically went on far too long and the last part was particularly steep and difficult."
Pull your socks up, Ben.
Wednesday, September 9th
This evening the Thai was packed. Staff were thin on the ground but they got around licketty split, perhaps because they all wore trainers below their traditional clothes. We shared a bottle of wine and ordered from the Early Bird menu. PW suggested we should call in at Vocation on the way home, "Just for one more."
At Vocation, we politely ignored the well known comedian chatting to her mate at the next table. After one large merlot, PW said, "How about another … just a small one?"
Back home, we watched an episode of Orange is the New Black. I'd just remembered this was a date night, when I looked across and PW was fast asleep. So I watched the snakes chasing the iguanas on Planet Earth 2 again.
Before nodding off, I thought of a tale oft told by Tim Bastow of Keighley, probably my favourite monologue performer (although admittedly it's a small field).
Petey the Snake
Petey was a snake, only so big. Petey lived in a pit with his mother. One day Petey was hissing in the pit when his mother said, "Petey, don't hiss in the pit, go outside the pit to hiss." So Petey went outside of the pit to hiss.
Petey was hissing all around when he finally leaned over and hissed in the pit. Petey's mother heard Petey hissing in the pit and said: "Petey, if you must hiss in a pit, go over to Mrs Potts's pit to hiss. Petey went over to Mrs Potts's to hiss in her pit, but Mrs Potts was not at home, so he hissed in her pit anyway. 
While Petey was hissing in Mrs Potts's pit, Mrs Potts came home and found Petey hissing in her pit. She said, "Petey, if you must hiss in a pit, don't hiss in my pit; go to your own pit and hiss."
This made Petey very sad, and he cried all the way home. When Petey got home, his mother saw him crying, and said: "Petey, what's the matter?" Petey said, "I went over to Mrs. Potts's to hiss in her pit, but Mrs Potts was not at home, so I hissed in her pit anyway. Mrs Potts came home and found me hissing in her pit and said, 'Petey, if you must hiss in a pit, go to your own pit to hiss. Don't hiss in my pit."
This made Petey's mother very angry, and she said, "Why that mean old lady. I knew Mrs. Potts when she didn't have a pit to hiss in."
Thursday, September 10th
The Prime Minister says we mustn't meet in groups of more than six (unless we're grouse shooting, then anything goes).
Today there was a cold blast from the east. Outside Cafe Cali the seats were filled with shivering cyclists, writers and friends of writers. Simon the Poet told me he'd asked in a bookshop if they had any amusing poetry books and, frabjous day, the owner recommended Hippy Valley. Which was nice of him to say; although, I wish he'd said it a bit louder.
I had a meeting with Eminent Publisher about our imminent paperback publication. He'd remembered to wear his fedora and didn't shiver at all. Well before founding HebWeb he was one of the tribe who arrived in Hebden during the 70s and he caused a stir a few years back when he helped to organise a town hall display and invited old hippies to remember those years.
Snap out of it
Tonight I contemplated the surreal abnormality of Martin's Parr's early photos of 'normal life' around here. Then I turned on Newsnight and noticed, when the Shadow Health Secretary rose to his feet, all the backbench Tories hurried, bent double, along their aisle, then fled from the debating chamber. The programme presenter didn't mention this weird carry on (it's a time honoured snub), but perhaps Martin Parr would have captured the moment. Sometimes the imperative newness of news stops us seeing more abiding truths.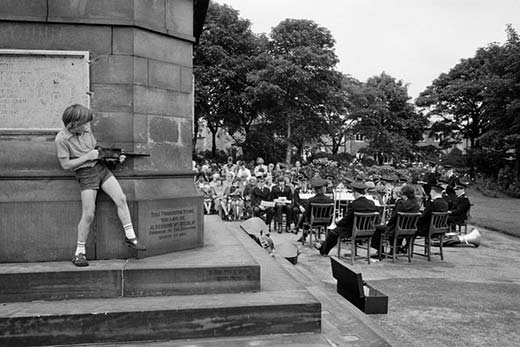 Friday, September 11th
At dentists our son has an irrational fear that handheld implements will accidentally drop down his throat. This makes proper surgical and hygiene work an impossible challenge.
During Covid, dentistry for people with special needs has disappeared. Kate has spent months trying to track down specialist dentists. At last, three weeks ago, she was promised that a treatment, involving an injection to calm nerves would be available. The surgical unit would definitely get back to her.
They never did get back, but today we received a standard note which explained that 'routine' dental treatment was not available due to Coronavirus. When PW rang the unit to remind them that our son's needs were far from 'routine', they said they had no record of her previous phone calls. The secretary she'd talked to no longer worked there.
Saturday, September 12th
Thanks a million
I reckon Who wants to be a millionaire must have needed the publicity, judging from the fact that last night's jackpot winner's high value questions were on history and politics and he happened to be a history and politics teacher. PW read that the new millionaire will share his winnings with family and charities. He says he wouldn't know what to do with a million, he's a democratic socialist. Which made us feel better about him - and the world.
Sunday, September 13th
Today the papers are dominated by two stories: the government trashing its own treaty agreement with the EU; and wondering whether the Covid second wave will turn into a tsunami.
Irish proverbs
(more old saws from a book bought off Anthony Costello's market stall)
A habit is a thread at first, but a chain in the end.
On friendship:
Two shorten the road.
A true friend walks in when the rest walk out.
On planning:
It is often a person has cut a rod to beat himself.
Monday, September 14th
PW rang the contact number for special needs dentistry. The NHS surgery is shut during the crisis, but there's a spot available on Wednesday morning at a private surgery. The initial half hour inspection will cost £115.
When I was a child in the 50s, dentists routinely administered nitrous oxide gas to knock kids out during surgery. I always had a terrible reaction to the gas and air, and never went completely under. My half conscious mind could hear the drill - it sounded like a Jews harp - and see the unblinking, angle poise light glaring down at me. It was a nauseating torture. When I came round, spit the blood from my mouth into a bowl and then explained all this, the dentist would say, "Perhaps the level wasn't quite high enough." Afterwards, Me Mom gave me an option: I could take the rest of the day off, or go back to school with a bag of sweets as a reward.
Baht 'at
Due to the closure of Keighley Road, we drove to Ilkley, via Mixenden and went past a Covid testing centre, staffed by armed forces personnel. Police sat in a car across the road, but there was no sign of any customers.
While we were melting in the sunshine at Ilkley, Leah sent us a text. Rosie has a cough and a high temperature after her week back at school and the family will self isolate. This must be happening all over the country. When Leah rang the helpline she was offered a test in Bolton.
Grace Fields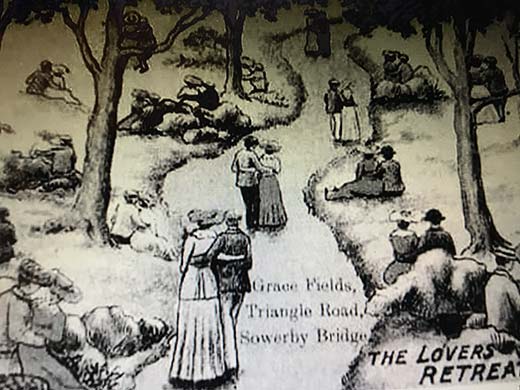 This old postcard was reproduced in Jean Illingworth's Sowerby Tales.Back in the 80s, when we lived in beautiful Mill Bank, I pushed my just purchased motorbike up that hill, on a swelteringly hot day. The shop had only put a thimble full of petrol in the tank, and as it was the first vehicle I'd ever purchased, I didn't realise it was in first gear. These Edwardian couples look as if they were having far more fun.
Wednesday, September 15th
PW took our son along to the private dentist, who asked "Has he got dyspraxia?" Her son suffers from the same condition. Dyspraxia has a co-morbidity with autism. It makes wielding a toothbrush into a very challenging procedure. The recommended polishing and protective treatments will work out at around £4000. Meanwhile, Darling Daughter's lot have been offered Covid tests at Asda in Halifax.
At the Fox and Goose this afternoon, I took part in a socially distanced read around with fellow poets H and Freda P. The audience consisted of Phil, who travels to Hebden from the other side of Bolton once a week and wandered into the room. Afterwards, he showed sound judgment by forking out for a signed copy of Hippy Valley (have I mentioned that book before?).
It was great catching up with H and Freda and hearing their lockdown poems. Mark Rylance says he prefers live performance to cinema work because he enjoys the shared consciousness in the room. Likewise, Zoom sessions are ok, but give me the real thing every time - even to an audience of one.
I texted Leah. No tests were available at Asda today, due to the high demand and lack of capacity. They might get one tomorrow.
Thought for the day
Since the start of the crisis, the government has been bypassing established NHS systems and purchasing testing and tracing provision from large companies, who then pass on the task to their subsidiaries. In the early days of Covid, offers of engagement from university research labs were ignored in favour of commercial labs. The efficient testing system in Germany has been lauded, but a long established network of health authorities and GPs was available in this country. The public sector should have led our response
Thursday, September 16th
Another gorgeous day. I sat behind Innovation, enjoying the sound of the weir and bathing in vitamin D. Darling daughter's family have finally had their Covid tests. Rosie texted me: "It makked me gag!" Now they have to wait indoors for their results. Calderdale has reported the largest daily rise in the number of cases since March: 25 in the past 24 hours.
Friday, September 18th
I read Helen MacDonald's Nests essay in Vesper Flights. In her youth she worked in a falcon breeding centre in Wales.
"I discovered that if I held a falcon egg close to my mouth and made soft clucking noises, a chick that was ready to hatch would call back … I spoke through the shell to something that had not yet known light or air, but would soon take in the revealed coil and furl of a west-coast breeze and cloud of a hillside in one easy glide at sixty miles an hour, and spire up on sharp wings to soar high enough to see the distant, glittering Atlantic."
It's been announced that from next Tuesday we're going into light lockdown again. We can't meet in groups of more than 6. We can't travel by public transport to far flung places. We have to leave pubs by 10 pm. So the main difference to our routine will be … well none really, but get set for further restrictions to follow.
Saturday, September 19th
Quick Fire Q and A:
No. 2: Marco Nizzardo
The story so far - in Marco's own words:
"I was born very little in1970 in Florence, where I grew up my first 10 years. My English mother came from Guernsey. Father had a restaurant called The Sword, near Piazza Santa Maria Novella. We moved north in the 80s, near Milano. Father had a restaurant called il Passatore after a famous Italian brigand (the Italian Robin Hood, who used to rob the rich, full stop). My family moved to Leeds in 1988 and I stayed in Italy as a student … After a few years, and a troubled period, I left for the Mexican rainforest (Selva) just after an uprising in Chiapas. After learning how life is difficult outside our Western bubble, I came back and worked in my father's restaurant in Varies (he'd had enough of the English way of life, but most of all my mother). Father died suddenly and my brother and I took over the huge restaurant for a few years. Local Mafia, politics and priests got in the way and we had to abandon the place … (from) 2001 I worked for 9 years before becoming fed up with the Italian way of life and decided to move to the UK with my children and Alba, my wife.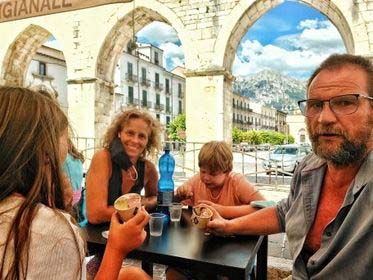 I bumped into Hebden Bridge and found the cafe I now work in. The previous owner wanted to sell it and I bluffed, saying I would buy it, even though I didn't have a penny. I wrote a dreamtime story (I'm a passionate didgeridoo player and study aboriginal culture) and magically found all the funds I needed among friends. Since then the cafe has been run fantastically and given us many satisfactions. Now I'm a bit bored and the virus has got me thinking about the next phase.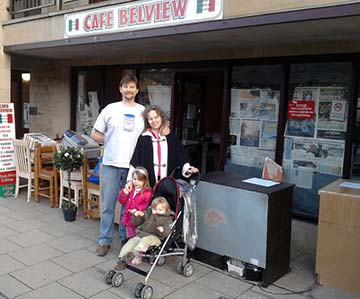 Quick fire Q and A
What has made you laugh loudest? My ice hockey team mates.
What's your favourite book? The Cicero Trilogy, by Robert Harris.
Have you got a motto? Strike with brightness what comes from light and with darkness what comes from darkness.
How has lockdown been for you? A blessing.
If you were locked in the condemned cell and offered a final meal, what would you choose? Duck a l'orange and "fritto misto" ( Italian fish fry up) and cool Traminer wine.
Can you tell us a moment that changed your life? The death of my father, I felt I had to become an adult in one moment.
If you could change one moment in your life, what would it be? I'm quite happy with how things have gone up to now.
What is your favourite place? Florence, via della Spada.
To whom would you most like to say "Thank you"? To my uncle Paul Cook.
To whom would you most like to say "Sorry"? To my ex girlfriend Pesci.
How do you rate living in Hebden (floods included)? It has been great, now though, I would like to have a house a bit higher up.
What gives you hope? My two children.
What question would you like me to have asked - and what would your answer be?
Have you got many friends?  Answer: Unfortunately not.
Sunday, September 20th
The first time I performed this rhyming tale and ditty for my Eminent Publisher he pointed out that not all Hebden Bridge hippies were well off, and had RP accents. Which is true. Most had a vision of a better future, but half a century later it's salutary to note that Trump is President and an Old Etonian is PM.
Readers write
Mary Agnes Krell reacted to Episode 13: "You've outdone yourself George! I loved reading that. The Q&A was great and I feel like I got to know two new people because of the way they so openly (and with such fun) responded to the questions. I feel like this series shows a side of Hebden you just won't find anywhere else."
Friends of Amanda and Debbie responded: Fiona Whyton, Stanley King and Helen Baron loved the Quick Fire Q&A
Pat Munday, Paul Walsh, Bob Horne and Frances Robinson - your notes of appreciation are much appreciated.
Maggie Hunt: "Yep!"
Eileen Wright (writer and artist): "Slow Dancing your best poem ever."
---
If you would like to send a message about this piece or suggest ideas, email George Murphy
More Murphy's Lore
See the Murphy's Lore home page for all 66 episodes.
---