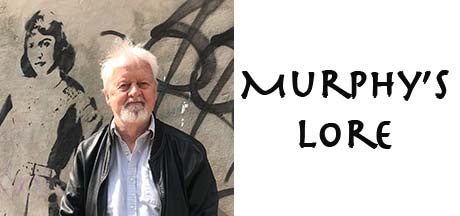 Continuing the second series of the offbeat HebWeb column from local writer and story-teller, George Murphy.
In Episode 15 of Lockdown Diaries there's a Golden Acre and a mother's pride and joy, cures for Covid and what would Margaret Thatcher do, a funeral of a stonemason and a Heptonstall story, a spaceship house and autumn leaves, mortality, a view from above, a dental visit and a sick President, an adolescent regret and the Earth in a spin.
Murphy's Lore Series Two
Episode 15: Lockdown diary
Monday, 5 October 2020
---
Monday, September 21st
Golden Acre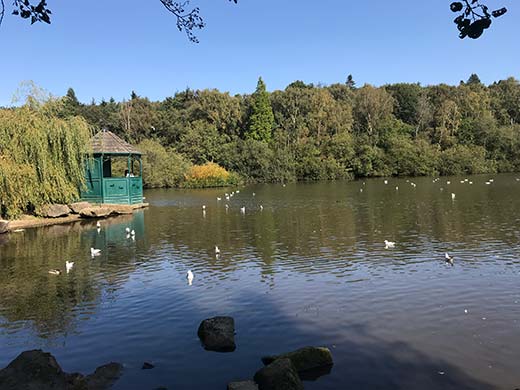 I told my bespectacled partner that Chinese scientists reckon specs offer great protection against Covid-19. Glasses wearers who pick up the virus from surfaces are less likely to rub their eyes. Also, glasses  provide a protective barrier against airborne infection.
In my (protective) shades, we set off for Golden Acre park, with the Sat Nav nagging us to go up Keighley Road. 'Fraid not, Charlotte.' Instead we detoured up beautiful Luddenden Valley (from old English, 'loud valley, valley, valley') and bounced over the bumps in Mixenden ('dung heap in the valley', but looking pretty in the sunshine), noticing that the Covid testing centre still had no customers.
At Golden Acre we met our mate Jenny, just back from visiting old haunts in the south west, including a bench on a green between Dorchester and Poundbury, that I hope has a view of Maiden Castle. The bench has a plaque on it in memory of her late husband, who was a history buff, and a bland legend the company had persuaded her to use, rather than the quirky one she'd wanted.
Golden Acre straddles an A road, with tunnel access to marshes and nature reserves. Jenny had spent a lot of time on her own during lockdown and, realising she needed to talk, PW fell into socially distanced step with her. Above the lake, out of earshot of the road, I pointed to a bench and said, "That one's got my name on it."
As I sidled off, I imagined the horror film possibilities if that was true. I'd just settled down when a couple came along and blocked my view. The woman pointed to the brass plaque and said, "Excuse me, that's our bench … would you mind … ?" No doubt this was their annual visit to honour an equinox departed loved one, but as I walked off I imagined turning back just in time to see them sit down, then dematerialise.
I got distracted by a woman who was berating her dog who'd run off. "Murphy! Murphy!" she shouted. To me he just looked exuberant, but give a dog a bad name …
Mother's pride
There's been a glut of photos on Face Book showing uniformed toddlers setting off for the new term in school, with lots of doting messages from parents - well, mums mainly. These usually follow a regular pattern, although I was surprised by a mum's message accompanying a snap of her toddler, setting off for her first day in Reception class, "Isn't she frigging gorgeous?"
Tuesday, September 22nd
According to the UK tracking app, the top Covid symptoms, in descending order, are:
fatigue (87%)
headache
loss of smell
persistent cough,
sore throat (49%).
In the scientific journal, Nature, they've listed the percentage risk of dying for those suffering from the virus in relation to age:
11.6% for those over 74;
3.1% for 65 to 74;
0.5% for 45 to 64
0.03% for 15 to 44.
Today there were police vans parked up our lane, frog men were searching the canal. I wondered if there'd been another suicide, but the half dozen bobbies on the towpath wore nothing-to-see-here-move-along faces. So I didn't ask.
At the Piece Hall, Jude said he didn't believe in the afterlife, but he wasn't sure about God because of the big bang. I was going to have a chat about that, but decided against it. He talked about the tilt of the earth and the seasons as we basked in the autumn sunshine, nursing our drinks. 
 
Tonight, looking down from the balcony, I remembered an evening in my youth, when I followed Michael Hines as he climbed onto the flat roof of the new Woolworths in Ellesmere Port. We dangled our legs over the edge and he wolf whistled at passing girls he knew, while I stared up at the starry sky and said … "It's like we're the last frontier before outer space."
I didn't get many girls back then.
Wednesday, September 23rd
At a pavement cafe in town, a guy told his partner that orange juice is a cure for Covid, it makes you better in a couple of days, but governments don't want us to find out. I wouldn't say she was doubtful, but I fancied she arched an eyebrow as she glanced at me over his shoulder.
He Tells Her

by Wendy Cope*

He tells her that the Earth is flat -
He knows the facts, and that is that.
In altercations fierce and long
She tries to prove him wrong.
But he has learned to argue well.
He calls her arguments unsound
And often asks her not to yell.
She cannot win. He stands his ground.

The planet goes on being round
(from If I don't know, Faber & Faber, 2001)
Thursday, September 24th
In a cafe, an elderly woman was asked by the young waitress to sign in. She boomed, "What will I put? Margaret Thatcher?! She'd have soon sorted this lot out." She looked over to me, the only other customer in the place, and not wanting to verify her opinion, I diverted my eyes to my paper.
The proprietors joined her. Loud woman didn't reckon much to lockdown and scientific opinion. Her and Sweden had got it right. When the waitress returned with her  coffee, she looked up and said, "You can't tell young people to stop living. Now, can you? I mean, it's inhuman."
I've got some sympathy for that opinion, but I thought, "If young people aren't careful, we're the ones that might stop living." 
Hebden Bridge has recorded its first Covid cases since early July.
Friday, September 25th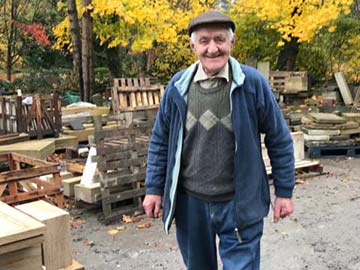 I went up to Heptonstall for the funeral of Peter Whitaker, who not long ago was carrying hefty stones around the mason's yard, or finding time to entertain me with his gossip. Because of the limit on numbers, I stood outside the church during the service, holding my hat on in the wind, then followed the mourners and the coffin bearers into the new graveyard. The vicar talked about God and the resurrection, but no doubt Peter had featured earlier in the proceedings.
Walking back to my car, admiring the view across to Stoodley Pike, I wondered if a plot of land thereabouts could be allocated for heathens like me to be buried when our time comes. I reckon the council could make a killing.
In the evening, I met Jude for a drink and heard a visitor say she'd just walked up to Heptonstall and how 'cute' it was. Cute isn't the term I'd use. I reckon a series entitled, "The Heptonstall murders" could play well on TV. Quite apart from the blackness of the millstone cottages, the sad poet in the new graveyard, the 200,000 bodies in the old graveyard (including King David) and the ruined church, the place is haunted by its history.
Two centuries ago, a drunk boasted he'd willingly give information against coin clippers in order to receive a 100 guinea reward. Instead, locals rewarded him by forcing his head into the pub fire, with a red hot poker up his fundament to help him on his way.
Saturday, September 26th
As the prime minister's popularity slips, sympathetic sources are leaking stories that he's on his uppers since his divorce. Not only has he lost his quarter million pound income from his Telegraph column, he's having to pay more school fees as his children grow older. Perhaps we should all have a whip round?
This evening we were joined by our Murphy bubble. I watched Rosie play several games of Ludo and Snakes and Ladders with granny and remembered the nonsensical delight of board games and how daftly dramatic they can become, so much so that I managed to spill my wine, which had been nicely nestled on my belly, when granny pulled victory from the jaws of defeat. For which accident she sent me off in disgrace to find the Vanish.
Sunday, September 27th
Pam Dimbleby sent me a video of the Todmorden spaceship home of the future on Nationwide, back in the 80s. It reminded her of my UFO monologue.
Here's the house seen on the coast in a promotional photograph, before setting off for Tod.
Monday, September 28th
In the last seven days there were 5 new Covid cases in Hebden Bridge and 6 each in Mytholmroyd and Tod.
Autumn leaves, by Joy Edwards
I enjoy sunny spells like these, when autumn acts like summer, but blushes at the pretence. I used to love running on cool September evenings, in the fading light, when there was a slight whiff of smoke from house fires in the autumn air.
Ashes to ashes
When I was young, very young, when I had to take turns sleeping head to feet with my three sisters, each of whom had her own bed, I suffered from insomnia, partly because of the sodium street light shining through the thin bedroom curtains.
I tried to fall asleep by not thinking, but then I'd catch myself thinking about not thinking. And sometimes I thought about death: one day, I wouldn't be around anymore. This seemed damned unfair. I knew that once I hadn't been around and I didn't remember being bothered about my non existence, but now I was full of myself and I didn't want to let myself go.
All this feeling of unfairness led me to groan, quietly at first, but then louder. Until at last me mom opened the door and I could see her hair all unkempt against the landing light.
"What's the matter?"
"I'm going to die."
"No you're not."
"I am, I'm going to die one day."
"Is that it?! Well, I'll die a long time before you."
Then me mom shut the door and went off to her bed. I felt comforted. Not by her words, but by her voice, stern as it was. I think it must have been a feeling that we were all in this together and it just felt unnatural to lie there moaning about it. I fell asleep and, though I hope my eventual departure is a painless one, I lost my fear of not being.
Tuesday, September 29th
I've been invited to join an online poetry writers group, but the sessions are on Thursday evenings, which I can't do. So I'll save up the session leaders' prompts and write some responses in future, inspired by Brian, who also belonged to a poetry group, in Diary of a Somebody.*
Rhyme and Treason

Bored one day in nineteen eighty-two,
I pulled out a five-pound note and drew
a bushy moustache and a pair of specs
and sundry other physiognomic effects,
joined-up eyebrows, a furrowed brow,
zits, and the proud horns of a cow
upon Her Majesty's regal noodle,
It was a most disrespectful doodle.

All these years on, I've not said sorry yet.
That's why I'll never be, poet laureate.

(*Brian Biltson, Picador, 2019)
Wednesday, September 30th
Nicola Jones has shared a drone photo of Hebden. All those lives, and goings on down there. I can just see our roof.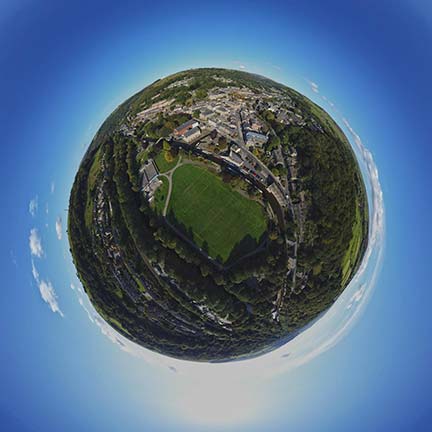 Thursday, October 1st
Today, PW's plan came to fruition. Our son went four hours without cig, vape or food whilst PW drove him around nice scenery to keep his mind off things. Finally, at the special dentist's he offered his arm for a needle to send him into a nice floaty state, where he wouldn't be troubled by his compulsive belief that the implements might fall down his throat. They tried and they tried, but the hygienist and her two assistants couldn't find a vein they could use. Our son kept apologising, as if it was his fault. He'd had one of his regular blood checks on Monday and they said it didn't help that he was dehydrated. In the end he bravely allowed them to make some minor incursions into his mouth because he didn't want them to feel sad.
I bought a bottle of wine for PW, but great minds think alike. On the way home she  bought one too.
Friday, October 2nd
"Good morning Mr President? You rang?"
"I'm not feeling too good. Hey, have we got any orange juice? Oh, and mix some bleach in with it. That should shift it."
"Very good, sir."
"And tell the maid to wear a mask when she brings it - and glasses."
The President was already taking a medication which he claimed would save him from being infected. Rob Collins posted, "Well, that just about wraps it up for hydroxychloroquine."
Are we for real?
I've been making a list of all the unusual religious creeds and practices around Hebden Bridge, but what I like about science is it's even wackier than the wackiest religion; although, at least scientists test out their theories. Now it appears that philosophers are just as zany. Thumbing through old New Scientist magazines, I found an essay by the philosopher Nick Bostrom, who used probability theory to argue that at least one of these propositions must be true:
most civilisations become extinct - but some don't;
most civilisations that survive aren't interested in creating alternative universes - but some are;
we are almost certainly living in a simulated universe.
He proposed that if 1. a fraction of civilisations survive, and 2. a fraction of those civilisations can use computer simulations of immense power, that means that proposition 3. is true. He states "It is not coherent to reject all three."
So we might all be in a computer simulation, with the Copernican model and Einstein's theories reflecting the rules of the simulation.
Us and Us
We watched Us, although my enjoyment was slightly impaired by PW siding with Tom Hollander against his wife and son. PW is kinder than me and had her special needs antenna finely tuned. It prevented me from really relishing his excruciating discomfiture. Anyway - spoiler alert - in the end I think his wife (Saskia Reeves) had the right idea all along. Sometimes families need a fresh start.
Saturday, October 3rd
I've had something on my mind for quite a while. Since about 1965, I'd say … It was a Saturday evening and I was 14 and in charge of the house. My younger sister must have been on a sleepover and the older two were out with their dates. Me mom was out with her newly acquired husband. There must have been a sequence of these evenings, because I remember, after The Avengers, and before Match of the Day, I  watched European films on the new BBC 2 channel and the one I liked most was 400 Blows, Truffaut's first film.
Some time in the evening me mom and Mike came back from the pub and said they were having an early night. After the football, I locked up and headed upstairs, my mind already putting itself to bed. I was startled out of my semi stupor by a frantic banging noise that caused me to see a mirage. It's the only illusion I can remember seeing in my life, apart from that one time, a few years later, when I took LSD. The mirage was a large pounding heart, sliced across so that I could see its chambers. The illusion must have lasted no more than a moment or two, but I was terrified. The banging noise seemed to me like the amplified beating of me mom's heart. I thought she was about to have a heart attack and the amplification didn't seem strange at that instant - more like a film special effect made real.
Then the booming, frantically accelerating beat started to separate out into more mundane elements, a headboard knocking, bellies flapping and springs complaining. The distance from the stairs across the landing was too short for me to move from adolescence to manhood. I burst into my room, slammed the door behind me and turned on my light. The tumultuous sounds stopped and in that instant my regret began. It's stayed with me ever since. I thought of me mom and Mike, unnaturally thwarted in their passion, their silent exasperation, and the huge night sky piled above us and going on for ever.
In the early hours, not able to sleep, I put my light back on and wrote a note to myself, hoping to squeeze the events onto paper to assuage my feelings of guilt. I only remember one fragment of that juvenilia: my feeling as I stood in my bedroom  after silencing the newlyweds.
In my room, all was known and thin.
I turned off my light and the universe set in
Sunday, October 2nd
Pop up shops on the canal
I like this video from Dr Brian Cox. It's by an astrophotographer, who filmed the same portion of the Milky Way for 3 hours, clicking on his camera every 12 seconds, thus capturing the movement of the Earth in space.
---
If you would like to send a message about this piece or suggest ideas, email George Murphy
More Murphy's Lore
See the Murphy's Lore home page for all 67 episodes.
---