Continuing the second series of the offbeat HebWeb column from local writer and story-teller, George Murphy.
In Episode 16 of Lockdown Diaries there's student shame and an island quiz, Shakespeare and Shipman, Corfu and Mull, a Hebden hero and a cure for buskers, Miller Lee and boggarts, Bob Pegg and the man from Luddenden Dene, Fiery Jack and Amazing Grace … and the second wave hits the north.
Murphy's Lore Series Two
Episode 16: Lockdown diary
Monday, 19 October 2020
---
Monday, October 5th
Wow, who could have foreseen that students going off to university would mingle together, have freshers' parties and visit pubs, clubs and cafes  - just like we did? They should be ashamed of themselves.
Tuesday October 6th
Tourists were photographing the boats on the canal. So I joined in.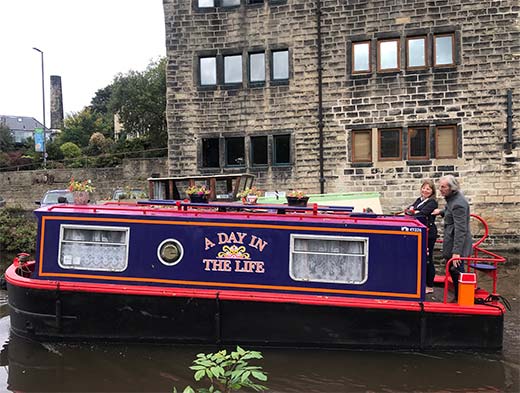 Holiday Islands Quiz
I found a folded up quiz paper in my pocket that predated Lockdown. I must have put it there after I did a charity gig in Littleborough. I was amazed by how well travelled people were compared with me. I think the winning team scored 18.
Here's 10 to start with. Name the island:
Here you can ride down steep hills in a basket.
Home to the Knights of St John after they were driven from Jerusalem.
The island home of Spain's highest mountain.
The birthplace of Aphrodite.
Where Napoleon died.
Home of Grace Stansfield.
Where Shirley Valentine was filmed.
Santorini belongs to which country?
The largest island in the West Indies.
A North Atlantic island famous for pink beaches and shorts.
Wednesday, October 7th
Reversing out of a parking bay at the Co-op, I paused as a friend walked by with her phone clutched to her head. She's a member of the Globe Theatre, a storyteller and director and a Shakespeare in Schools performer. So I'm glad I used my mirror. I wonder how she's doing with so many theatres in semi permanent lock down. I presume the bard is barred from schools just now, unless he zooms in.
As we once owned a third of the world, Britain has scooped up a few islands over the years. Aimee Cesaire wrote a powerful challenge to Prospero (and Shakespeare) which I had read and noted and ironically misattributed to the bard, until I received a most gracious note of correction from Vivienne Crawford, for which I am shamefacedly most grateful:
Caliban's speech

"Prospero, you are the master of illusion,
Lying is your trademark.
And you have lied so much to me
(lied about the world, lied about me)
That you have engaged by imposing on me an image of myself.
Undeveloped, you brand me, inferior,
that's the way you have forced me to see myself.
I detest that image! What's more it's a lie!
But now I know you, old Cancer; and I know myself as well."
Holiday Island Quiz
Despite its name, this small island is home to a church for 365 days of the year!
Queen Victoria's favourite island.
Home to Mt. Etna
The largest Greek Island - home to Zeus.
Home to Ernest Hemingway and Tennessee Williams.
The main site for Mamma Mia.
Home to the world's largest water wheel.
Where they greet you with a lei
Originally named Ibozzim and home to Bes, god of music and dance.
Known as 'the flower of the Levant' or 'turtle island,' give its Venetian or Greek name.
Answers will follow in due course … when I've looked them up.
Thursday, October 8th
The Shipman files
Documentaries, for all their apparent realism, can't revive and reanimate such people as Doctor Death. What made him cry or laugh? What were his nightmares and memories? Why was he addicted to murder, as well as to drugs? How could he know all the expressions of empathy without feeling any? To capture reality we need fiction. 
Cor Phew!
In a cove at Sidari in Corfu in the early 80s, I learnt how to stay afloat. I lay back, head back, belly up, arms out and paddled with my hands, not noticing as my wedding ring slipped off into the soft sands below the warm, welcoming waters, never to be retrieved. Perhaps now it is worn by a nymph or Siren.
We were with our friends Kit and Sally. In those days women sunbathed topless and I recall Sally, big bosomed and sweltering, buying a pair of water melons from a raggedy looking Greek man and thinking, "Donald McGill: I wish you were here!"
Sidari was very quiet in those days. I spent time sitting outside lonely tavernas with the kids, quaffing Ouzo, an anise flavoured drink, while they drank their lemonade. At night, the fireflies emblazoned the bushes on our way back to the villa. Kath got bitten by mosquitoes, who didn't seem to like my smell and left me well alone.
Twenty years later we went back to Sidari, but now it was twenty times larger and full of Brits. Every bar advertised Premiership football from Sky. Female staff offered shots to Jude and me as soon as we went inside. The quiet cove where I learnt to stay afloat was packed with English guys doing Oggy Oggy Oggy chants.
Friday, 9th October
Taking the Michael
When I was in a band I had to look after the equipment. I remembered what to take by personifying the gear. The speaker was called Bernard after the House of Commons Speaker and I never forgot to take "Our Mike."
A decade ago, for a few short months, I stopped buying books and often asked PW, "Have you seen Mike Hindle?"
I remember in one of his diaries, David Serdaris asked his sister if she got a tradesman to service her furnace. She told him "I use Mike Hunt."
Holiday Island Quiz Answers
Madeira 2. Rhodes 3. Tenerife 4. Cyprus 5. St Helena 6. Capri 7. Mykonos 8. Greece 9. Cuba 10. Bermuda 11. Christmas Island 12. Isle of Wight 13. Sicily 14. Crete 15. Cuba 16. Skopelos 17. Isle of Man 18. Hawaii 19. Ibiza 20. Zante/Zakinthos
NB try not to think about your favourite island too much over the next few months, oh landlocked ones.
The Shipman files
Todmorden Detective Sergeant, George McKeating, arrested Shipman in the mid 70s, whilst he was a young GP in Todmorden. McKeating noticed he had track marks on his arms from where he'd injected himself with pethidine. Shipman admitted he was a drug addict and he'd forged prescriptions and injected the pain-killing drug into his arms and legs. The General Medical Council fined him, but he wasn't struck off.
Saturday, 10th October
Around the Isles
Some of our friends are travelling around remote parts of these islands. There's rumours that soon we won't be allowed over the border into Wales or Scotland. We'll just have to gaze at photographs, like the ones in the annual competition at the town hall. Here's Mull Boat by Heather Morris.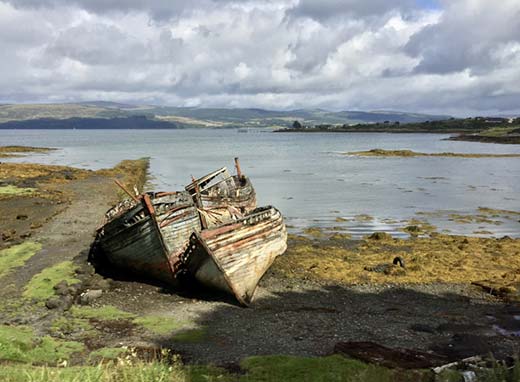 Sunday, 11th October
Hebden hero
I ordered a cappuccino in George's Square, only for a busker, a maudlin minstrel with a contrived break in his voice, to strike up one of his over-amplified cover songs. While I waited, my table was surrounded by a group of sullen looking men in dark clothing and military fatigues. They sported armbands, which I couldn't examine in detail, but I reckoned they were possibly fascist insignias. It's not unknown for white power groups to stop off in Hebden to challenge gender fluid, 'effete' Hebden types with their chants. So I cancelled my coffee and high tailed it over the bridge, finding a sunlit spot outside The Old Gate in which to get my vitamin D intake whilst reading the Sundays.
There's a song about searching for the hero inside yourself and it must have been nagging at me because I couldn't quite settle. After reading the News, Sport and Culture sections, sipping a cappuccino and sinking a pint of Pendle, I decided I had to go back and confront the forces of darkness, if they were still there.
To my surprise, apart from the amplified blasts from the woe begone crooner, everything in the square seemed peaceable. I sauntered close up to the pint supping fascists and surreptitiously read their armbands … 'Brotherhood'. A quick google informed me there are Brotherhood groups all round the world "a male bonding organisation helping men deal with life's challenges". They weren't fascists after all. Close up, in fact, the brothers now seemed quite a friendly, 'fraternal' bunch. Even the melancholic busker had taken a happy pill, and he began a medley of slick guitar licks and Chuck Berry classics. I still imagined sauntering over and tweaking the volume controls down a few notches, mind you; no doubt eliciting a round of applause from some in the ranks of trapped, coffee sipping day trippers, but I thought better of it. Instead I wandered off, but could still hear him halfway down Crown Street. Until, just past One Stop, there was blessed silence … followed by a galling splatter of applause.
I got to wondering what would be a good way of controlling the busker problem …
Nymphs - and buskers run away!
Monday, October 12th
Tier 2
Hebden is in Tier 2 of the three tier system of Covid restrictions, one below the naughty step. It's actually a slightly lesser lockdown than the light lock down we had before. Now we can have a few people round to shiver with us in our garden.
Watching the announcement from Number 10, I was struck by the sceptical words from the Chief Medical Officer. No longer can the government claim that they are following the science. Only one of the recommendations from SAGE have been followed so far.
The Shipman Files
Shipman was finally caught when the daughter of one of his victims reported him to the police, after her mother left almost four hundred thousand pounds to him in a hastily written will. An autopsy discovered traces of heroin in her mum's body.
Shipman was able to hide his deeds in full view for so long because his victims were old, and society assumed that someone in a respectable profession would never commit such crimes. There was something patronising about the then Labour Government trying to avoid a public enquiry ('why upset people again?) as well as a desire to save money. I'm glad that Peter Devine of the Todmorden News - armed with his research into spikes in the town's death toll during the Shipman era - and Chris McCafferty MP supported local families in pressing for an official Enquiry.
 
Tuesday, October 13th
Miller Lee
This tumble of stones was once a bronze age burial site, now known as Miller's Grave on Midgley moor.
Miller Lee hanged himself at Mayroyd Mill in the late 18th century, his mind distracted after being spurned by a loved one. He was buried above Heights Road at Four Lane Ends, where the footpath from Mytholmroyd joins the moor. It was customary in those days to bury those who took their own lives in unconsecrated ground.
That wasn't, however, the end of the matter. People walking along Heights Road complained that the place was haunted by the ghost of the dead man. Eventually a group of local men, perhaps emboldened after drinking at the Mount Skip, dug his body up, battered it with pics and shovels, then carried it further onto the moor and threw it inside an ancient burial chamber, (still there, but toppled down) a bronze age feature now known as 'Miller's Grave'.
Still the haunting carried on, until at last the church authorities relented. It was allowable for those committing suicide who had lost their mental faculties, and therefore weren't responsible for their actions, to be buried in consecrated ground. Lee's body was finally laid to rest in an unmarked grave in a corner of Heptonstall graveyard.
(This is the tale as I was told it, but different versions of the story are related in John Billingsley's book, Folk Tales from Calderdale, volume 1.)
Appliance of science
The Labour leader has chosen his moment, separated from the government line and backed the SAGE committee in calling for a 'circuit break' - a nationwide lockdown for two or three weeks.
Wednesday, October 14th
Bogs, boggarts and bogeymen
In north country folklore, boggarts were said to live in bogs and marshes, where they could drag unwary travellers to their doom. They had the useful power of making themselves invisible. Where swamps and bogs were drained, boggarts survived in shrunken form to become mischievous household bogeymen. Tales of these mythic monsters were used to frighten tremulous children, in fun, or as a warning to behave. In better times, Mytholmroyd has a Boggart Festival, where people represent the mischievous creatures with effigies.
The farmer and the boggart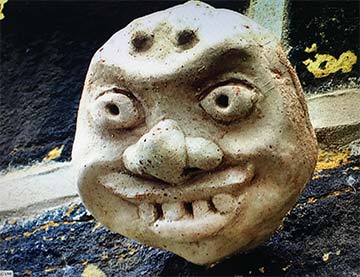 A farmer bought some land where a boggart had resided in a mire for years past counting. As soon as the farmer set ready to drain the swamp and cultivate his field the boggart appeared and the pair began arguing. At last the farmer offered to share his crop with the boggart and asked whether the creature desired the crop above ground or below ground. The boggart gave it some thought and then chose, "The crop below ground!"
The farmer sowed the field with barley and at harvest time he harvested his crop and gave the boggart the remaining stubble. The boggart flew into a rage and said next year he would have the crop above ground. So the next year the farmer sowed the field with potatoes. At harvest time the farmer enjoyed his crop of potatoes, whilst the boggart was given a yield of poisonous leaves.
The people thereabouts heard the tale and mocked the hapless boggart for his stupidity. So the boggart dematerialised and only chose to be seen when it suited him. Oftentimes he could be heard laughing and snickering and making bumps in the night at the farmer's house, which in turn caused the farmer's wife to demand they should move elsewhere, for the bogeyman was frightening the children.
The farmer piled all their furniture onto his cart and boarded up the house. He was sure to take his crate of potatoes and a flagon of ale his wife had brewed. The family unloaded their possessions at an old deserted cottage on the far side of the vale. Then he  lifted down the crate of potatoes, which felt much lighter than before. He looked inside, "Why, who has taken taken my spuds - or eaten them raw!" he cried. Then he heard the mocking laughter of the boggart.
Last of all, the farmer reached for his flagon of beer, but felt at once that it was empty. He listened intently, thinking he might capture the boggart and pin him to the floor. "Hic!" he heard from the brazen creature, and though the farmer dived in his direction he only wrestled with thin air. For the boggart had already scampered off towards his new abode.
Saturday, October 17th
The man from Luddenden Dene
Here's a song from the folk singer cum storyteller Bob Pegg. Paul Degnan told me Bob did his research by talking to local people in the 1970s.
Sunday, October 18th
North and south
Having been under light lockdown for months, Manchester Mayor, Andy Burnham is demanding that any move to a Tier 3 level should be "properly funded by the government." Some local Tory MPs are supporting him. He'd prefer a 'circuit break' lockdown, if it was funded by 80% furloughs - as happened nationwide, earlier in the year. As the figures rise across the country, it's probable that Calderdale will soon have to make hard choices about whether to go up a tier.
Amazing Grace
Thanks to Becca who was playing her instrument as I walked home. After Amazing Grace she played Somewhere Over the Rainbow and they both seemed appropriate tunes for these amazing times.
Jack's tale
(The idea for this tale came from a true story told to us by Jack Noble of Cottonstones back in the 1980s, which I've worked up into a cautionary tale of servants in one of those grand 'yeoman's' houses that dot the valleys around here.)

After t' war, some posh folks in our nation,
Decided to install refrigeration.
Freezers came into fashion,
While most folks had to ration,
Thus preserving t' upper classes from starvation.

Here's a bawdy tale, entitled Fiery Jack,
About, 'A deep heat treatment for pains in joints and back'.
But, as every careful customer understands,
After each application, be sure to wash your hands!
Fiery Jack
---
If you would like to send a message about this piece or suggest ideas, email George Murphy
More Murphy's Lore
See the Murphy's Lore home page for all 68 episodes.
---