Continuing the second series of the offbeat HebWeb column from local writer and story-teller, George Murphy.
There's winter weather, Ted and Sylvia, Dickens's artful nose, naming, shaming and pickpockets, Tier 3, Lost in Lockdown, Zooming, a train journey, a 70th birthday, a Yule poem and a song.

Murphy's Lore Series Two
Episode 20: Lockdown diary
Monday, 14 December 2020
---
Monday, November 30th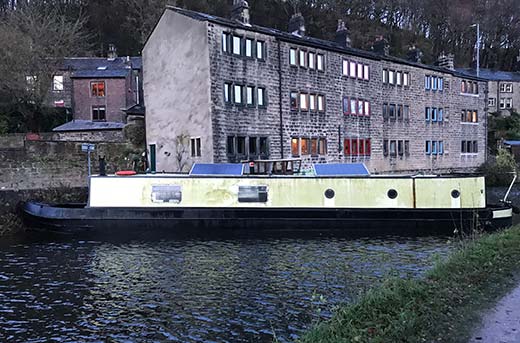 The sky was dingy as a floor cloth, the rain bucketed down. Cold blasts skewed a boat across the canal, the downpour thickened to sleet. It was a day for hunkering down.
One of life's milestones is looming. I'm missing the easy laughter of meeting my mates in pubs. There's a poem I like in Birthday Letters … Sylvia and Ted are sat in The Stubbing Wharf …
Between the canal and the river
We sat in the gummy dark bar.
Winter night rain. The black humped bridge and its cobbles
Sweating black, under lamps of drizzling yellow.
And the hillsides going straight up, the high woods
Massed with tangled wintry wet, and the moorland
Almost closing above us. The shut-in
Sodden dreariness of the whole valley.
The hopeless old stone trap of it.
Ted was all for buying a house in these hills, old farmhouses were going cheap, but Sylvia saw only the blackness, until …
                                … five bowlers
Burst in like a troupe of clowns, laughing.
They thumped down their bowls and ordered. Their star turn
Had a raging ulcer, agony.
Or the ulcer was the star. It kept
The five of them doubled up - tossing helpless
On fresh blasts of laughter. It stoked them
Like souls tossing in a hell, on a grill
Of helpless laughter, agony, tears
Streaming down their faces
Like sweat as they struggled, throats gulping,
To empty their glasses, refilling and emptying.
I had to smile. You had to smile. The future
Seemed to ease open a fraction.
Tuesday, December 1st
As Aretha once sang: what a difference a day makes!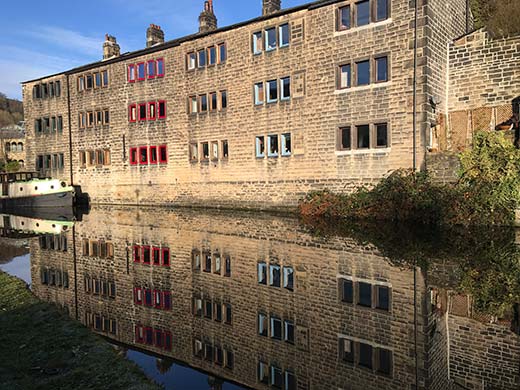 The Artful Dickens
I'm enjoying John Mullen's biography. Sniff out his chapter on Smelling. Dickens knew pongs lead readers by the nose - aromas take us places, even back in time. In balmy sunshine I walked round Hebden and read the plaques on the shut shop windows. At The Hole in the Wall, White Swan, White Lion and the (long bolted) White Horse, there used to be stables. The Barnacle family in Little Dorritt rented a residence surrounded by mews, just off Grosvenor Square, "To the sense of smell, the house was like a sort of bottle filled with a strong distillation of Mews; and when the footman opened the door, he seemed to take the stopper out."
Named and shamed
On FaceBook someone's shared photos of Hebden guys acting suspiciously. Despite their masks, the suspects recognised, named and shamed. Cell phones have captured the wrong doings of police, so maybe it's right that criminals are exposed, the rest of us alerted. Just remember that local villains use FaceBook too, and they know where you live.
In folklore robbers are often heroes …
The Pickpockets
Slithering through the crowd at the station, Clem Sutcliffe had helped himself to a few watches and purses, when he saw a shiny cheeked lass, not above his own age, gliding towards him out of a cloud of steam. He prepared for more easy pickings.
She surprised him by asking for directions and unfolding a large map of the valley. He held a corner of her map with one hand and pointed out shopping streets and the way to the crags with the other, but when she asked him the time, his watch had vanished.
"What the devil!" he blurted.
"Whatever is the matter, sir?" the young lady enquired. "If it's your watch you were looking for … why here it is on my own slender wrist! Now, how could that have happened?!"
Clem laughed and asked if he could buy her refreshment at the station cafe. They found a table away from others. "I see that you follow the same trade as me?"
"How dare you!" she laughed. "I am Rowena Rye, daughter of Raimundo, 'Prestigious Prestidigitator' and 'Miraculous Magician'! My father taught me the tricks of his trade but forbade me to perform them. So, now I have run away from the circus! And I'm looking to pay my way in life." With which she placed her hand in his, along with his cufflinks.
They soon became partners in crime and passion. The most successful pair of finger-smiths between Hull and Liverpool and, within a year, Rowena gave birth to Ambrose. They hoped he'd become the greatest pocket picker of them all; however, the darling boy was born with a deformity - his right hand was firmly clenched into a fist. Much as they tried to coax it open, it remained stubbornly shut.
One day they were plying their trade along the prom in Blackpool, but broke off to visit Queenie, aka 'Selena the Fortune Teller', an old acquaintance of Rowena's, to whom they showed off their boy; who was perfect in every degree, except for his disability.
Queenie said, "Well, here's a marvel, I may have a cure for just that adversity!" She delved into a deep pocket in her cloak and took out a shiny watch on a silver chain. Ambrose was captivated.
Queenie swung the watch before the cherub, all the while singing a Romany lullabye. His eyes followed the mesmerising timepiece, to and fro, to and fro, then, before tick turned to tock, the baby snatched both watch and chain from Queenie's grasp.
Clem clapped in amazement and Rowena gasped, "Look Clem! Look! There on the table!" When snatching the watch, the little lad's hand had relinquished another shiny bauble.
Queenie exclaimed, "See what was grasped in the little feller's fist - the midwife's wedding ring!"
Wednesday, December 2nd
Goodbye lockdown … hello Tier 3.
Well, at least the shops are open - and the barbers. Jude and I got a trim at Jack's retro salon, with its gleaming tiles, jukebox and red leather seats, scrubbed clean of Covid. A far cry from Poll Sweedlepipe's barber's shop in Martin Chuzzlewit, where the staircase was "sacred to rabbits, kept in hutches of all shapes and kinds," that increased in "a prodigious manner" contributing "a complicated whiff which … saluted every nose that was put into Sweedlepipe's shaving-shop."
Lost in lockdown 1
I asked friends about the impact of lockdown on special celebrations, holidays and birthdays. Several wrote about children …
Helen: "Baby number 2 born during the first week of lockdown. Spent 5 months at home alone, grandparents and other family members unable to see him. No groups/support networks available face to face to help develop his social or cognitive skills. All of this done from home. No groups or support networks for me, a petrified mummy. Now I'm going back to work and we've missed out on so much. Still, we are safe and well, so we're luckier than some!"
 
Janis: "It was going to be the first year I travelled abroad in long years … the first ever for Scarlett and Poppy … I spend a whole year to sort out passports, due to incompetent passport systems. And then we go into national lockdown … Yeah, it's been pretty crap."
Kirstin: "My granddaughter had her 4th birthday on the drive (suitably decorated) with visitors coming one at a time during the day. She hasn't met any of her potential playmates on our street."
Karen: "Kitty missed out on seeing her first musical in London for her 17th birthday."
Not all responses were sad ones: Paul of Luddenden Foot became a grandad, "We got Carlo."
Thursday, December 3rd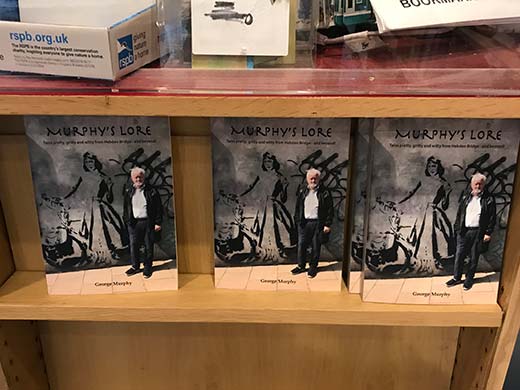 My paperback's in The Bookcase. A friend, when he saw the cover, entitled it, "Spot the poet!"
There's also a shelf of titles from Ben Myers, who exemplifies the advice Bernardine Evaristo gives to students on her writing course, "Be unstoppable!"
Lost in lockdown 2
More from my trawl of special occasions missed …
Christina: "Hannukah, a 16th and an 80th … the worst is feeling like you've missed out on 6 months with your parents … and the kids being robbed of that time with their grandparents. Because it did NOT have to be like this."
Jean missed her friends' 50th anniversary and a granddaughter's 18th … "and Chuck's 80th is on December 28th, so no big party for him! I was the lucky one having a wonderful weekend in Derbyshire with family & friends to celebrate my 70th in February."
Dave: "We've just passed our 50 years together anniversary. We've been together so long now we finish off each others …"
Saturday, December 5th
Zooming
This morning I propped my phone up and zoomed into the living rooms of Elaine Hobson's Living Well Group. Zooming means you can't hear your audience's laughter or catcalls, but you notice if someone pops out for a brew. It was lovely to see them all again, though I missed the hugs and cakes and ale.
The right are wrong
Tom Whipple, Science Editor of The Times, on our reactions to the pandemic:
First come cases, which happen a week after infection;
Then come hospitalisations, which happen a week later;
After a month, come deaths.
So you have to act when there are cases;
A successful policy always looks like an overreaction;
This summer and autumn were a failure of communication.
Yet dozens of Tory backbenchers have just voted to ignore the 2nd wave and carry on regardless. After all, old people have to die of something, so why not die from Covid?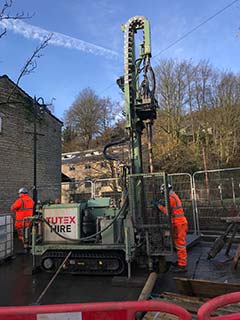 Monday, December 7th
Strange goings on: what appeared to be a tiny oil derrick was being dismantled next to the river. In a taped off area of the park, men in high vis jackets were digging a hole in the football pitch.
On HebWeb's Discussion Forum there's a series of posts about shoppers not wearing masks and ignoring social distancing at the open air market. Visitors cop most of the blame. Dave reckons the Square will soon be like "a German Christmas market, spreading good cheer and Covid along with free hugs."
Red and Green Club
As I haven't zoomed to Marsden for months, this evening they let me have two goes. Four years ago this gig fell on my birthday and Pam Dimbleby presented me with a cake. How times have changed. Pam couldn't zoom in tonight because her mum needs full time care.
Back in the summer, 96 year old Nora performed on Britain's Got Talent and, because of her age, her dementia and the quality of her singing, became front page news. Clips from her Palladium swan song were shown round the world - and in this column. Now Nora's too poorly to perform and Pam can't place her in a care home because of Covid.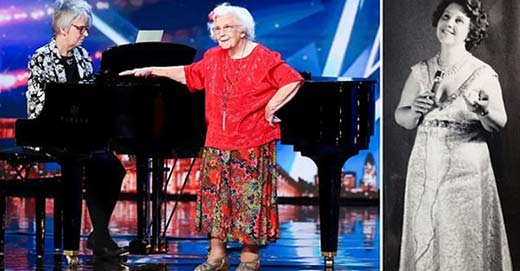 Tuesday, December 8th
Presents
In a Midlands hospital, Margaret Keenan, 91 next week, was the first person in the world to be given the new Covid vaccine. "It's the best early birthday present I could wish for."
Meanwhile, I received a photo of a painting from Joy Edwards, who enjoyed my recapturing of the first train journey along Calder Valley valley, when passengers clambered onto the roofs of the overbooked train.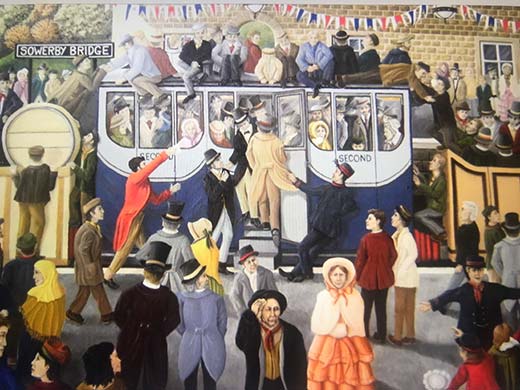 Wednesday, December 9th
Today Coronation Street is 60 and I'm precisely ten years older. I feel like I've just started out. Never being one to visit the doctor's surgery, it seems I had a low thyroid count for decades. Grandad's little helper has rejuvenated me.
A visit from our support bubble reminds me that kids run at a different tempo. Rosie cruised round the room over furniture, before swinging upside down from her mum's knees, receiving a zerbert (rasping kiss) on her bare belly, screaming with laughter, telling us about her science lesson, then finishing granny's tailing off sentences for her, something like …
"I was walking into this shop when I saw two … "
"Elephants?"
"Shoppers coming out, past a sign saying …"
"Look out for Elephants!"
"Entrance! And they hadn't even got any …"
"Trunks?"
"Masks!"
Jo, Queen of Queensbury, sent me a poem from Clare (soon to feature in The Times Lit), one of her unstoppable daughters.
Yule

Gone mid-December, and the woods are sharp with pheasant,
the corrugated fields brown as tiles.
Days whittle down to slivers
as the sun raises a bloodshot eye, glances once,
blearily
then turns over

making way for dreaming nights
of warmed wine, spice and branches, frozen sap
nights
when the blood sings like a kettle
and the breath curls.

Wend back again by the old local line
down tunnelled lanes
to the house you never really left
the bed which holds your imprint like a hand.

Now there is time and dark to think in
by the fire,
the voices in the roof - whether winds or ghosts -
only a minor clamour
thickening our silence

as we wait, wondering how quietly it comes,
the turning of the year;
the old months spread behind like ash
upon the hearthstones
the new like smoke, already rising.

Clare Mulley
Thursday, December 14th
Preposthumous Humans
I like to browse before I buy, but this book by Mytholmroyd's Steve Manifold Anderson - who makes me laugh, has terminal cancer and a magnificent moniker - has tempting reviews, like this from Vivienne Crawford:
There is 'salt [slipped] into the wound of the word', but there is also sweetness of saffron, the scent of a Sweet Pea, a season which is 'a gourmand of light'. And though Anderson writes about mortality and 'the fragile conventions of time's tower', he still gets tipsy on 'the liquor of the moment' and writes about life; his family, his bountiful garden where a nesting blackbird 'charms the air awake'.
Saturday, December 12th
Lost in lockdown 3
Mary Krell: "I turned 50 at home with no fanfare. That was difficult. The festival I've run for 8 years and from which a strong part of my identity emerges, also didn't happen. It's been a year of feeling lost."
The festival was The Grand Northern Ukulele Festival. I've got tickets for the postponed event. So I'd best get practising again.
Our Percy

Eee … I'm worried about our Percy,
I'm reet worried about our Perce.
Since joinin' that storytelling club
He's been under some sort o' curse.
First off he wor telling monologues
An' allus tawkin' in verse.
But now he's bought a weskit
And he's taken a turn for t' worst.
He's started singin' folksongs!
Oh, where did we go wrong?
He stands there wi' his hand to his ear,
And wants us to sing along!
We allus did us best by t' lad,
Since he took his first breath.
We played him tunes by t' Sex Pistols
An' such as Megadeath.
But just to put a cap on things,
He's bought a ukulele!
It must have cost him twenty pounds,
And he's pluckin' on it daily!
Father says, "Don't worry Mother.
I'm sure he'll soon get bored.
He's been pluckin' it for a for a fortnight now,
And he's not mastered pluckin' t' first chord."
---
If you would like to send a message about this piece or suggest ideas, email George Murphy
More Murphy's Lore
See the Murphy's Lore home page for all 72 episodes.
---