Continuing the second series of the offbeat HebWeb column from local writer and story-teller, George Murphy.
There's artful graffiti, Krampuslauf greetings, a cry out for carols, a crime scene, The Yule Cat as a capitalist conspiracy, booze and Dorothy Parker, Midnight Mass in days of yore, a Nativity, a folk a tale, a warm up rhyme and a New Year's wish.

Murphy's Lore Series Two
Episode 21: Lockdown diary
Monday, 28 December 2020
---
Monday, December 14th
In Hebden Bridge, there's a policy of covering ugly graffitied walls with handsome graffitied  walls. Seems to work.

Covid cases are rising faster in Hebden Bridge than in neighbouring towns. Inessential shops are essential to Hebden Bridge and a magnet for our visitors - and Covid.
Tuesday, December 15th
Our car has blossomed with moss during lockdown. At the car wash, I pulled off the difficult trick of winding my window down at the exact moment the attendant turned his water jet full on.
Happy Krampuslauf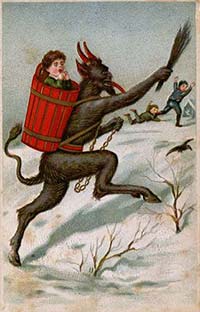 As the days grow shorter, I thought I'd help meet the needs of the Hebden Bridge Pagan community by researching pre Christian festivals.
In the Alpine areas of central Europe, the half goat, half demon Krampus was part of  solstice rituals. In mythology, Krampus is the son of Hel, Norse god of the underworld. As Christianity became established in Germany and Austria, the tradition of Krampus continued. He arrived with St. Nicholas on December 5. St. Nicholas rewarded well behaved children with presents, but Krampus beat naughty kids with branches and birch sticks.
In non Covid years, booze fuelled Krampus festivities have been making a comeback in Austria and Germany. Apparently, tanked up adults wear Krampus masks and chase each other with bundles of birch sticks. This isn't in the true spirit of Krampuslauf, as children escape unscathed.
Wednesday, December 16th
No nativity
This year, Rosie can't perform in a Christmas play at her school because of Covid. In previous years, she's clocked up two Marys in nativities and was really nailing the role.
Thinking back, I started out at my infant school as a Wise Man, but by the juniors, perhaps realising they'd miscast me, I became a Poor Man, gathering winter fuel. Good King Wenceslas was John Price, who went on to pursue his childhood ambition by joining the RAF. I was on my gap year when I heard that on a training mission, whilst refuelling in mid air, John and his jet were engulfed in flames.
Thursday, December 17th
Tiers
Across the wires the message came, 'We are no worse, we're much the same'.
West Yorkshire is still in Tier 3.
Darling granddaughter doesn't know any Christmas Carols - they don't teach them at her school. This comes as a shock to me; Carols being part of our cultural heritage, etc. I imagined children would be introduced to the massive role of Christianity in our history before realising they didn't believe in it, but the songs are nice.
Friday, December 18th
Crime Scene
One early evening in the 70s, we sat in a first floor Indian restaurant in Halifax and, looking out, noticed a boy running across the road and a man running after him. The youngster escaped and hid behind a low privet hedge in front of Horton House.
It turned out the man wasn't chasing the lad, he was himself being chased. Half way cross the road, a security guard tackled him from behind and wrapped him in his arms. The culprit had a shoulder of beef tucked inside his jacket, which he clung to whilst backheeling the shins of the young guard, making him yell and dance around, without releasing his grip. Another security guy rushed up and wrestled the joint from the shoplifter's embrace. The young lad, presumably the shop lifter's son, stood up and shouted, "Leave him alone!" Alerted by all this carry on, waiters crowded round our table, entertained by the unfolding drama.
By the time we left the restaurant, a small crowd had gathered on the pavements. A police van swung into view from Horton Street and proceeded to accelerate past the incident in Keystone Cops fashion, until the shouts of the crowd alerted them. A copper hurried back from the vehicle, taking his notebook from the top pocket of his jumper, before frenziedly searching his other pockets. He asked the onlookers, forlornly, "Can one of you lend me a pen?"
His audience hooted.
"I've just come on duty!" he said, defensively.
Walking home, Kath commented, "How poor and desperate some people must be."
The Yule Cat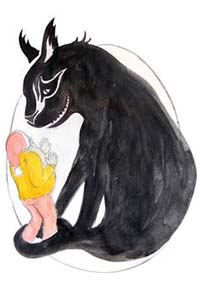 In Iceland, there's a legend of The Yule Cat. The premise of the tale is that people must work hard to provide their children with new clothes every year in time for Yule. On one website it's described as 'a kind of capitalist exaltation of consumerism'.
I read a piece by Haukur Magnesson on The Rekyavik Grapevine, "This is the kind of message Icelanders like to send out in their folklore: if you do not have the money or means of acquiring new items of clothing before the festival of lights, you will be eaten by a gigantic cat."
There's a well known (well, Icelandically speaking) poem by Johannes ur Kotlum, which, another commentator has remarked, is 'beloved by the agents of control'. Only those children who are togged out in new gear each year can escape the Yule Cat's grasp.
Here's my version.

The Yule Cat

A great proclamation
Rang out cross the nation:
"Be sure to buy presents your children can wear
Or the Yule Cat most wild
Will devour your child!"
And the cloth merchants shouted, "Hear! Hear!"

You know of the Yule Cat
That great yowling, cruel Cat,
Who at Yule time enforces our laws?
He peers in at windows
He scratches at doors
He clumps over houses with great heavy paws.
He spits and he hisses
At masters and misses.
And he sings a refrain, "Your Yule Cat is back!"
So it happens each year -
Well heeled children sneer -
At what poor children lack.

It's a nice land is Iceland
When the children all play …
And their Yule time garments are all packed away.
Saturday, December 19th
The PM has made another U turn. Christmas gatherings this year will be resrticted to one day instead of five. Covid numbers are soaring in the South East and now London and Kent are under a new Tier 4 Lockdown. Looking back, it's apparent that the west failed to follow best practice displayed in Far Eastern countries who had learnt from earlier Sars epidemics. New Zealand, South Korea, Australia, China and Taiwan have shown the advantages of tight lockdowns with targeted testing as the best way to keep people healthy - and it's the fastest way to return life to normal.
Sunday, December 20th
A sign of these times: one of the residents at Jude's support accommodation returns from a mini break in what was Tier 2 London - and tests positive for Covid. So now Jude is spending ten - self isolating - days with us.
Tuesday, December 22nd
The days are getting longer! It cries out for some sort of celebration, pagan or Christian, involving thankfulness to Mother Earth or Father God and ideally involving a bit of a knees up. Not this year mind.
There are ten houses along this row, and with the near misses we've had with floods and Covid, there's a good community spirit. Little tokens of affection, from cards to chutney, are taken to each door. Peter is the first one of us to get the jab. At Tod Medical Centre, he was told he was one of 489 to be vaccinated today. Tomorrow they'll do 489 more.
Tony Blair, with support from some scientists, has suggested older people and health staff should just receive one dose of the Pfizer-Biontech vaccine. It's effectiveness falls from 95 to 90 percent if a single dose is administered, but doubling the speed of the programme would allow this drawn out nightmare to be ended in half the time.
Wednesday, December 23rd
I'm reading about Dorothy Parker and the art of light verse. She's hard bitten:
Life is a glorious cycle of song
A medley of extemporanea,
And love is a thing that can never go wrong
And I am Marie of Roumania.
Apparently the consumption of alcohol has doubled whilst the pubs have been shut and we've only been able to frolic with our partners.
I like to have a martini,
Two at the very most.
After three I'm under the table
After four I'm under my host.
Thursday, December 24th
The first time I got drunk was on Christmas Eve. Mum and Mike and the girls being out, Barry Irvine, a few years older than me, called round. I told him I didn't think I could get drunk. So he mixed a few black and tans from me mom's unguarded drinks cabinet. A few hours later we both sang over enthusiastically at Midnight Mass in the packed parish church. I remember the slightly reproachful, slightly sad eyes of the vicar when I beamingly shook hands with him as we filtered out after the ceremony.
Christmas Day
Mid morning trip to Mytholmroyd to see Rosie open her presents. Jude having to watch proceedings from afar due to self isolating. Back home we unwrapped our own prezzies. I bought PW Hamnet  and a pair of earrings which I had to photograph at the shop before purchase:
Me: "Why don't you come with me to check I get the right ones?
PW: "It's not the same."
PW unwrapped said earrings and, despite my photograph, tells me, "They're lovely, but they're not the ones I wanted."
Five minutes later, one of them is lost. We search the floor and surfaces for the flimsy, expensive accessories. Until we find them we can't vac (halleluyah). PW undresses to check the errant jewellery hasn't fallen down her blouse, but finds nothing unusual down there. Sends me out to the bin to search through the wrapping paper. Still not found. It's a shame there's not a craze for wearing unmatching items. Think of the saving on socks and silver ware.
Ha Ha! Good tip for husbands: if earrings go astray, try running your fingers through your wife's hair. She'll think you are being nice and understanding, while you are actually searching for the lost item. It worked for me.
H the poet sent me a Nativity video made by a friend in Cornwall.
Saturday, December 26th
This year young people have been told, hug granny and she'll die! The death of elders has always affected children, but rarely have they felt so implicated in their demise. At an early age they also realise the fact of their own mortality.
Italian Folk tale
The Land Where One Need Never Die*
A youth did not like the idea of death. So he left his village, crossing the little bridge over its hurrying stream, and went in search of a land where no one ever died.
Before midday, he met an old man with a white beard down to his chest, who was pushing a wheelbarrow full of rocks down a mountain. "If you stay with me, you will live a hundred years, until I finish moving all the rocks from this mountain."
"A hundred years is not long enough for me," said the youth, and he continued on his way.
Mid afternoon he met an old man with a white beard down to his navel. He was chopping down trees in a dense forest."If you stay with me, you won't die until I cut down all the trees in this forest."
"Two hundred years isn't long enough for me," said the youth, and he left the old man to his work.
Late afternoon he met an old man with a white beard down to his knees, who was watching a duck drink water out of a lake. "Stay with me," said the old man. "I won't die for three hundred years, until this duck has drunk the lake dry."
"Three hundred years isn't long enough for me," said the youth. And he continued on his way.
Near nightfall he came to a long sloping track leading to a palace with many spires. It was owned by a man with a white beard down to his feet. "This is the place!" The old man said, "Here time moves so slowly that you will never die." The old man was happy to have some company.
The youth moved into the palace and lived like a prince. Until, one day he woke from a dream about his family and he yearned to visit them. The old man gave the youth a white horse and told him that as long as he stayed in the saddle, he would not die.
The youth leapt on the horse and galloped towards his village. He came to the lake where the duck had once been, but it was now a desert. He passed the place where the dense forest had once been, but now it was a forest of  stumps. Then he rode to where the mountain had been, but now it was a rocky plain.
At last the youth reached his village, but the buildings and streets that had been so familiar to him had disappeared. Only the fast running stream, where once he had paddled, reminded him that this was once his home. Feeling desolate, he rode back towards the old man's palace.
It was almost dusk when he came to the track that ascended to the castle. Just ahead of him was an old man, pushing a handcart full of worn down boots and shoes. As he approached him, the cart toppled onto its side and the footwear fell into a ditch. The old man begged for the youth's help and the youngster took pity on him and jumped from his saddle. At once the old man grabbed the youth by the arm, laughing.
"Ah! I've finally caught you! I am the one you've spent all these years running away from. I wore down all these shoes trying to catch you, but I am Death, and no one escapes my clutches."
With that the youth's flesh lost its ripeness, his eyes lost their lustre and he rapidly aged. His flesh fell from him and even his skeleton decayed into dust. Death nodded with satisfaction, then turned and began his slow trudge up to the castle.
* The first time I heard this ancient tale it was told by Betty Rosen, Michael Rosen's step mother, in Halifax in 1989. It was collected by Italo Calvino in his collection of Italian tales. On a few occasions I have asked Year 6 children to write down their version of the story. Fascinated by the tale, their hands were like blurrs. I'd never seen children so rapt and focused as when writing about their inevitable doom.
Sunday, December 27th
Checking my files I found an unused warm up piece I toyed with using at The Moonraking Festival in Slaithwaite a few years back. There was a professional photographer at the gig who captured the audience during my stint. Comedians like to make gentle fun of the locals in their opening remarks. These lot were lovely. Here's wishing for more live performances in 2021.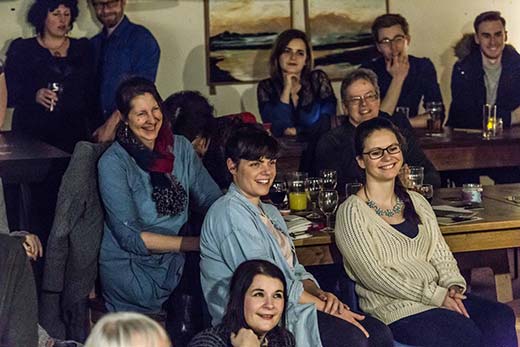 Know your place

There was a young man from Kirkheaton,
who did it and got soundly beaten.
In Denshaw, Diggle and Delph,
they tell you it's bad for your health.
In Harrogate, Holmfirth, an' places refined,
they say, 'Don't do it - you're sure to go blind!'
But Grandad knows one place will allow it,
since he wor a lad, he's done it in Slaithwaite.
So give a big hand; come, join in with me:
to grandad, who first dunked his Hobnob in tea!
Here's hoping for the return of live audiences in 2021.
---
If you would like to send a message about this piece or suggest ideas, email George Murphy
More Murphy's Lore
See the Murphy's Lore home page for all 73 episodes.
---