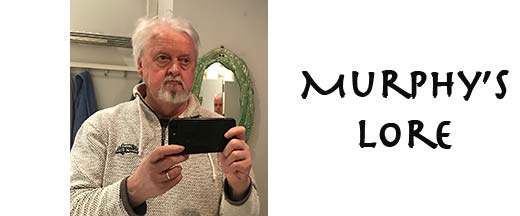 Continuing the second series of the offbeat HebWeb column from local writer and story-teller, George Murphy.
In Episode 27, One year on, and the UK is top of the league; children go back to school and care homes start to unlock; Alexa and The Boss; Oprah and the Royals; Halifax Holly; a likely lad and Van Morrison commuting; encounters with celebs; responses to Covid; Don the Drone and happy endings; council tax and interior designs; a monster over the mountain and Readers Write.
Murphy's Lore Series Two
Episode 27: Lockdown diary
Monday, 22 March 2021
---
Lockdown, one year on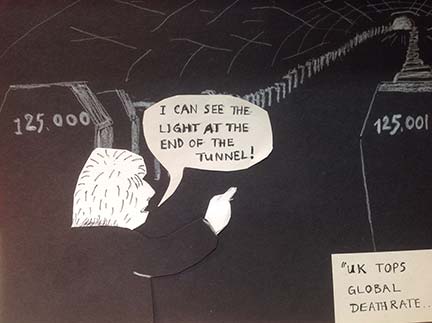 Monday, March 8th
Back to school
This year, teachers won't teach to the test and the curriculum will be broad instead of narrow. This year SATS and OFSTED will be banned. Stories and poems won't be dissected, pinned down and left for dead on government approved worksheets. This year, for the next term or two, just till we get back to normal.
Unlocking care homes
From today, Care Homes are allowing one PPE wrapped visitor per granny or grandad. 32,000 residents have died of COVID, and Care Homes, in their isolation from the rest of us, have taken on the grim aura that Workhouses and 'Lunatic' Asylums once had. We drove past one today, on our way back from the garden centre, and noticed the terse graffiti on its signpost, in front of 'CARE HOME' someone had scrawled an S.
Tuesday, March 9th
I'm on fire
Music buff: Alexa! Play some rock classics, please.
Bruce: Hey little girl is your daddy home, does he go away and leave you all alone? Oh no, got a bad desire … oh, oh, oh …
PW: This is that song about under age sex.
MB: Rubbish! You've been saying that since that holiday in Normandy, 30 years ago.
Bruce: Tell me now baby is he good to you, does he do the things baby …
PW: Well, Aunty Judith agreed with me.
MB: Yes, you and Aunty Judith are well known authorities on the rock lexicon …
Bruce: At night I wake up with the sheets soaking wet …
MB: Alexa! Next!
Paul: Well, she was just seventeen, you know what I mean …
The Firm
After Harry and Meghan's interview with Oprah, some social media friends contacted me to say the royal absconders should have washed their dirty linen in private, 'kept it in the family.' Which is probably what The Firm said to Princess Di back in the day. Their cruel deception of that poor rich girl confirmed my simmering antipathy towards the royals, alongside my feeling that the institution has helped keep Britain a backward looking, class ridden nation. And, I haven't forgiven them for inflicting the National Anthem on me for the last 70 years.
Wednesday, March 10th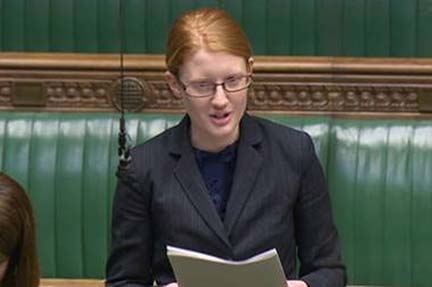 Halifax Holly
I'm a fan of Holly Lynch, the Halifax MP, who worked across party lines to persuade Craig Whittaker to bang on doors until he got the funds we needed for adequate flood defences. Before the election she invited female MPs to criticise the racist treatment of Meghan Markle by the press. Prince Harry said that this letter gave him and his wife more support than their families had given.
Friday, March 12th
Rodney, Bob and Van
Strangers used to ask me, "Excuse me, are you Rodney Bewes?" People looked at me and saw nice, safe Bob, not likely lad Terry. In Whitby, a woman in a fish restaurant said her husband wanted my autograph. In Knutsford, a woman elbowed her mate and they giggled as I walked past, which - despite PW's objections - I added to my tally. When I started a new lecturing job, a tutor asked if my colleagues could call me Rodney. Glancing round I could see them smiling expectantly. I declined the request, preferring to be myself, thank you.
Most mornings, a Van Morrison lookalike got on my train at Sowerby Bridge. He was Van's dead spit double. One time he noticed me, and I fancied he held my gaze in a fraternal manner, thinking, "Feckin' good on yer, Bob." I got off at Bradford, whilst Van stayed on for Leeds, looking hounded as each new passenger gave him a double take.
Being famous without earning the honour never bothered me. I walked from the station humming Brown Eyed Girl and wondered if commuter Van ever felt that some of rock legend Van's glister rubbed off on him.
Meetings with celebs
Actually, I give other famous folk some space if I can help it. Although I did once have lunch with John Cunliffe, writer of Postman Pat. Anyway, this week, I asked if mates had ever met any famous folk and I got 40 replies. Here's some that made me laugh
Matthew Bragg got Rob Newman to sign his book during the interval in Rob's Trades Club gig, but Matt admits he came over a bit 'Cathy Bates in Misery,' when recalling Newman's gig at Leeds Uni and the thin skinned comic stormed off in a huff.
Ian Dobson was a volunteer doorman at a Royal Albert Hall Gala and refused admittance to Olive from On the Buses, presumably because he didn't recognise her when she was scrubbed up. As it was the Albert Hall, Olive should have said she was a conductor.
Wuthering James claimed: "I nearly met Suggs once."
Pam Dimbleby knocked us all into a cocked hat when she was the accompanist for her mum on Britain's Got Talent and met Ant and Dec and judges at the London Palladium last year, which was Nora's glorious swansong.
Saturday, March 13th
Normally, when discussing law and order, I would blame Theresa May for her cuts to police numbers. Yet the suspect in the Sarah Everard case is a policeman and this morning the front pages have photographs of a woman at a peaceful vigil for the murdered woman being pinned to the ground by two officers.
Reactions to Covid
It's probably too early for novels and films to emerge about the pandemic. So I asked folks what other virus related art they had seen. Here's two to start with …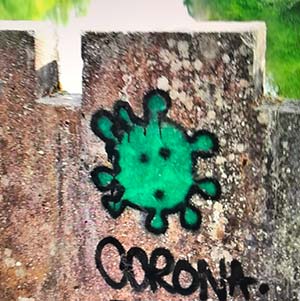 Dave Jackson sent me this image he'd seen at his local park. Corona virus looking like a Mr Man.
Tamsen Courtney had made photographic images, "summing up how I felt personally." Here's one: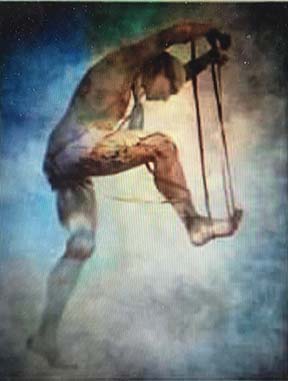 Sunday, March 14th
Happy Endings
It doesn't always happen in life, but at least in folk tales we can usually rely on a happy ending …
Don the drone
One evening a mother said to her son, "Boy, go and tell Don the Drone to turn it down a bit."
So Boy put his cap on and went outside. It was quite cold, but Boy had his cap on. It was quite late, but there was a full moon. Boy set off, plod, plod, plod along the lonely lane. To cheer himself up, he sang a song.
"I wish I was a bird, I'd fly up in the sky, and I would never worry as I watched the world go by."
Then he heard music from a house with all its lights on. Boy went up to the front door, stood on tip toe and rang the bell.
A man opened the door and looked around, but didn't see anyone. Then he looked down. He said, "Hello boy. What are you doing out all on your own at this time of night?"
"Excuse me, sir. Mother said, go and tell Don the Drone to turn it down a bit."
"I'm not Don the Drone. I'm Rick the Rave."
A woman's voice shouted inside the house, "Come on Ricky! There's a party going on!"
Rick the Rave shut the door and Boy walked on, plod, plod, plod, along the lonely, moonlit lane. To cheer himself up he sang his song.
"I wish I was a bird, I'd fly up in the sky, And I would never worry, As I watched the world go by."
Then he could hear shouting and laughter and he saw a house with all its lights on. Boy went up to the house and reached up on tip toes and rang the bell. A man opened the door and looked out. He was dressed in black and had an axe in his head and tomato ketchup on his face. The man looked down and said, "Hello boy. What are you doing out all on your own at this time of night?"
"Excuse me, sir. Mother said, go and tell Don the Drone to turn it down a bit."
The man said, "I'm not Don the Drone. I'm Gary the Goth."
A woman's voice shouted inside the house, "Come on, Gary! There's a party going on!"
So Gary the Goth shut the door and Boy walked on, plod, plod, plod, along the lonely, moonlit lane. To cheer himself up, he sang his song.
"I wish I was a bird, I'd fly up in the sky, And I would never worry as I watched the world go by."
Then he saw a little house with a lamp shining beside a partly open door. A sign said 'Cuckhold's Haven', but Boy couldn't read, so he walked along the little path to the little house. A little mongrel dog ran out. The name on its collar said 'Scamp', but Boy couldn't read it. He stroked the dog and then he followed him up to the door. Scamp was barking and wagging his tail as if he wanted Boy to go into the house. Through the open door, Boy could hear a man's voice.
"I'd have done anything for her, and for that little 'un. Anything." Boy shyly followed Scamp along the hallway. The man was sitting all on his own in a chair with wheels on, in a moonlit room. Scamp ran ahead and barked excitedly to the man.
The man stopped talking to himself, turned his chair with wheels round and looked in wonder at Boy.
Boy said, "Excuse me, sir. Are you Don the Drone?"
The man nodded. "Mother said, can you turn it down a bit?"
Don the Drone nodded, slowly. He said, "See that you get home safely."
When Boy walked back down the hallway, he saw a framed photograph near the door. The woman in the photograph looked like Mother. She was holding a baby and next to her was Don the Drone in smart clothes and he was standing, not sitting in a chair with wheels. He was giving a salute with one hand and resting his other hand on Mother's shoulder. They were both smiling and even the baby was smiling.
Boy walked all the way home plod, plod, plod along the lonely lane, but his cap and his thoughts kept him warm. He walked past Gary the Goth's house. He walked past Rick the Rave's house. When he got to his own house there were no lights on downstairs, but all the lights were on upstairs. There was a stretch limousine parked beside the gate.
"Oh no," said Boy, "Uncle Peter has come back from his tax haven!" He heard Mother and Uncle Peter laughing through an open window. Then, do you know what he did? Boy started to walk back along the lonely lane, plod, plod, plod.
The lights had gone out in Rick the Rave's house.
Plod, plod, plod. The lights had gone out in Gary the Goth's house.
Plod, plod, plod. Boy started to smile and he walked faster, plod, skip, plod, skip, plod.
He started singing his song.
"I wish I was a bird, I'd fly up in the sky and I would never worry as I watched the world go by."
Just as he approached Cuckhold's Haven, a giant Bubu bird flew down and ate Boy all up, every single bit, except for his cap. 
Scamp ran barking outside and he found the cap next to a giant Bubu feather. Scamp ran straight back into the house and dropped the cap at Don the Drone's feet. Don the Drone looked inside the cap and read it aloud. "This cap belongs to … Don Junior."
… Well, folk tales usually have a happy ending, but not always.
Monday, March 15th
Taxing the north
A report from The Institute for Fiscal Studies describes council tax as 'highly regressive', 'increasingly arbitrary and unfair'. Unfair council tax means people in the north pay on average 79% more than the South when comparing the value of properties. The average home in Westminster, valued at £1.2million, is billed for £1,127 – or just 0.09 percent of its worth. Council tax payers in the Prime Minister's Uxbridge and Ruislip constituency pay 0.29 percent of the value of their homes. The IFS argues that property values in London have risen over six-fold since the mid-1990s, compared to less than three-fold in the North East of England.
Tuesday, March 16th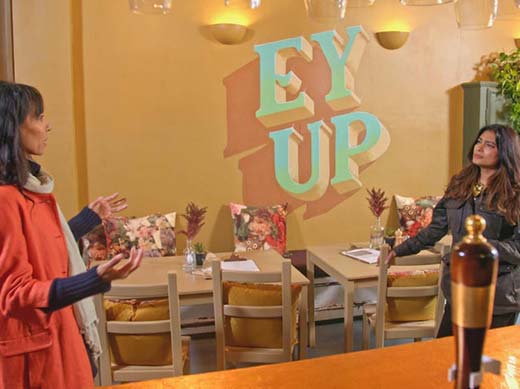 Interior Design Masters
Cliche count …
It started with brass band music. Then Siobhan decorated downstairs in Chapter 17 with a giant 'Eh Up' sign. But Hebden Bridge looked lovely. The lass who did the upstairs makeover at the restaurant rightly sailed through to the final. And the show will have attracted more visitors when we get back to 'normal times'.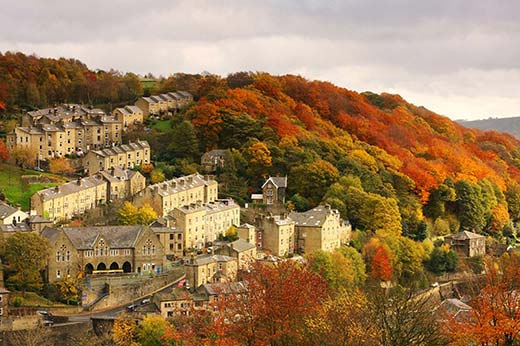 Thursday, March 18th
I went to the market to buy fresh fish and the talk all around was the make over programme. I was waiting by the fish stall when a soprano burst into song. Later, sitting by the river, coffee in hand, I could still hear the busker when she sang the first piece of opera I ever heard. It took me back 60 years to a variety show and a singer called Adele Leigh. I still don't know the name of the song she sang, but I remember being captivated that first time, not knowing that singers could make such sounds.
Friday, March 19th
Jabbing the government
The successful vaccine programme is sometimes called 'the government's vaccine programme' and has given them a shot in the arm in opinion polls. In The Guardian, Dr Richard Vautrey, chair of the British Medical Association's GP's committee, stresses "It's a government programme in that it's taxpayer funded, but we musn't overlook the fact that it's the ingenuity, the energy and the commitment of NHS staff around the country that have delivered it."
Saturday, March 20th
The Monster over the Mountain
Once there was a girl who lived in a small village between the sea and the mountains. She was always asking questions. "Granny, where does the wool go when I get a hole in my stocking?" "Mama how far does the sea go out?" "Papa, how high does the sky go up?" When her elders couldn't find an answer to her questions, which was often, they would shush her and tell her to get on with her chores. The question she asked most often was, "What is on the other side of the mountain?" Then each one of her family always had a ready answer for her. "There's a monster on the other side of the mountain, and you must never go there."
When the girl asked them what the monster looked like and who had ever seen this terrible creature, the family shushed her again. One day, when the girl was not quite a woman and the sun came up early and woke her before the family stirred, the girl looked out at the green clad slope of the mountain and decided what she must do. Soon enough, she had dressed herself and, being a practical girl as well as an enquiring sort, wrapped up some bread and cheese in a tin and filled a small flagon of water for her journey, she tiptoed out of the house and made for a little sinewy path she had noticed through the trees at the foot of the mountain.
All morning she climbed and the sun was directly overhead when she reached the top of the mountain and looked down. Well, she couldn't see a monster, but she could see a river glistening down in the valley. So she sipped some of her water and she took a bite out of her bread and cheese and she set off down the wooded slope. She wasn't half way down when she thought she saw the monster, perhaps it was a dragon, as big as a house, but when she looked again, the dragon had gone. Perhaps it was just a trick of the light.
She came to a small clearing full of lush grass and flowers, but glancing up she saw the monster again through the trees, as big as a bear it seemed … but then it was gone again. Perhaps it was a trick of the light.
She hurried on down the slope and being a nimble sort of girl as well as an enquiriing one she came soon enough to a large clearing in the trees next to the sparkling river. She looked all around and couldn't see any sign of a monster. She was just about to settle on a log to eat the rest of her food when she felt warm breath on her ankle. She looked down and there was a small scaly creature. She leaned down and lifted the little animal.
"Why, you're not a monster after all," she said. "What are you called?"
"My name is Fear." the monster said.
And that is where the story normally ends. And we like a happy ending. So I won't say, that as she climbed back up the slope, as the daylight began to fade, she thought she heard a rustling behind her, and glancing back she thought she saw something, not a monster, perhaps it was just a man, following her up through the darkening woods. And most men are good, if not all.
Sunday, March 2ist
Readers write …
In response to The HebWeb Interview, with Peter Riley …
Maura Wilson, "So interesting, thank you both." 
Eileen Wright, "Absolutely fabulous."
Bob Horne, "Wonderful George and Peter. And thank you for the music."
Heather Wilson, "Brilliant, I thoroughly enjoyed that! It made me laugh to see the Sidi Barani reference. My Pa always used to say, 'When I was in Sidi Barani …' but I never knew what he was talking about, and he never elaborated. I don't think he had ever been there!"
[Dear H: unless he was in North Africa in the war?]
Brian Donnelly read all the HebWeb Interviews and was particularly struck by Peter's life story and talent, "which he understates … a deeply cultured bloke … it was a quality interview to read."
All down to Peter really, an inspiring tale told in his lucid prose.
---
Murphy's Lore, the book is available to order here
If you would like to send a message about this piece or suggest ideas, email George Murphy
More Murphy's Lore
See the Murphy's Lore home page for all 79 episodes.
---