Continuing the second series of the offbeat HebWeb column from local writer and story-teller, George Murphy.
In Episode 30 of Lockdown Diaries, there's a watchdog bitten, an al fresco pint, the life of an introvert, a tongue meat tale, a bash street kid, principal boys, mill fire Saturdays, a local fairy tale, the march of the toads, Sofology, Cornholme versus Hebden controversy and much more!
Murphy's Lore Series Two
Episode 30: Lockdown diary
Monday, 3 May 2021
---
Lockdown Diary, Episode 30
Monday, April 19th
After months of lockdown, we agreed we must have an away day soon. My mind turned to Studley Royal or the coast, but PW said, "Fancy a trip to Sofology?"
His lordship
I was reading the information boards in Innovation a couple of years ago, when David Fletcher MBE gave me a free copy of The Parliamentary Review, which had a handsome three page spread on the businesses in that old mill. Fair enough, lots of good people work there.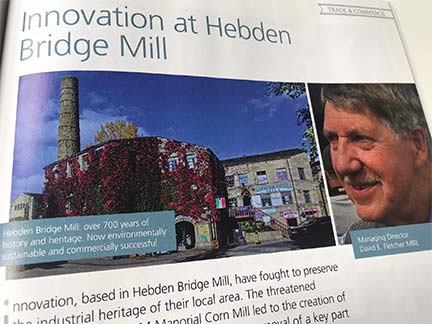 Turns out, former Bradford Councillor, Eric Pickles managed the Review, which charges schools, hospitals and businesses thousands of pounds to be featured on its pages as examples of 'best practice'.Anyone who pays is included in the mag. A Tyneside school appeared with the slogan 'Highlighting Best Practice,' despite being continually judged as 'Failing' by Ofsted.
The Advertising Standards Authority criticised Pickles for offering access to top politicians, pretending the Review enjoyed official status, giving the impression that the Review was an official government publication, which was not the case, and failing to make clear that the content was paid-for ­advertorials.
But rest assured, this must have been most carefully considered before the appointment of the new Parliamentary Lobbying Watchdog, Lord Eric Pickles.
Tuesday, April 20th
True Vocation
I met Jude in Halifax. The Piece Hall was shut as a film crew was filming a scene for the next series of Gentleman Jack. We had a pint outside a cafe in Westgate Arcade and I chose a beer from Vocation brewery in Cragg Vale. It might be Bread and Butter to some, it was a remembrance of things past for me. (As for Proust fans, let them eat cake).
Life of an introvert
Sue James, shared a post from this blog:
Q: What would you rather do than make a phone call?
A: Be eaten by a dinosaur that shows no mercy.
I happen to know someone like this. And, I must admit, I think texting seems politer than phoning.
John Billingsley also admitted 'big blocks', in making a phone call. And he wrote, "I don't like texting much, it's far too impersonal. Much prefer emails, they're a good way of personal communication and allow better personalisation."
David Evans disagreed. He sent me a video of a band called The Script, quoting a line, "And I've got friends they don't text they call." Maybe he's got a point.
Writer Christina Longden commented, "Have you picked up on the younger generation and the fact that they don't know how to talk on a phone? … I once suggested that my daughter just call her friend instead (of texting) to check about some homework and she looked at me with thinly veiled contempt."
Coincidentally, tonight I got a text from my shy relative, who has lived alone throughout lockdown, asking "How R U lot?"
So I rang her.
Wednesday, April 21st
Goggle eyed
Our biggest arguments are choosing what to watch on TV. The person with the controls is in the hot seat, feeling pressured because their partner can't make their mind up what to watch. What the hell did we do before TV?
Tongue Meat
In the village lived a poor man's wife, who was healthy and fat and thrived, whilst the Sultana in the palace grew thin and listless. The Sultan sent for the poor man and asked the secret of his wife's happiness. The poor man said he always fed his wife, "meat of the tongue." So the Sultan told his butcher to prepare meals of animal tongues, but still his wife failed to thrive. So he ordered the poor man to swap his wife for the Sultana.
The poor man's wife went to live in the palace. Soon she became listless and scrawny, whilst the Sultana in the poor man's house grew plump and rosy cheeked. When the Sultan sent for the Sultana she refused to return. So he visited the poor man's house and the Sultana told him the poor man fed her with stories - especially ones that made her laugh - and he got out his banjo and sang her songs, then he told her fairy tales. At last, the Sultan understood the meaning of 'Meat of the Tongue'.
I was about to tell PW this old Kenyan tale, then maybe get the ukulele out for a bit of a sing song, when she opted for a Netflix film.
Thursday, April 22nd
Forgotten woman
Lady Mary Wortley introduced smallpox inoculation to Western Europe - 75 years before Edward Jenner. Her brother died of smallpox, and when her husband became our Ambassador to the Ottoman Empire, Mary went to the Turkish baths and noticed local women had no marks of scarring on their skin. She discovered that inoculation against smallpox was widespread throughout the empire. So she got both of her children vaccinated. The survival of her children was dismissed back in Britain and Lady Mary's achievements were ignored.
Mary lived for a while at Middlethorpe Hall, an National Trust property near York, just up the road from Sofology.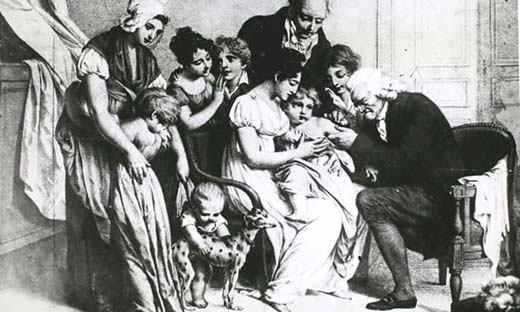 Friday, April 23rd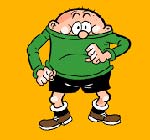 Got my haircut at Jack's, and posted a selfie. I had my mask on, but was rather deflated when popular troubadour Keith Donnelly and crime writer David Evans compared me to Wilf from the Bash Street Kids.
Saturday, April 24th
The big question in the papers is, who paid £58,000 for Johnson to get his digs renovated? But I'm thinking, 'What about the £2,500,000 spent on his White House style briefing room?!' It got used a couple of times and then the PM's minders decided to scrap it, after the former London Mayor was asked questions about gifting his mistress Jennifer Arcuri £126,000 from ratepayers' money.

The Boy
I've been reading about the plight of small theatres during lockdown. I didn't realise so many little theatres were kept going by the pantomime season - and this year they've missed out. One of the intriguing traditions of pantomimes was the Principal Boy being played by a woman.
Mill Fire Saturdays
Apparently, as the Calder Valley cloth trade collapsed, mill fires started to spontaneously combust of a Saturday afternoon (just after the workforce had safely left the building).
Sunday, April 25th
A Fairy tale of Hebden Bridge (2018).
Coming out Day, was the first fairy tale for adults I'd attempted. Lots could go into the mix …
Lesbian capital of the UK
In 2012 a BBC website commented, "Why did a small, peaceful market town like Hebden Bridge in West Yorkshire become known as the lesbian capital of the UK?  Hebden Bridge, it has long been claimed, has more lesbian people per head than anywhere else in the UK … There is a slew of gay and lesbian businesses - from dog walkers, decorators and fashion, to wine bars and hotels. The town centre is a medley of organic, locally sourced and vegetarian eateries, independent coffee houses, eco-friendly clothing and knick-knack shops, arts and culture venues and a handful of high street names. Some people might even dub it a sort of Yorkshire San Francisco."
Hebden Bridge's 'modern atmosphere,' according to the Beeb, was down to the hippy invasion in the 1970s. "It's easy to imagine its modern atmosphere being at least in part a result of colonisation by former hippies in the 1970s."
Once people realised we had a relaxed attitude to different lifestyles they felt safer to make a home in these here hills.
Monday, April 26
Three wishes
A good fairy tale has an element of magic. I thought I'd include three wishes in Coming Out Day, and wondered what my heroine would choose …
1. Gay marriage
I asked Nicola Jones, who lives quite near me, "What were the achievements of the Gay Pride movement?" She said, "Marriage is a biggie."
2. Best small market town
I found this in Welcome to Yorkshire, 2016: "Surrounded by breathtaking countryside, Hebden Bridge has been voted as the 'Market Town of the Year' and the Open Air Market attracts visitors all year round. Hebden Bridge Market was recently awarded 'Best Small Outdoor Market' by the National Association of British Market Authorities."
3. Capital of the North
Evan Davies and a BBC film crew once travelled north, picking up on an interesting suggestion that Hebden Bridge, "fourth funkiest town in the world ", should be chosen as England's second city! The idea came from David Fletcher. His point being that Hebden Bridge is an inverted city with a greenbelt centre and suburbs called Manchester, Bradford and Leeds.
Tuesday, April 27th
March of the Toads
I remember a balmy evening, twenty years ago, when I thought the road leading to the Scout Hut in Hardcastle Crags was shifting ahead of me. Pausing, I stopped and saw hundreds of nut brown toads walking in front of me. They were no larger than my thumbnail. The ones nearest to me stopped when I stopped. When I moved, they moved too. It was magical.
A local naturalist wrote to me, "This sounds like the famous march of the toads." I must have encountered these tiny toadlets in high summer, a time when they leave the ponds where they spawned and head out to their abodes in 'damp shady spots or under logs.'
The toads we see marching in spring are the larger ones we're familiar with - on the way to ponds before mating. The females often give males a lift on their backs, which sounds like an excellent arrangement.
The HebWeb Interview
There were lots of great responses to Nicola Jones's interview. I wish I'd asked her for a favourite musical video to finish. Here's one of her choices that seems most suitable (sorry, Kylie). Nick asked me to point out, it's got language which some people might find offensive!
Wednesday, April 28th
On the record
At PMQs Sir Steer Calmer QC asked whether the PM had actually said he would rather see 'bodies pile high in their thousands or words to that effect,' than order a second lockdown. The PM said, "No!" Which is where the former Chief Prosecutor left it, apart from mentioning that if Johnson had misled parliament, the convention was that he should resign.
As there are several sources who maintain that those words were actually, 'let their fucking bodies pile up high in their thousands,' somebody is lying. Tory MPs were stunned into silence. No doubt they were wondering if Dominic Cummings happened to own a secret recording device when he was BJ's special adviser.
Thursday, April 29th
Sofa so bad
I met two former colleagues in town and shivered over a cappucinno in the northerly winds. Maura reckoned the sofa in the No. 11 flat cost £9000. Carrie seems to have expensive taste. Remember that contretemps last year when when she shouted at BJ for being selfish and causing her to spill red wine onto her lovely sofa? Then there was the sofa in his marital home in 2010, where the then London Mayor impregnated a temp.
Council Elections
The Tories will probably be ahead in the polls come next Thursday, after learning from the failures of last year. They have done better with the vaccine rollout than EU countries, which tends to confirm the instincts of people who voted for Brexit.
Friday, April 30th
50 shades of Cornholme
Yesterday, somebody put a complaint in a free library in darkest Cornholme.
Late last night I got a message from Katie, a researcher at Radio 4's Today programme, asking if I'd be available to comment on this affront to the reputation of our fine town at 8.30am this morning. Eventually the editorial team decided they would run other items instead - there's a lot going on in the world.
If the Cornholme item had run, I'd have pointed out that Hebden Bridge has been called 'The San Francisco of the Pennines', whereas Cornholme is often bathed in darkness has a history of witch trials,  a double murder at a vicarage and, not to put too fine a point on it, is perilously close to the Lancashire border.
Back in the 70s, there were reports of lesbians settling in Cornholme. The report reminded me of history books describing the Vikings wintering before moving on to their chosen destination. There was still a memory of those times in the 90s, when my daughter bought a house in the village and the removal men said Cornholme was "full of lesbians and white witches."
Saturday, May 1st
The plot thickens. A notice appeared on the Co-op noticeboard, but is it written by the same person? The spelling and grammar mistakes are similar to the errors on the Cornholme notice. It's definitely (or is that definately?) starting to feel like one of the plot lines in Line Of Duty.
My cousin Jean contacted me with the message: "It's in the Telegraph!" Anna Johnson from Haworth storytellers compared it to an episode of Poirot. Sara Burgess, another performer from those parts, bemoaned the poor quality of 'down with the bro's graffitti' in other towns.
Sydney Roper seemed to be relishing these "Culture Wars!" from his home in Heptonstall. Come to think of it Sydney, there was a time when pagan ceremonies went on at midnight in the ruined church up there - and don't get me started on Slack Bottom Chapel.
Craig Melia sent a photograph of Edward Woodward being sacrificed by Christopher Lee in The Wicker Man, but I hope this fracas doesn't come to that.
Sunday, May 2nd
Here's summat wholesome and celebratory for the folks of Hebden Bridge and Cornholme - and shame on the person who has changed the C to a P on Cornholme's welcome sign!
---
Murphy's Lore, the book is available to order here
If you would like to send a message about this piece or suggest ideas, email George Murphy
More Murphy's Lore
See the Murphy's Lore home page for all 82 episodes.
---