Continuing the second series of the offbeat HebWeb column from local writer and story-teller, George Murphy.
In Episode 31, there's a boiler on the blink; Buckells and Boris; bumbling villains; an eagle, a cat and a doe; a many brained creature; a pet theory and a savage slaughter; triumphs and disasters; a honeymoon on the rails; the mating life of Argonauts; minding your Ps&Qs; Sannakji live and choking; a museum without walls, a famous wartime tale and much more!
Murphy's Lore Series Two
Episode 31: Lockdown diary
Monday, 17 May 2021
---
Lockdown Diary, Episode 31
Monday, 3rd May
Boiling over
A typical bank holiday: cold northerlies, wet westerlies - and our boiler packed up.
The boiler's tucked into a cupboard in the shower room, quite close to the floor. It's my job to get underneath and fire it up again. I throw a cushion onto the floor, then ease myself down to my knees. I usually manage this accompanied by a few groans on the way. Once I'm down, I twirl over onto my back, like Christopher Dean - minus Jayne Torville - at the end of Bolero, before sliding my head under the contraption to start fiddling with its control knobs.
This morning that didn't happen. I felt unsteady when lowering myself towards the cushion, and grabbed for the cupboard door, which swung towards me, speeding me to a crash landing, not realising I'd bashed the gas supply lever on my way down, so all my subsequent fiddling with the control knobs was to no avail.
At least, that's the story I told the emergency plumber when he arrived with a face on him, and wanted to know why I'd turned the gas supply off. I mean, I didn't want him to think for one moment that I'd experimentally pulled on that lever and then forgot to push it back again. Once he'd whooshed the boiler back to life, he exacted an apology from me for not being a retired Corgi approved plumber, before jogging downstairs to report to PW.
I slunk downstairs sometime after this poor (oxymoron alert) plumber had left. PW was enjoying my embarrassment, stroking cushions, plumping cats and humming along to Alexa's 'relaxing classics'. She gave a sardonic look in my direction, despite which, I feared that at some point I was going to be given sympathy, that most poisonous of gifts when masculine pride is at stake. So I went for a walk, despite the rain lashing down in obligatory bank holiday fashion.
Tuesday, 4th May
My day to meet Jude in Halifax. He texted PW, "Will dad lend me some money to buy him a drink?"
He was in good form. His humour is based on sympathetic character studies of his friends, carers and fellow sufferers, but as well as these amusing updates he told me how much he was missing Frances, a woman about our age, by his estimate, who died just before he could catch up with her again in the garden at The White Swan.
Bumbling villains
The Line of Duty team have explained that Buckells, aka the fourth man, is based on Boris! They've posted lines from the script such as, "Your corruption has been mistaken for incompetence," and "how some people can fail upwards beggars belief." The Deputy Editor of The Thunderer is most put out, and blames the BBC for allowing scriptwriters to express covertly anti-government views.
Tonight, PW persuaded me to watch a film about a guy who fell in love with an octopus. By the end, I was smitten too.
Wednesday, 5th May
Cornholme is a dramatic place, the valley is narrow and the hillsides so steep they're given over to goats rather than sheep. It's a place of legends and dark deeds. On dull days, Eagle Crag seems braced to take flight from its eyrie high above the village. On clement days, when the sun flits across the bosomy hillside, sculpted by a series of cascades, the outcrop loses its ominous power. But when the day is dank and drear, that massy Eagle tricks your mind back through time and into legend.
The white doe of Eagle Crag
Lady Sybil was a beautiful heiress who lived at Bernshaw Tower, close by Eagle Crag. People said that her radiance lit up that dismal vale. She certainly charmed the cottagers, asking them about the potions and nourishments they gleaned from the tenacious flora that clung to the valley's thin soils. Certainly they talked about her of an evening and her ladyship magicked herself into their minds and their folklore: Lady Sybil longed for supernatural powers; Lady Sybil bartered her soul for the gift of witchcraft; Lady Sybil could take on any animal form she chose.
Sir William Towneley of nearby Hapton Tower was an ardent admirer of her ladyship, but she continually rejected his advances. So he paid Mother Helston, who also had the gift of witchcraft, for her advice. She made a fire of sticks, as the love sick William waited. Then she put more sticks on the fire and stared hard at its yellow flames, only pausing to cough, till his lordship got the message and tumbled more coins onto the witch's table. Then she said, "When you're next out hunting in Cliviger gorge look for a white doe."
Next morning he set off on his quest, alone apart from Mother Helston, who had changed herself into a hound. They cornered the white doe below Eagle Crag and he fastened a silken leash to its neck and led it back to Hapton Tower. Once there the doe turned back into Lady Sybil, beautiful, naked and tremulous. Martha the maid was sent to Bernshaw Tower for clothes. Which she did in good time, greatly distressing her ladyship's maid with her account.
Meanwhile Lady Sybil had draped the window curtain around herself and promised Sir William she would henceforth renounce her witch's craft and marry him. He rewarded her for their betrothal with a signet ring. She stayed that day, clad in her own rich garments once more, but as the evening wore on, his lordship fell noisily asleep after an extended bout of feasting and drinking.
Lady Sybil had not finished her meal, nor drunk more than a few sips of ale. When Sir William fell asleep, she took on the form of a white cat and went out hunting with other transformed witches. She was attacked by Robin, the servant of the miller, Giles Dickisson, who cut off her paw. Thus wounded, she went back to her fiancée, but without the hand that bore her signet ring.
Sybil was reconciled with her husband and bade his forgiveness. And in return she made one last spell and was able to magically restore her hand. This took all her strength, however, and she died and was buried at the foot of Eagle Crag.
As for Lady Sybil's own maid, well she didn't believe the tale of her lady turning into a doe, although certainly she was captured. Nor did she believe her lady turned into a cat and her paw was cut off by Robin the miller - much as he boasted of the deed. Certain she was that her lady had died of an injury. But the maid's version of how Lady Sybil was captured and what really happened that day is not remembered, and neither is her name.
Thursday, May 6th
PW asked, "Did you know that, as well as 8 legs, octopuses have 9 brains?" I didn't as it happens.
As I set off for town she said, "Wear your mac, it's going to pour down." We watch the same weather reports but PW always picks out the bad bits. Swifts were flying above the polling station, but swiftly flew away before I could zoom in on them.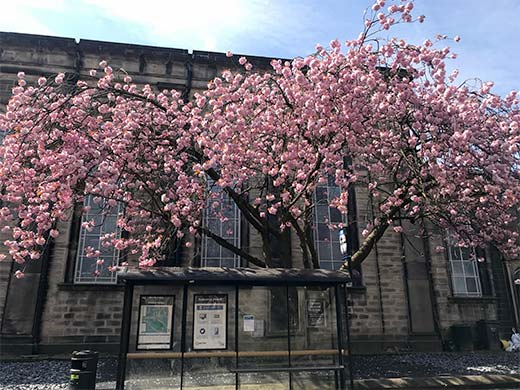 I voted and then had a delightful, sun drenched, liquid lunch in the square with poet and former spin bowler Zaffar Kunial. We more or less covered cricket, Larkin, Hughes, Plath,  Armitage, Mersey poets, Duffy, cricket, Manchester musicians, Frank Sidebottom, John Major, buskers, beer, Liverpool FC, ancestry, cricket and the imperfections of weather forecasting.
Zaffar asked if I minded him ordering half of London Pride. Well, despite its southern origin, plants of that name survived several floods in our garden - until the last one - and also inspired a lovely wartime song by Noel Coward. So I let it pass.
PW appeared, masked and machintoshed and found us in our shirt sleeves. 
I said, "This is my wife."
Zaffar said, "How can you tell?"
Later I shared my pet theory with Zaff and passing pundit Jonathan Timbers (you may take notes): despite the vaccine bounce helping the Tories to a landslide in Hartlepool and elsewhere, there has been a discernible social shift in the country, especially in the south. As with the Democrats in the States, the Labour Party is attracting the professional classes, younger voters, graduates and ethnic minorities, but still needs to remember its reason for existence is to fight for greater equality.
I got home just in time to hear PW ring the hospital and receive the big C all clear following her latest scan, before a torrential downpour began, which later thickened into hail. Fortunately, it was a wine night so we could celebrate.
Friday, May 7th
Keep calm
Election results. There's bound to be a vaccine bounce for the Tories in some parts of Brexit supporting England. The pundits know this, but today there's exaggerated talk of a disaster for Labour. Hartlepool would have been Tory after the last election if UKIP hadn't split the pro Brexit vote, so it's no great surprise if the result goes their way tonight, but media people pretend that it's a shock and disaster for Labour.
Have I got news for Cornholme
Cornholme was on the telly. For once Paul Merton was overcome and crashed the gag by reading ahead to the pay off line.
Saturday, May 8th
Local Election results
Calderdale, Calder Valley - and other council election results along the M62 corridor, from Liverpool to Hull - have remained solidly Labour. The results in the Upper Calder are startlingly good. In Calder Ward, Josh Fenton-Glynn received 3399 votes, well over half the votes cast. In Todmorden, the Labour vote increased by 55% since the 2019 polls. Labour kept control of the council. The strength of this red wall has not been mentioned on the news.
From Mr Stott's Diary - Halifax 1914*
May 8th, 1914
Cold weather.
Lunatic in an asylum, "Is that clock there right?"
Dr, after comparing with his watch, "Yes."
"Well, what's it doing in here then?"
[NB - I think this was a joke]
*Edited by Robert Hamilton
Sunday, May 9th
Beyond a joke
Cornholme folks know it is far from a uniformly God fearing place, despite the claims of the community library prankster. In fact it has long had an association with witchcraft and dark deeds.
 
WITCHMAN 'WAS MADE TO SUFFER BEFORE HIS DEATH'
Twenty years ago the Lancashire Telegraph reported, "David Sandham and Daniel Delker, both 24, murdered James Bowman, 44, on a hillside above Cornholme. The jury was told Mr Bowman suffered more than 80 injuries in the vicious attack, which a judge described as a "savage slaughter". He had been in a relationship with Sandham's mother and the couple shared an interest in witchcraft. They had been living together in Cornholme until two days before his death when she asked him to leave and he ended up camping on moorland overlooking the village." Sandham and his friend Delker went to find Mr Bowman to 'warn him off' seeing Sandham's mother when the attack happened.
What the papers say
Don't bother reading lengthy political analyses in the broadsheets this weekend. The common factor in the successes and failures of the parties in England, Scotland and Wales in these elections, was how often their leaders were on the box during the pandemic. As for my pet theory, the Tories have taken Mixenden and Illingworth, whilst Labour has triumphed in leafy Skircoat Green.
Monday, May 10th
Give us a break
Edwardian Cornholme, is a booklet compiled in WEA lessons back in the 80s. An elderly resident tells of her parents' honeymoon. "After the wedding night, by way of celebration, they thought they'd go to Manchester." So they walked to Todmorden and caught a train, "but once it chugged into the big city they never left the platform. They were afraid of getting lost."
What the papers say
There's double think in much of the coverage which seems to influence some voters. The big one is that Labour has been in power (!?) and it's 'time for a change'. A woman in Dudley said in a vox pop, 'Keir Stalmer was born with a silver spoon in his mouth,' despite his mum being a nurse and his dad a toolmaker. No doubt she thinks Boris Johnson was born destitute and homeless. Starmer is also accused of representing a London constituency, which is seen as a crime, despite Boris Johnson representing Uxbridge.
Tuesday, May 11th
I interviewed Tristan Langlois, museum educator, storyteller and fell runner for The HebWeb Interview. From Chester, fellow runner, Brian Donnelly commented, "Tristan, in a few words describes the totality of the physical and spiritual experience … typically up and down 10,000 feet of fell running." And …'Dr of Philosophy, let me through vid'. Excellent!"
Wednesday, May 12th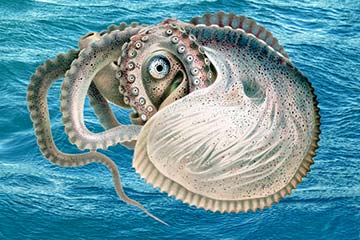 Octopussy
PW discovers the book of the week on Radio 4 is about octopuses! Male octopuses are often eaten by females after mating. In one species, PW told me, the male can fire his detachable penis, like a semen loaded torpedo, to fertilise the object of their desires. I was imagining this becoming a popular computer game. Sue James wrote, "The females should be given 8 little rackets to hit the penises right back again.
But looking further into this interesting topic, it turns out that the diminutive male Argonaut has a clever trick of detaching one of his arms that doubles as a penis, once the act reaches its climax, then zooms off minus his member to avoid becoming dinner.
Thursday, May 13th
A waitress brought me the wrong drink and when I pointed out her error she said, "My bad," when 'sorry' would have done.
Quite a few of these new coinages are ways of avoiding politeness. "Mind your back," gets round 'excuse me'. "Nice one!" (usually from men) is nice enough, but sidesteps the more genuine, 'thank you'. And asking "How are you," is met with, "I'm good."
Well you might be mate, but how the hell are you?
Friday, May 14th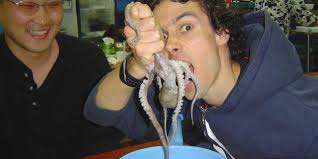 Sannakji (eating raw seafood)
More info from PW on her darling octopuses. The Japanese like to eat them not only raw, but alive. As the eight armed creature has brains in each limb, each arm can still operate autonomously. Once they start chewing, diners discover that octopus suckers can stick to their throats. On average, half a dozen people are choked to death each year in Japan when eating live octopus.
Saturday, May 15th
It rained most of the day. I didn't know about the Hebden Bridge demo against the (unequal) bombardments in Israel. The establishment of Israel was a response to the most terrible of all racist solutions with another racist solution. Now there's an apartheid situation, and the disquiet of critics is tempered by fear of accusations of anti-semitism.
I watched the cup final and remembered how exhilarating sport can be. A trivial pursuit, but dramatic all the same. Also, a nice billionaire's team beat a dodgy Russian billionaire's team.
Sunday, May 16th
Museum without walls
In his collected essays, Jonathan Meades describes good writing and acting in terms of seeing the world without jaded eyes. Writers must, "especially when broaching the most familiar subjects … illuminate them in ways that make them seem unfamiliar, fresh … This is akin to the actor's primary task. The actor must convince him or herself, then the audience, that the words are being spoken for the first time, that they are the issue of spontaneity rather than of honing, chamfering and perfecting in rehearsal. What acting shows us - the same goes in writing or musical composition or indeed any art - is that the only kind of spontaneity that's worthwhile is rehearsed spontaneity."
Chris, Marriott and me …
Reading about him in the Indy, it appears Chris Kamara and me both suffer from hypo-thyroidism. We've both suffered from dogged tiredness, but unlike the ebullient football commentator, I rarely suffer from depression. Taking a tablet more than redresses the energy loss. I only sleep for six hours a night. Another symptom of hypo whatsit, is loss of vocabulary and spelling ability. PW said all this was quite reassuring, she'd worried I might have Alzheimer's.
Despite Marriott Edgar, memorising his words very well, he had the sense to sign up Stanley Holloway, a proper actor, to perform his stories. Here's a rare film of Marriott delivering his most famous monologue of all - and reminding us where folks from Halifax, Todmorden and Cornholme went for their mini breaks back in the day.
---
Murphy's Lore, the book is available to order here
If you would like to send a message about this piece or suggest ideas, email George Murphy
More Murphy's Lore
See the Murphy's Lore home page for all 83 episodes.
---