Continuing the second series of the offbeat HebWeb column from local writer and story-teller, George Murphy.
In Episode 33 of Lockdown Diary, there's a city on a hill, Holbein and Anne Boleyn, a blind man and a sculptor, a lost yes and no bag and generosity thwarted, Ruskin's View, a lesson from Akala, Piers and a choice of Keirs, a new cafe, a Scottish rhyme, two local writers and how not to read a whodunnit.
Staycation Nation
Sunday, May 30th
Bank holiday weekend, and the sun was shining. We drove north through day tripper deluged villages, Grassington, Kettlewell, Starbotton. Everything was Yorkshire hued, limestone cottages and walls, cow parsley and may blossom, set against a deep blue sky. 
We were staying in Romaldkirk, with its huge green and gastro pub. The food is excellent at the Rose and Crown, although it's sacrificed the traditional ale house atmosphere for the restrained ambience of 'restaurant with rooms'. This is happening across the country, with legally enforced social distancing, booking in advance and waitress service.
Monday, May 31st
Today we drove to Durham, situated, as Jonathan Meades has noted, "on one of the greatest sites of England."
PW bought the a biography of Holbein, while I dodged through streams of sweaty humanity and found us a table on Old Elvet bridge, forty yards from the cafe. She returned with cousin Carol and her husband Alan. There wasn't a menu, but a sheepish looking waiter approached us.
"What lagers have you got, please?"
"Err. I'll just ask my colleague."
His colleague wasn't sure.
"Do you serve sandwiches?"
"Err, perhaps sir could pop along to the cafe and find out?"
I'm sure he'd been hired that morning to deal with the rush. Where have all the waiters gone? Gone to Poland every one.
After assuaging our thirsts, we visited the defunct Georgian registry office, for some sentimental snaps. We married there in '73, and felt quite jolly about it at the time, giggling at one point, till the severe registrar woman reminded us, "This is no laughing matter."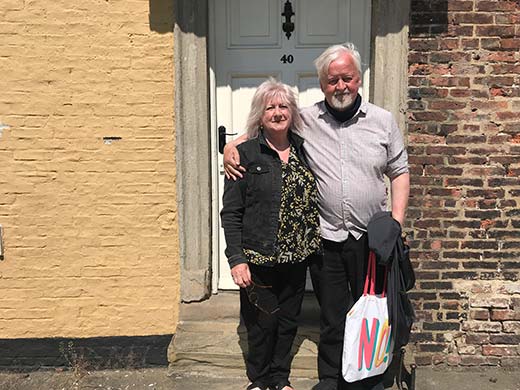 Despite knowing me for 5 decades, PW bought a Holbein hardback, which I kept in my bag with Yes! on one side and No! on the other. Despite the photo I think I said yes on the day. 
While the lasses went off for a catch up and shopping therapy, Alan and I walked up to the Cathedral, swapping the heat and hubbub for cool, vaulted peace. We had tea and cake in the shady cafe and Alan revisited some old tales.
"I was in Woolies in Florida, looking at all these handguns and assault rifles displayed across a wall, and a young lass, a shop assistant, gans along. I said, 'Why, this isn't like the Woolworths where I'm from, pet.' She says, 'Really sir? Where do you hail from?' I said, 'England'. She says, 'England?! Oh gee! Do you play polo?' "
Back in the Market Square, Alan asked if I knew the statue story.
The blind man and the sculptor
Anyone who visits Durham city will be struck by the equestrian statue of Charles Vane Stewart, Marquis of Londonderry, who gained a fortune from investing in coal mines in County Durham. When he died in 1854 his widow pleaded with local aristocrats to raise funds for a statue to celebrate Stewart's military prowess in the Napoleonic wars. £2000 was duly raised to commission the Milanese sculptor, Raphael Monti, who used the new technique of electroplated copper over plaster to create the twice life sized monument. This post Raphael Raphael, boasted that his statue was faultless and he'd reward anyone who could find fault with it. Many rose to the challenge, but no fault was found, until a visiting blind man was granted permission to inspect the creation. Hoisted up to the head of the stallion, the man felt it carefully before announcing to the astonished crowd that he had indeed found a fault. The horse had no tongue! It was said that sculptor Monti was so devastated he committed suicide.
It was all a tall story of course. The nag did have a tongue and Signor Monti lived to a ripe old age; but the story had an impact. As we've recently witnessed, rich men's reputations can ride high on statues, but poor men's stories can bring them down to earth again.
The yes and no bag
We said our farewells and were heading back to the multi-storey when I discovered we were minus my yes and no bag containing our unfinished 'quick' crosswords and Hans Holbein. 
I hurried back up to the Cathedral just as they were locking up, and told my sad tale to a kind cleric in a cloak, who sent me to the verger's office. The verger sent me to a gentle, giant sized guide. The guide took me to the security guard, who rang the nightwatchman, who left his tea and hurried up the hill. In the gathering gloom, the nightwatchman, the giant guide and me went in search of Hans and found him behind the counter in the cafe, still wrapped up in my yes/no bag. We touched elbows in celebration.
Back at the huge entrance door with its famous sanctuary knocker, I turned back to the cleric in the cloak who had a donation box in front of him. As the guide, the guard, the cleric in the cloak and God looked on expectantly, I smiled and took out my wallet, before remembering, just in time, I needed to keep my change for the multi-storey car park.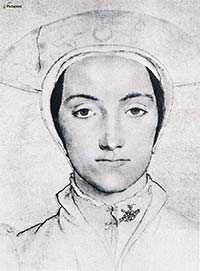 Looking at Anne
Back at the Rose and Crown that evening, I leafed through the Holbein hardback and stopped at the court painter's sketch of Anne Boleyn - Anne of a thousand days and innumerable TV series, books and films.
Anne looked back, not quite meeting Holbein's gaze, nor mine, controlling her expression and minding her thoughts.
Tuesday, June 1st
This morning, before setting off, I chanced upon a headline in The Northern Echo.
MASKED ROBBER RUNS OFF WHEN
POST OFFICE STAFF TELL HIM TO FXXK OFF!
The old English road …
Three roads, the A66 Roman road from Bowes, A685 from Brough, A683 to Kirkby Lonsdale, complete one of the great road journeys in England. Despite its majestic splendours - swathes of bluebells on sleek sided fells - the A63 was almost deserted. Ruskin roamed this way when heading to the Lakes, although probably by steam train. If you time it right you can still catch sight of the Flying Scotsman en route. Here's us at Ruskin's View in Kirkby Lonsdale.
Thursday, June 3rd
5.45 - woke, washed, read and wrote.
9.05 listened to Melvyn Bragg and guests talking about Immanuel Kant's Critique of pure reason.
9.10 Fell asleep.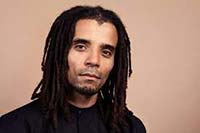 9.45 - woke. Listened to Akala's Race & Class in the Ruins of Empire, read with ringing clarity by the author. He described three 'facts' people in Britain are told about the history of slavery:
Wilberforce set Africans free;
Britain was the first country to abolish slavery, primarily for moral reasons;
Africans sold their own people.
The first two he declared total nonsense, the third a serious over-simplification.
BORIS IS A CULT
Someone wrote to The Guardian letters page saying, 'after your recent bi-centenniel anniversary, I'm glad you have kept up your tradition of typo errors with the above headline'
Piers and Keirs
We caught up with a recording of Piers Morgan's interview with Keir Starmer. I'd  already read the reviews. Journalists thought the sweary, soccer playing, might once have smoked a spliff, heart throb student and dashing young barrister Keir came over well. That Keir was 'a character', although one or two commentators, such as Jeremy Clarkson (who?), mocked his tears for lost loved ones.
Today the photo by Hebden Bridge's Andrew Smith was on most front pages. Jonathan Jones in The Guardian analysed it.
"This is a winning picture. Could it be an election-winning picture? It makes Starmer more accessible … To be a human whom people can recognise as sharing their own complexity is a surprisingly rare political gift. Blair knew this and it won him three elections. Boris Johnson is also seen by many voters as human – all too human. He lies, he does dodgy things … you can't deny that is human."
Friday, June 4th
Jude told me he'd been listening to the Pogues in his car (he owns, his mum drives) and Rosie was fast asleep in the back. Suddenly she woke and said, "There was an eff word in that song!" Then went back to sleep again.
Saturday, June 5th
Stop it poppet
Adults are aware of the strangely addictive power of popping bubble wrap. Now someone has cleverly turned that addictive power into a money minting children's toy, called Pop its. It's said 'experts' claim Pop its are good for kids, they help them relax and focus. Psychologists call them 'fidgets'. In any case, British kids got hooked on popping 'pop its' during lockdown.
Sarah Ayoub wrote in The Guardian, "When I had my first child, I was preoccupied with all that tailored to children marketing I knew would make my kids want brightly coloured crap that would capture their attention for about three days, sit in a messy toy box for three years, then lie in landfill for eternity.
 
Today, Rosie showed us her fidgets when she stayed at ours.
"And here we have Rainbow Pop Fidget … And here we have fluorescent Push Pop Bubble Fidget … And here we have … " She had seven of them. Each time she gave us a demonstration of their impressive poppability.
We sat still throughout her presentation, thinking of all the poor mommas and poppers out there. Then she said, "Now, who would like to help me pack them away?"
Monday, June 7th
The Murder of Roger Ackoyd
I've just read my first ever detective novel! I did the research, read the reviews, and chose the novel that was perhaps most highly praised. This academic approach had the unfortunate effect of me knowing whodunnit 281 pages before the end.
Wednesday, June 9th
Previewing
I'm enjoying reading a book of short stories by Paul Degnan, who draws on his storytelling skills, knowledge of folklore and love of nature to produce a varied and engaging debut collection. As you'd expect, there's plenty of local interest in Paul's tales. It's due out later in the summer.
The Bay Tree
Today we shared a tasty platter dish at The Bay Tree, a new cafe on Bridge Gate. The two women behind us were having a distractingly interesting chat, including mention of a daughter who'd thrown up a career and gone to live in The Orkneys, where she'd got herself another splendid career. Have laptop will travel! I felt quite jealous, but then remembered a poem I have in a 'Miscellany File' by that enthusiastic Sunday writer, Anon.
The Bloody Orkneys
This bloody town's a bloody cuss
No bloody trains, no bloody bus,
And no one cares for bloody us
In bloody Orkney.
The bloody roads are bloody bad,
The bloody folks are bloody mad,
They'd make the brightest bloody sad,
In bloody Orkney.
All bloody clouds, and bloody rains,
No bloody kerbs, no bloody drains,
The Council's got no bloody brains,
In bloody Orkney.
Everything's so bloody dear,
A bloody bob, for bloody beer,
And is it good? - no bloody fear,
In bloody Orkney.
The bloody 'flicks' are bloody old,
The bloody seats are bloody cold,
You can't get in for bloody gold
In bloody Orkney.
Everything's so bloody dear,
A bloody bob, for bloody beer,
And is it good? - no bloody fear,
In bloody Orkney.
The bloody 'flicks' are bloody old,
The bloody seats are bloody cold,
You can't get in for bloody gold
In bloody Orkney.
The bloody dances make you smile,
The bloody band is bloody vile,
It only cramps your bloody style,
In bloody Orkney.
No bloody sport, no bloody games,
No bloody fun, the bloody dames
Won't even give their bloody names
In bloody Orkney.
Best bloody place is bloody bed,
With bloody ice on bloody head,
You might as well be bloody dead,
In bloody Orkney
Thursday, June 10th
Covid has returned to the Upper Valley. Virologists are arguing that over the next year or so the virus will become less lethal in order to survive and more people will become immune due to the vaccine programme. Do they realise how we shrink from those throw away words, 'in the next year or so?'
Friday, June 11th
The Euros are under way. Look out for Italy.
Saturday, June 12th
Local heroes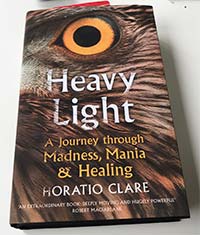 I'm reading Heavy Light by Hebden Bridge's acclaimed travel writer, Horatio Clare. In the first part he gives lucid accounts of terrifying journeys into madness. This writer knows what he's doing. He rings us out, exasperates and frightens us, even in our armchairs, with what he puts himself and others through. But he remains aware of love and care in his Hebden world. Perhaps this is how we weigh the love of others - when it's most daunted. I've witnessed the terrible suffering of the psychotic, but not from the inside, so I'm glad for this testament. More next time, with the promise of a love story and healing.
Sunday, June 13th
We won! Say nowt - hope is the killer.
---
Murphy's Lore, the book is available to order here
If you would like to send a message about this piece or suggest ideas, email George Murphy
More Murphy's Lore
See the Murphy's Lore home page for all 85 episodes.
---