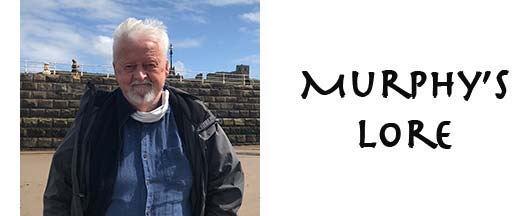 Continuing the second series of the offbeat HebWeb column from local writer and story-teller, George Murphy.
In Episode 37 there's sporting feats, a Whitby staycation, Usain Bolt in Midgehole, a journey up the Khyber Pass, ET at the Olympics, a handy guide to death, Fred, who had two faces on his head, and much more!
---
Monday, July 26th
 
COVID is invisible. Spanish Flu turned its victims deep blue as their lungs filled with liquid, causing them to suffocate to death, it put on a show. Covid doesn't do that. Now, in this country, it mainly bumps off those who don't believe it exists.
Tuesday, July 27th
We met our son at The White Lion. He was nursing half a lager. Years ago, his mum said to him, "Don't drink wine. It's too strong, it'll mess with your medication."
He said, "I don't drink wine."
"What do you drink?"
"Whisky."
Liothyronine
I've stopped taking the tablet for my thyroid deficiency because of its side effects - mainly the need to be at all times within sprinting distance of a w.c. or an evergreen bush.
There used to be a better tablet for my malady, but in 2015 the NHS stopped buying liothyronine. The American manufacturer had increased the price from £9 to £258.19, despite the production costs remaining stable.
Mine's a marginal deficiency, but more impaired patients have suffered depression and severe fatigue since the most effective treatment for their condition was put on the drop list. Today, the UK Competition and Monopolies Authority annnounced they have fined the private equity firms involved in this extortion to the tune of £100 million.
Thursday, July 29th
Gymnastic feats
Tonight I laughed too hard at an episode of Would I Lie to You and rolled off the settee with my glass of wine held aloft. Despite PW's shout of 'Don't spill it!' I managed to swap hands whilst rolling over and ne'er a drop was dripped.
These things happen on occasion …
In my student days in the 70s I had a date with Liz Moses at a working men's club in St Helens. It was early evening, before the DJ had got started. With my long hair and Carnaby Street T shirt, I thought myself quite the rebel compared with the local, short haired, smartly dressed miners. Slightly tipsy from cheap ale, I put my cuban heels up on the low table, leaned back nonchalantly in my chair, cupped my hands behind my head, then unintentionally executed a perfect backward roll onto the adjacent dance floor, leading to sarcastic clapping from the locals. I got up and did a little bow, but I much preferred being a rebel without applause.
When we moved to Halifax in '74, I was passing the Post Office when I tripped, flipped heels over head, landed on my feet, stood up straight, and carried on walking as if nothing had happened. I was in my probationary year of teaching and had certain standards to maintain.
Saturday, July 31st
Drove to Whitby with Leah and Rosie. We're staying in a decent sized house near the ugly hospital and its ugly sister cop shop, but a ten second walk to the corner brings the abbey and church into view. I said to Rosie, "When you're older you'll find out about Count Dracula." Rosie looked up from her phone and said, "I've seen the film."
Sunday, August 1st
Staycation nation
The roads are packed with people, but marginally less packed than the pavements. Looking across the Esk, there must have been two hundred people on the 199 steps to the ancient church and ruined Abbey. Below the church the land has been falling away in recent times, depositing graves in the old yards, surprising holiday makers when they stroll out of their holiday lets to find skeletons amongst the recycling bins.
We crossed the swing bridge into the old town and near the market heard a familiar voice. Michael and Mother Shipton were doing their thing.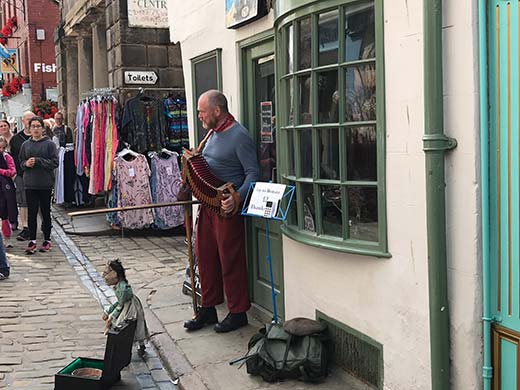 I've just read a Q&A with Eimear McBride, award winning author of A Girl is a Half-Formed Thing, who has written her first non fiction book. She says, 'One of my problems is language. I find it a blunt tool in comparison with the richness of experience. It's very hard to translate experience into words. With fiction, you can at least break all the rules to get closer.'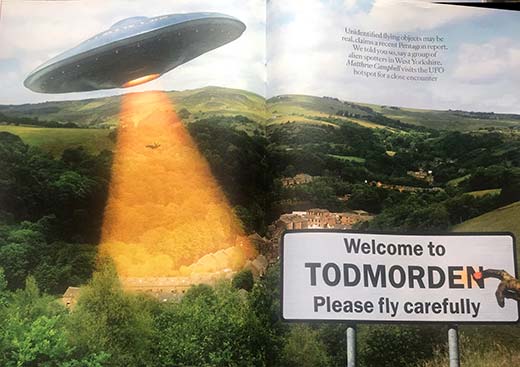 Tod odyssey
There's a long piece on UFOS in Todmorden in the Sunday Times. There probably are intelligent creatures out there - the universe is a big enough place - but they can't be that clever if they're coming all this way for a mini break in Tod.
Monday, August 2nd
Usain Bolt in Midgehole
The date for this holiday has been changed three times because of COVID. As fate would have it, we're here while the Olympic athletics is on.
One summer we were in County Durham and I was desperate to get home in time to see the men's 100 metres final. When we finally set off, I drove down the A1 in that 'they can't get you for it' 71 - 74 mph speed zone, steeling myself to drive safely, whilst listening to the build-up to the race on the radio. Only when we were a few hundred yards from home did I bomb it down the almost deserted country lane past the dye works, roaring past one easily avoided rambler.
I screeched to a halt outside the front door. A rogue parker had filled our allotted space, so PW gracefully took the keys of the Rav 4 as I darted inside. I turned on the telly at the precise moment the starter said, "GET SET."
9.59 seconds later, the fastest man in the world was Usain Bolt.
Meanwhile, PW managed to park further down the terrace. A man appeared and tapped on the window. She wound it down. He said, "Madam, you could have killed someone driving at that speed!"
Tuesday, August 3rd
A landlubber's Argosy
This morning I set out to walk to the Argos store in the Sainsbury supermarket two miles out of Whitby, to get Jude a replacement portable DVD player. PW offered to get a taxi. I said, "It'll do me good. Don't forget I represented the North of England when I was still a schoolboy." Jude had remembered to bring his old portable machine on holiday, but he forgot to bring the lead. Leah put a satnav map on my phone to help me find the place. It was a swelteringly hot day, and after 40 minutes following the guidance from above, I found myself back at the railway station, not far from where I'd started. So I nipped on the bus to Sainsbury's.
Up the Khyber Pass
In the afternoon I was walking up the twisting road towards the cooling breeze of the headland, the one with the whalebone arch, when I stopped below a long hedge that must have survived when they cut the road up to West Cliffe. It was teeming with raucus but unseen birds, screaming and shriking above the heads of passing, unhearing, holiday makers. It was such a glorious din, below the sarcastic laughter of the gulls, that I stayed and listened. I observed one or two starlings fluttering frantically above the hedge before they dropped back into the tumult again and decided it was definitely a mid afternoon starling roost.
Walking on, I headed up the the steps known as the Khyber Pass, to the loftier, cooler air of the headland, famous amongst kite flyers, where local boy Captain Cook's monument was crowned and duly annointed by a herring gull. As the hobo poet WH Davies reminds us from many a tea towel, "What is life if full of care / We have no time to stand and stare?" Or sit, in my case.
I found a bench opposite the now distanced din of the starling hedge and took in the wider scene. A little boy with a dummy in his mouth toddled past me, holding his daddy's hand. The infant kept glancing back, with delight and just manageable fear, at his mummy who followed them with a push chair but suddenly roared and set off on a mini chase, causing him to run as fast as he could in his stumbling manner, holding onto his dad who shouted 'Aaarrrgh!' in mock terror. That ancient mini drama provoked fond memories in me. Who needs Marbella?
Wednesday, August 4th
Not in his lifetime
Hugh Montgomery, professor of intensive care medicine at University College London, has said life will not return to normal in his lifetime.
"I can't see the occasion when I'm going to want to be crammed into the pub shouting at the rugger in the autumn internationals or the Six Nations in the way that I used to, and that's a shame, because I used to very much enjoy a pint in my hand and shouting at the television set, but I won't be doing that."
Well Hugh, I've been watching the Lions v South Africa penalty kicking competition and, if that's the future of rugby union, it won't be worth watching anyway.
Thursday, August 5th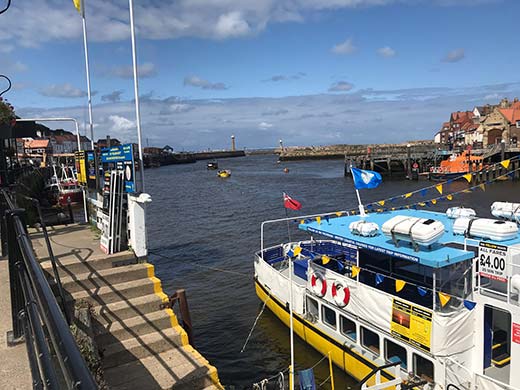 At a cafe cum pub I managed to get an outside table with a lovely view, just right for a spot of basking in the gentle summer sun with a glass of over priced ale in my hand. Then the guy at the next table shouted to some passing friends. They said, "Hey Jason!"
Jason asked me if they could share my table. Which meant losing my view and my peace and quiet. So of course I said, "No problem."
One of the guys said he'd get the drinks in. Jason advised, "Tell them you're local, that way they won't mark up the prices."
Jason asked the bigger woman if her baby is sleeping at night.
"She's waking me every two hours, the little fucker. It's a bedsit so there's no escaping from her."
"Is she bottle fed? Couldn't you put something in it?"
"Don't fucking tempt me."
The younger, smaller mother commented, "I couldn't fucking cope with that. We're staying at me ma's. If this one cries, me ma comes into the room and goes off with her. One time, me and Steve were at it and she didn't bat an eyelid, just scooped up the bairn and popped a bottle in her gob and went off. Get your name on the housing list, that's what we've done, you'll have more points now you've got a baby."
"I have to wait till she's a year."
Big mummy's baby was smiling at me. I wanted to read the paper, but made the mistake of grinning back a few times, which turned into an annoyingly protracted game of peepo, until a cyclist turned up to chat with Jason. He was stripped to the waist and covered in tattoes. So I knocked back my ale and made good my getaway.
From across the road I glanced back and imagined them reverting to their real personas, Jason saying, "I see there's a new Ayckbourne on in Scarborough."
"Yes, a time bending comedy. It got 4 stars in The Stage. You have to hand it to him, darling," said the tattooed man.
Saturday, August 7th
Talking wet
Home again. According to John, one of my coffee supping companions, there's some trousers you can buy which are specially designed to look as if you've wet yourself.
"Well," I said, "It might come in handy for us in a few years time. If everybody's wearing them we could camouflage our little accidents, although the steam might give us away."
Death scorecard
There's a feature in the paper about old age. Apparently, if you're not good at standing up from a recumbent posture and your walking speed is slow to dead slow, you won't last out to your 75th birthday. The third indicator is dressing, which I'm not bad at, apart from occasionally toppling onto the bed when I try putting my pants on of a morning.
Get them young
I've been thinking about that smiley 13 year old lass who got a bronze medal in the skateboarding. She recently fractured her skull in a training accident. Am I the only one who thinks her parents should have told her not to try such dangerous tricks until she's an adult and can make her own judgements?
Yes, probably.
I was also fascinated by the men's 1500 metres. It seems the only way to beat athletes who were born and train at altitude is to start young. Norway's Jacob Ingebrigtsen has been training twice a day since primary school. He was 16 when he ran 3 minutes 58 for the mile and a double European champion at 17. Now he's got an Olympic gold. He says, "I might retire when I'm 22. I've been a professional since I was 8."
Sunday, August 8th
A good read
Rutger Bregman's Human kind describes 'the disaster of civilisation,' when we changed from socialist, free loving communes of hunter gatherers into farmers, which introduced us to epidemic diseases, sexually transmitted infections, inequality,  servitude and black puddings. It's quite an uplifting book.
A morbid monologue
Gigs are recommencing, so here's a morbid monologue I'm rehearsing. The head in this photo belongs to one of our nephews, a tall strapping lad, unlike Fred.
A cautionary tale
Here's the story of Fred, who had two faces on his head, but now he's dead.

Folks round here remember Fred,
He had two faces on his head:
T' front face wor set up in t' usual way;
But t' face round t' back wor a bird of prey.

He'd got his head shaved as wor t' fashion,
For young men in pursuit of passion,
But his FaceBook friend Beverley, said,
"You look like Mr Potato Head."

So he had some birthday money and he blew it;
Took his head to Ink Parlour, and said "Tattoo it."
And Beverley wor all agog
When she saw his bird phizzog.

They met in Blackpool, on a weekender,
A tattood couple on a bender.
'It's Freddy the Eagle!' she said wit' Grin.
His t' front face said, 'It's a peregrine.'

Fred wor short and Fred wor slim,
Beverley made two of him.
They sat on t' rail at t' end o' t pier,
With fish suppers and cans of beer,

When a flock of seagulls swooped on Fred,
Attacking t' bird on t' back o' t head!!!
But even while her Fred wor mobbed,
Bev made sure his fish worn't robbed.

Fred fought back and gave no quarter,
Until he toppled into t' water!
Then onlookers rushed to t' end o t' pier,
And saw Fred's bird face disappear…

Then t' Gulls flew off, quite satiated.
Bev looked at t' Fred's fish, they say she ate it.
So don't choose a raptor for your head,
Why not a budgerigar instead?
---
Murphy's Lore, the book is available to order here
If you would like to send a message about this piece or suggest ideas, email George Murphy
More Murphy's Lore
See the Murphy's Lore home page for all 86 episodes.
---