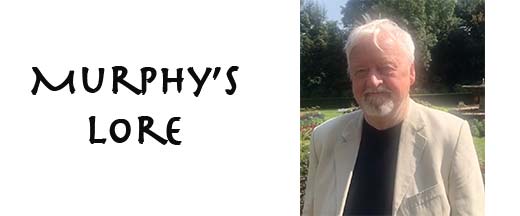 Continuing the second Lockdown Diary series of the offbeat HebWeb column from local writer and story-teller, George Murphy.
In Episode 39 There's an elephant on a towpath, a murder in a vicarage, two types of horror, two types of Sandman, three David Hartleys, dodos and ammonites, two Binky Beumonts and the trouble with puns, a Samurai love story and an anniversary song.

---
Monday, August 23rd
COVID case numbers are soaring round here, but it's mainly the twice vaccinated old who wear masks in shops and cafes. Getting young people vaccinated will help us all through the winter. It's not just the young who feel they can't face another lockdown. Meanwhile, the collapse of the GP service is barely commented on in the national media.
Tuesday, August 24th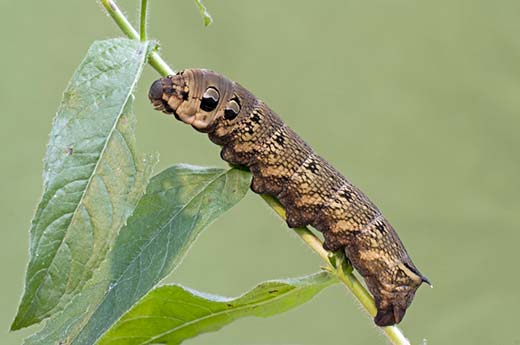 It was a beautiful late afternoon, so we walked to Mytholmroyd along the towpath. The narrowboats were mirrored in the unruffled waters of the canal. It was that time of day when the light illuminates west facing fauna and flora and the east outlines them with shadow. PW noticed a dark, striped creature on the towpath, long as a finger. "It's a slug," she said, then added, "Slugs don't all look the same."
The food was scrumptious and briskly delivered at the tapas restaurant. We had the table by the window, giving a clear view of the church, now that the sad, serially flooded terrace has gone. Beyond the church, Scout Rock, bearded with trees, was not at all brooding in the brilliant light.
After our meal, we walked back more briskly along the towpath. In the narrow boats silvery silhouettes of faces turned towards TV screens. Back home we were catching up on TV catch ups (White Lotus, Vigil) when my phone pinged. A woman had posted a photo of an Elephant Moth Caterpillar in her garden, which was a dead spit of the creature we saw on the towpath. I should have known from its undulating perambulation, what PW saw wasn't a slug. It was just sluggish.
Wednesday, August 25th
Going for gold
48th Anniversary. I told PW I'd like to make it to 50. After that I might shop around.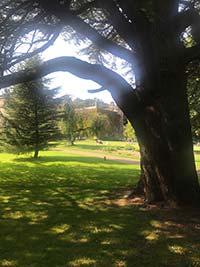 We went to Towneley Hall, Burnley, where Charlotte Bronte was once entertained. We crawled in fits and starts through six sets of traffic lights, before discovering that we could only park for an hour at the hall because between us we only had 80p in change. I said, "Don't worry, we'll get change at the cafe." Turned out the cafe was shut and the stand-in mobile caffs were only accepting card payments. So we soaked ourselves with sixty minutes of vitamin D in the lovely grounds. I suggested going back over the tops, but PW said the A road hadn't been that bad.
The return journey took twice as long. I kept glancing up towards the moors, where a wind turbine waved to me over the brow of the hill, but I said nowt. As Ogden Nash once stated:
To keep your marriage brimming,
With love in the loving cup,
Whenever you're wrong, admit it;
Whenever you're right, shut up.
We passed the lovely Cornholme vicarage, still infamous because of a double murder.
In 1868, the vicar of Cornholme, the Reverend Anthony Plow and his housemaid Sarah Bell were murdered by 23-year-old weaver Miles Weatherill. The killer, armed with four pistols and a hatchet, had been drinking in the Black Swan pub before taking revenge on the clergyman, after he forbade Weatherill to court his domestic servant Jane Smith. Sarah was murdered because she'd told the vicar of Weatherill and Jane's trysts. Miles Weatherill was hanged in public, outside New Bailey Prison, Manchester.
Thursday, August 26th
Two types of horror
In a Foreword to Damnable Tales, selected by Richard Wells, Ben Myers writes, 'We want to be baffled and beguiled, gently victimised, even. We seek to be spooked - but just enough so that we can still sleep at night. Damnable Tales fulfils these ancient needs.' The book is subtitled a 'folk horror' anthology, but is actually a literary selection, with classic tales by such as M R James, Thomas Hardy, Robert Louis Stevenson and Walter de la Mare. Sounds good.
In folk tales, listeners weren't 'baffled and beguiled'. Demons were plainly identified and tellers met those 'ancient needs' directly. An early collector of folk songs and tales was Sabine Baring-Gould, who wrote of the huntsman, Dewer of Dartmoor, in A Book of Folklore (1913) and suggested Dewer's motive: 'He hunts human souls. Two old ladies who lived at Shaw, near by, assured me that they had often heard his horn and the yelping of the pack.'
In one story, a man is riding home and asks Dewer what sport he has had that day. Dewer laughs and throws him a sack. When he reaches his home the man empties the sack onto his kitchen table, expecting to see venison or tasty fowl. Instead, he discovers the body of his own child.
Friday, August 27th
Two types of Sandman
A candy-coloured clown tiptoed into Roy Orbison's room every night, just to sprinkle stardust and to whisper, "Go to sleep, everything is alright," although that Sandman taunted him 'just before the dawn' when he awoke to find his lover gone.
The traditional folk lore Sandman was used to terrify recalcitrant children. He was a baby snatcher, first captured in print in E. T. Hoffman's The Sandman (1817), where the children's nurse describes him as …
… a wicked man who comes to children when they won't go to bed and throws sand in their eyes, so that they jump out of their heads all bloody; and he puts them into his bag and takes them to the half moon as food for his little ones; and they have hooked beaks like owls and they peck naughty little boys' and girls' eyes with them.'
That tale must have eased many a fretful or capricious child to an untroubled sleep.
I met our brilliant local photographer Andrew Smith in Vocation. He loves Hebden Bridge and lives in the most photographed terrace in town. He was going off to see Fanny and Elvis, but I've seen it a couple of times and I'm still wary about going to indoor events. Andrew had grabbed us the table by the open window, so I stayed for another pint.
Monday, August 30th
They'd requested more copies of my books at the Book Corner in the Piece Hall, so we drove over. Hippy Valley is in its second print run. Before Covid put a stop to things, the East Yorkshire publishers invited me to a gaming event in Bridlington to promote an electronic HIPPY VALLEY game. PW commented, "Well it's hardly Las Vegas." As I've never done any gaming, my head was spinning at the idea of a game based on an Edwardian time travelling Music Hall wannabe. It wasn't to be. I recently caught up with old friends at a reading in Sowerby Bridge, who told me the son of an artist I once knew has made a fortune by co-authoring an electronic game based on a popular novel.
They'd set up a large stage in the Piece Hall for a Buzzcocks concert and this weekend they'll be hosting Richard Hawley.
Tuesday, August 31st
Three David Hartleys
Coffee with Zaffar Kunial and Ben Myers outside Cafe Cali. I heard about progress on The Gallows Pole, which is now in production. Forty years ago, I researched the history of the Cragg Vale Coiners. I told Ben that King David Hartley's son died in tragic circumstances in his old age, possibly from drowning.
Tonight I checked the records again, and found a report in the Leeds Intelligencer for 27th March, 1847. The second David Hartley didn't drown. He was killed by a train as he crossed the line at Eastwood Station with Betty, his 14 year old daughter, who survived. The train struck him with its buffers and he was dragged under and killed instantly. The  driver had sounded the train's whistle, but King David's son didn't hear it, being profoundly deaf.
There was a third David Hartley, an Illingworth philosopher and theologian, whose writings were such an inspiration to Coleridge that he named his son after him.

Dodos and ammonites
After Cafe Cali I was called over by my friend Lisa, who was in the park with her 12 year old. They'd recently been to Whitby, and Lisa's lad told me he'd collected 51 ammonites from the beach. His mum persuaded him to recite a rhyme which I later discovered was written by Hilaire Belloc, who inspired my Cautionary Tales, despite which, I accredited the piece to Ogden Nash.
The Dodo

The Dodo used to walk around,
And take the sun and air.
The sun yet warms his native ground --
The Dodo is not there!

The voice which used to squawk and squeak
Is now for ever dumb --
Yet may you see his bones and beak
All in the Mu-se-um.
As for Ogden Nash, I can recall a piece that might not be printed these days.
Marriage is best when the couple are incompatible;
Especially if he has an income and she is pattable.
Which I have only included because PW laughed when I recited it to her. So much for solidarity with the sisterhood!
Wednesday, September 1st
You're having a laugh
Jude asked me, "Why did the Mexican man take his wife to the edge of a cliff?"
"I don't know."
"He wanted tequila."
The fact is, I never remember jokes. What never? Well hardly ever. I do remember that Leonard Bernstein was sitting in his dressing room once when …
Knock knock.
'Who's there?'
'Yehudi.'
'Yehudi who?'
Well, it made me laugh. On Facebook, I asked 'Does anyone know any jokes?'
Thursday, September 2nd
What inspired my request for jokes was novelist Kazuo Ishiguro saying he didn't find puns funny. "It's like laughing if two cars of the same make pass each other." I get the impression that lots of English jokes these days are based on puns - and some make me laugh. My neice Nicola sent me, 'Don't eat liquorice before bed. Makes you dream about all sorts.' Janis Jackson sent:  'Jokes about white sugar are rare; but, jokes about brown sugar, demerara.'
I have pinched from punning limericks in my time …
There was a young woman from Hyde,
Who fell in a cesspit and died.
She had a young brother
Who fell in another,
And now they're interred, side by side.
Friday, September 3rd
Two Binky Beumonts
A different type of humour. Sir Alec Guinness said he once encountered Sir John Gielgud fine dining in a West End restaurant with theatre impresario Binky Beumont. Gielgud called Sir Alec over, asked about his latest role, and who the Production Manager was.
"Binky Beumont!"
"Not Binky Beumont? Dreadful chap - can't stand the fellow!'
Sir Alec winced, and nodded towards Sir John's companion. 
"Oh, not this Binky Beumont!" Gielgud exclaimed.
Saturday, September 4th
I was reading the letters to HebWeb about our vanishing GP service, when PW reminded Jude and me that we'd booked a visit to the barber's. She gave us a lift in and we made it to Jack's on time, then kept stum when he praised us for always being punctual.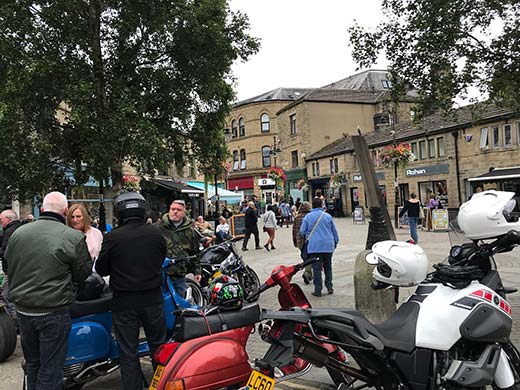 Town was heaving with shoppers. It was nippy, so I ventured inside the little tapas cafe near the wavy steps. I needed a sit down after reading that the old Hole in the Wall has been put on the market for £1.5 million. I usually like the food at the tapas and the staff are very welcoming. I was the only customer inside, so they put on some music. It's usually the best place in town for low volume, varied music by classy performers. But today it was contemporary pop, loud and ululating and the lyrics were lousy. So I didn't bother reading my paper and gulped down my cappuccino. One other good point: they've got the little stove working again.
I got home and after checking the scores I avoided watching the cricket. Instead I continued reading about the lists of 'penitentials' sent to parish priests by medieval bishops for various sins to which their parishioners might confess.  One of the best preserved documents is Decretum by Bishop Burchard of Worms (c. 950 - 1023). There seems to have been a penance for every imaginable sin. The parish priests were directed to read out such items as:
'Have you done what some women are wont to do? They take a live fish and place it in their vagina, keeping it there for a while until it is dead. Then they cook or roast it and give it to their husbands to eat, doing this to make their men be more ardent in their love with them. If you have, you should do two years penance on the appointed days.'
After such European decadence, it was a pleasure to turn again to Japanese folk tale. This one is a thousand years old:
A Samurai love story
A wealthy lord invited a samurai to be his vassal and he felt honour bound to take up the offer, despite leaving his wife to wait in poverty at home until he returned. Years later, having dutifully served his lord, the samurai returned to Kyoto. Although his house was in disrepair, his wife was still there to welcome him home. The couple spent the entire night talking and laughing together before drifting off to sleep. Next morning, he opened his eyes and saw that he was holding a skeleton, shrouded in long, black hair.
Sunday, September 5th
To continue in a romantic vein, here's a song I wrote for our anniversary, a couple of years ago. I did one version accompanying myself on ukulele, but PW said she couldn't hear the words. So I dashed off an A cappella version, which she liked.Thanks to Eileen Wright, local writer and artist, who kindly wrote in to say she liked it too.
Slow Dancing
---
Murphy's Lore, the book is available to order here
If you would like to send a message about this piece or suggest ideas, email George Murphy
More Murphy's Lore
See the Murphy's Lore home page for all 86 episodes.
---