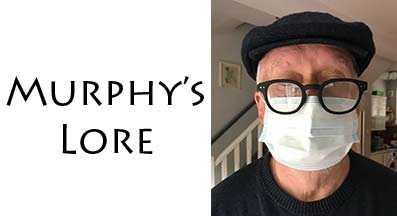 Welcome again to the second series of the popular HebWeb column from local writer and story-teller, George Murphy.
Murphy's Lore Series Two
Episode 4: Lockdown diary
Monday, 4 May 2020
---
Now that barbers and hairdressers are shut, baby boomer men are posting photos of their long haired younger selves. Those still in possession of hair wonder if they'll let their locks stay long after the lock down and become ancient rockers. A friend's wife sent a note, "Oh god, I hope not!"
Hunters and breeders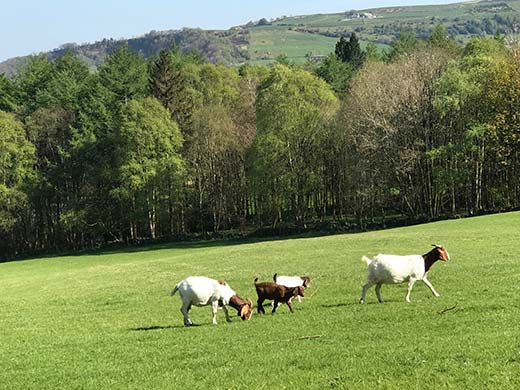 I walked over Erringden, the old hunting ground for local aristocracy, to 'Coiners' Country'. Back in King David's time, a magistrate said Cragg Vale folks were all 'addled with inbreeding'.
Thomas of Turvin
Thomas and Belle had a son name of Josh, who was ripe for courting. One day he came home and told his father he was walking out with Mary Pickles. Thomas said, "Truth be told son, I cast my net wide when I wor young and that lass is your own sister."
Not three months later, Josh came to his father again and said he was walking out with Ruth Binns. Thomas said, "Truth be told Josh, I cast my net wide when I wor young and that lass is also your sister."
After that Josh moped about and was no use to anyone. His mother said, "Summat's bothering you our Josh; I've never seen you look so forlorn."
Josh told her, "Father said he cast his net wide when he wor young and two lasses I've been courting are my own sisters!"
Belle said, "Don't be worrying about that, Joshua. I cast my net wide when I wor young: your father's not your father."
Tuesday, 21st April
Hebden was deserted as Dodge City before a gunfight. The Big Issue sellers and rough sleepers had gone, but Kate met the couple who once spent winter in a small tent near us. They asked after Jude and said, "He never has a bad word to say about anyone."
Mr Blue Sky
John Clare, in his asylum, yearned for a heaven where he could …
Sleep as I in childhood sweetly slept

Untroubling and untroubled where I lie

The grass below—above the vaulted sky
Whereas, Grant Shapps wants to sell said vaulted sky, convinced of the 'commercial benefits that sky writing might provide'. Weep now for your clouds, Joni Mitchell! Look away ELO! While they're at it, Grant's aircraft should rewrite Wordsworth's rainbow poem.
My heart leaps up when I behold

An advert in the sky.

So was it when my life began,

So is it now I am a man

So let it be when I grow old,

Or let me die!

The child is father of the man

And I hope all my days pass by

Reading adverts in the sky.

Thursday, April 23rd
Donald Trump, in his press briefing, suggests we try injecting disinfectant to kill the virus. "Kills it stone dead - in a minute!" The journalists should have asked him to try it first.
On Facebook, I complained about not seeing commemorations of Shakespeare's birthday on TV or in the papers.
Frances Robinson and Ana Lines promptly sent me wonderful clips (Ana's from her 'little cousin' in Brazil) and Debs Newbold shared her rendering of the 74th Sonnet, filmed in Charlestown woods - see below.
Friday, April 24th
White House press briefing: Trump's gravity defying hair, combed through with some urine coloured, fast setting gloop to effect an alchemical transformation, is offset by the comic haughtiness of his face and his dinky fingered gestures, as if he's conducting an errant orchestra of hapless hacks. He told them he was 'being sarcastic' when he suggested people should try ingesting disinfectant, then looked affronted at their discordant responses.
Frights and flights
Thousands of people are arriving at our airports every day. In other countries visitors are tested for the virus when they land, kept in quarantine for a week and told to wear a mask during their stay. Not here. Perhaps the government is tacitly accepting the need to build up herd immunity.
The Farmer and the Lion
A lion wandered into the yard and as he did so, hoping to capture him, the farmer shut the gate. When the lion found he could not get out he began attacking the sheep and then the oxen. The farmer rushed and opened the gate and the lion made off as fast as he could. The farmer's wife had watched the whole episode. As the farmer wept over his losses, she said, "You deserve what you got! What made you so daft as to wish to detain a creature, whom, if you saw him in the distance you would wish further off."
As Aesop said: better see off a killer than snare him in.
Saturday, 25th April
In The Times there's a review of Hidden Valley Road, about an American family who had ten boys and two girls and six of the boys had schizophrenia. One of the boys shot and killed his girlfriend and then himself. Such violence is unusual but headline grabbing and presumably spooks the public when they hear the words paranoid schizophrenia. There was a widespread belief in the late 60s that schizophrenia (and autism) were caused by bad parenting. Thankfully, those attitudes have changed - we hope.
A Normal Family
A few years back, I saw a feature on Henry Normal and Angela Pell, who'd written a book about living with their autistic son, Johnny. I sent them a note, saying I was thinking about recording our experiences, because it might help other families.They sent a photo showing the moment they sent their manuscript off to the publishers and told me go for it!
The Doctor's Patient
'Can you suggest therapies, Doctor Smits?
Children's Services offered us choices.
You've talked about pills, but his life's in bits,
Can you give him advice on his voices?'

The locum shut down his computer
And then he swivelled around in his chair.
In films he'd have brought out a shooter,
Instead he shot me a laser beam stare.

'All these people plummet downwards,' he barked,
And jabbed his finger to mimic their fall.
His Afrikaans was becoming more marked,
He said, 'That is not the worst thing at all!'

The sun was winking through vertical blinds,
As the doc thundered on with reckless pride,
'I've read the research, of all different kinds:
There's a great incidence of suicide!'

Perhaps he wanted an apology,
And, with hindsight, it might have been prudent.
He said, 'My son studied anthropology.
And my son was a brilliant student.

He was just twenty two when he took his own life!'
Then the sun, although barred and ancient,
Gilded, like some icon, in the corner, my wife,
Who squeezed the hand of the doctor's patient.
Sunday, 25th April
Apparently, Trump has stopped doing daily press briefings because he gets 'hostile questions'.
Homeschooling (PG)
The dark, dark house

In a dark, dark house

There was a dark, dark room

And in that dark, dark room

There was a dark, dark cupboard

And in that dark, dark cupboard

There was a dark, dark shelf

And on that dark, dark shelf

There was a dark, dark box

And in that dark, dark box




There was a ….President!!!
Monday, 27th April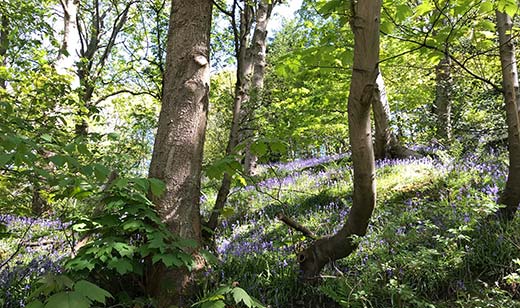 We got some scrumptious scones from our neighbour, Nicola. They had wild garlic in them, which PW has ordered me to collect when I'm on my rambles. I walked up Wadsworth bank to admire the bluebells and the vistas. When I got back without any ransoms, PW said I wasn't much of a hunter gatherer. I said, "I've made a start." She said "How come?" I said, "I've found out where there aren't any."
PW has cut Jude's hair. A triumph all round. Perhaps I need a trim. Our neighbour Juliet is a potter, a gardener, a landlady and a good laugh. She's deaf and shouts a lot.
Today she bellowed: "You remind me of that Billy Connolly sketch about adolescence. he thought his arm pit hair would keep on growing" - hand gestures to show uncontrollable hirsuteness - "and his pubes!" - more exaggerated miming.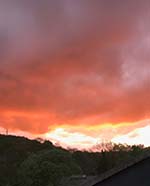 So long sun
Tonight there's a sunset that looks so blood red it portends a change in the weather. Winston Plowes noticed it too.

Tonight the sky kissed the water…

and both of them blushed
Tuesday, 28th April
Trump's come out of hiding - there's an election to win!
The i has a feature on comedians working in hospitals. One nurse cum standup says, "When I hear people clapping on Thursdays, I wonder how many of them voted for the party that cut nurses' wages."
Wednesday, 29th April
When Carrie called he couldn't decline her,
Till he picked up a virus from China.
So they stayed home alone
And now lefties all moan
Oh bugger, it's a Boris Minor.
The press will be agog about the new nipper's hair colour. I wonder when his siblings will be invited round to meet him?
Johnson has compared the virus to a mugger that we've wrestled to the ground, but the official number of deaths from Covid-19, with care home figures included, is now over twenty six thousand.
Thursday, 30th April
Hoorah! The swallows have arrived, although my knowledgeable neighbour Beryl thinks they might be house martins.
The PM, with his post illness halo of carefully unkempt hair, led the press briefing and announced we're over the worst for COVID transmissions. He claimed the UK started lock down at just the right time, when cases were at their peak. Mmm, nice try BOJO.
Friday, 1st May
Five little ducks
Darling daughter was driving past Luddenden Foot primary and noticed a mother duck and 5 little ducklings sitting on a wall. Then, in a neat amalgamation of two nursery rhymes, one little duckling fell off the wall, shook herself down and started waddling towards the road, despite the remonstrations of Mother Duck. Leah pulled over and started chasing the duckling in tandem with a workman in a high vis jacket. She dived like a goalkeeper and caught it just in time, scraping her knees as she did so. The man helped her to return the duckling to its mum who quackily tended it under her wing. What I want to know is why Mother Duck had taken her brood to such a precarious situation. Did baby duck fall, or was she pushed?
Hooray, we've finally got up to 100,000 tests per day - that's if you include the 50,000 tests shoved in envelopes and sent off on Thursday in order to reach the magic number.
Saturday, 2nd May
The Tour de Yorkshire's been postponed. So, by way of compensation, here's me learning the ukulele accompaniment to Le Grand Depart. My wonderful nephew Chris Wright asked me why I posted rehearsals, warts and all. Well, it's the spirit of lockdown mate (plus, I'm touting for an accompanist when all this is over!). Thanks to Pam Dimbleby for the chords.
Sunday, 3rd May
Still recovering from watching Norah Barton on Britain's Got Talent last night. Nora has severe dementia and her daughter Pam has been her full time carer for years now. Friends have been asking Pam whether she shouldn't spare herself by letting her mum be taken into a care home. Well, I won't comment on that in light of the present circumstances … At the Shaggy Dog Club, we know that nobody can upstage Nora, so we always let her finish the show. Bye!
---
If you would like to send a message about this piece or suggest ideas, email George Murphy
More Murphy's Lore
See the Murphy's Lore home page for all 56 editions.
---