Welcome again to the second series of the popular HebWeb column from local writer and story-teller, George Murphy.
Murphy's Lore Series Two
Episode 9: Lockdown diary
Monday, 13 July 2020
---
Monday, June 29th
Lockdown is unlocking, but Aitch Bee ain't buzzing just yet. Many of our quirky, independent shops were once mill workers' 2 up to 2 downs. Hard up shop-keepers could let people in, but then again, there's not much profit from two customers at a time.
According to the Office for National Statistics, Calderdale is the safest place to live in the north right now, but our visitors live in a surrounding circle of towns and cities where many people are still catching the dreaded virus.
When our shops reopen, hordes of trippers will return, but shop owners know COVID-19 loves a crowd. It's a tough call: your money or your life?
The Blackpool Highflyer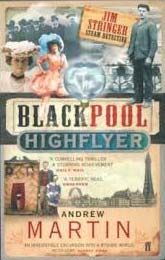 Hebden was a tourist town even when mill chimneys and coal fires were still belching out smoke. In wakes weeks the mills shut down and everyone headed for Blackpool. Local historian Alan Fowler gave me The Blackpool High Flyer when I retired. It's a brilliant little, steam age, murder mystery, which - despite the title - is mainly set in Halifax and Hebden.
As we know from those blue plaques in local windows, Hebden's always had more than the usual quota of cafes and knick-knack shops. Day trippers back then were really half day trippers. When the mills shut on Saturday lunch time, workers got the train here, had a brew in a Hebden Bridge cafe then went up the valley to the Craggs and Gibson Mill.
Tuesday, June 30th
The papers are full of the Housing Minister's dodgy dealings, but Jenrick is still in post and the PM says he considers the matter closed. Cummings has told Johnson he must never apologise nor own up to mistakes. Today, in a photo-op on a building site, Johnson tried to shift the blame for excess deaths onto care homes, for "failing to follow proper procedures."
Home Schooling
Nazreddin and the holy man.
Nazreddin went to see a holy man. He said, "My conscience is troubling me. I keep remembering all the ethical mistakes I have made in my life.
The holy man said, "Ah yes, I understand your problem. You want me to show you how to live a more ethical life."
"No, that is not it at all! I want you to stop my conscience from troubling me."
Wednesday, July 1st
Oh Life!
Huddersfield is slowly reopening. At Waterstones I bought 1,2,3,4: The Beatles in Time by Craig Brown and Gig by Simon Armitage.
Years ago Armitage was at Huddersfield Poly watching The Fall, and  "the brilliant John Cooper Clarke," who had kindly sent him an invitation.
As we drove past the Poly, I remembered, a less prestigious, Rod and George gig in a large classroom decently crowded with U3A members. A few had the glazed expressions of people whose minds had permanently flitted elsewhere, but most seemed to go wherever Rod's polished old tales and my noisy new ones took them. We got paid £30 between us and a two course meal cooked and served by students with learning difficulties and an inclination for smiling politeness.
Driving back, I thought how much I missed live performances. Who would have thought that one day gigs would be banned in order to protect us? Now the enemy for humans is other humans. 'Oh life' as Des' Ree sang on Jude's CD.
Welfare gig
In February '62, my sister went to see The Beatles in a benefit concert for Wolverham Welfare Association at The Civic Hall in Ellesmere Port, after a leaflet was shoved through our letter box. By February '63 the band were a support act on Helen Shapiro's national tour. By February '64, they were performing on The Ed Sullivan show. That show still has the highest TV ratings for any US TV programme, apart from the news broadcasts a few months previously, when President Kennedy was assassinated.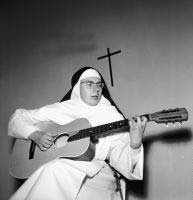 The singing nun
Also in Ed Sullivan's line up that night was Jeannine Deckers, better known as the singing nun. Her record 'Dominique' sold two million copies, including one bought by someone in our house. It had been top of the American hit parade for months, until The Beatles came along.
Jeannine didn't make any money from the disc because she had to pass all the profits to the Dominican Order. Later on she lost her faith, moved into a flat with Annie, another former nun, and was pursued for back taxes by the Belgian authorities. She tried unsuccessfully to make a come back to pay off her debts. In 1985 Jeannine and Annie committed suicide.
Simon from Luddenden
Last year I formed a poetry group with three local writers (called, clunkingly, but aptly enough, The Calder Poets) to perform mainly humorous light verse. We were just taking off when the virus grounded us. Here's a piece by Simon Tindale, one of our Fab Four.
A Day In My Life

Hey Jude, Do You Want To Know A Secret,
Michelle She Loves You. The Night Before
Yesterday She Came In Through The Bathroom
Window With A Little Help From My Friends
Eleanor Rigby, Julia, Lovely Rita, She said
She Said I Will the Two Of Us to Get Back,
Come Together, We Can Work It Out.

There was Another Girl. I Saw Her
Standing There and thought Got To Get You
Into My Life. Sent The Word to Mr Moonlight,
Paperback Writer, Penny Lane. I Should
Have Known Better. This Boy wrote

Dear Prudence,
I Want To Hold You Hand. I Wanna Be
Your Man. If I Needed Someone In My Life
Baby It's You Honey Pie. Oh! Darling
Why Don't We Do It In The Road? If You
Can't Do That, I'm Happy Just To Dance
With You. Girl I Need You. Please Please Me
Love Me Do.
P.s I Love You.

No Reply, Hello Goodbye. I'm Down. Ask
Me Why Because I'm A Loser, I Am The
Walrus, The Fool OnThe Hill. Need Help,
Taxman, You Never Give Me Your Money.
Money, Can't Buy Me Love. Getting Nowhere
Man. What A Hard Day's Night, I'm So Tired,
Let It Be. Tomorrow Never Knows. Goodnight.

I'm only Sleeping but Flying with Lucy In
The Sky With Diamonds through Strawberry
Fields Forever in an Octopus's Garden Back
In The USSR When I'm Sixty Four.

After Golden Slumbers, I Feel Fine. Good Day
Sunshine. Free As A Bird I'll Follow The Sun.
Drive My Car The Long And Winding Road
to Norwegian Wood, buy a Ticket To Ride
the Magical Mystery Tour, a Yellow Submarine
going Helter Skelter Here,There and Everywhere
Across The Universe Eight Days A Week To
Pepperland to hear Her Majesty, Lady Madonna
and Sgt Pepper's Lonely Hearts Club Band.
Ringo, George, Paul and John, it's Only A
Northern Song From Me To You.
All My Loving,
You Know My Name,
The End.
Friday, July 3rd
ADEM
Neurologists are concerned that some people recovering from COVID-19, who only showed mild symptoms, are suffering brain disorders. Acute disseminated encephalomyelitis (ADEM) is characterised by a brief but widespread attack of inflammation in the brain and spinal cord that damages myelin – the protective covering of nerve fibres. ADEM often follows viral or bacterial infections, or less often, vaccination for measles, mumps, or rubella. Now coronavirus has been added to that list. Patients suffer from psychosis, and treatments include medicines recommended for people with schizophrenia.
Professor Mary Agnes Krell sent me a note saying she knows many academics who caught the virus in March, "six were under 50 years old and four of those have not fully recovered. ALL of them are reporting neurological symptoms ranging from mild to severe."
John, Paul, George, Ringo and Bert
PW and I went to see Willie Russell's musical at the Liverpool Everyman in 1974. I've just checked the original cast list, which included Bernard Hill (John), Anthony Sher (Ringo), Trevor Eve (Paul), Alison Steadman, Julie Walters, Matthew Kelly, Jonathan Price, Pete Postlethwaite and Bill Nighy. The Everyman was a cultural powerhouse back then and - as Willie Russell has said - "the cast was awesome."
The songs were performed by the young folk singer Barbara Dixon. Until I heard her slow, clear rendering, I'd never thought of Help! as being a sad song.
Saturday, July 4th
A quick Vox Pop of mates shows that none are going to a pub today - apart from Suzanne, a storyteller, who says she'll be sitting in a pub courtyard, hoping it's safer. Jude went to The White Lion and White Swan this afternoon, where he got a warm welcome and nursed his drinks while chatting to old acquaintances. PW called in to see him at The Lion and said it was "very civilised."
Sunday, July 5th
Cheers!
Early evening we went to The Old Gate and it was easy to feel life was almost back to normal. That's the thing when an invisible killer is on the loose - you stop looking out for him. Later on, we had an extra glass at the quarter full Vocation, and decided we could get used to waitress service in pubs. At one point, a 'waitress' quietly reminded a young lass, who'd unexpectedly met an old acquaintance and in her excitement was unwittingly edging closer to PW, about 'social distancing'.
Monday, July 6th
Darling daughter was born on 6/7/76 and kept me up all night waiting for her late arrival. PW was also there.
Paul McCartney and John Lennon met for the first time on this date, back in 1957.
All our Yesterdays
Pat Munday, who has a wonderful garden up at Blackshaw Head, if it's not getting too buffeted by all this rain, dropped me a line to say I should watch How the Beatles Changed the World, on the appropriately named Yesterday channel. It's got some great newsreels, some of which we hadn't seen before, and lots of doting talking heads. You can still catch it on Catch Up.
Zooming
Tonight, I zoomed into Stories for a Better World - my first ever Zoom. It was distantly cheering to see old friends again and strange to do what I do when the audience all muted their own gadgets. I had no idea how it was going till I finished, but I think the old stuff went better than the new.
Tuesday, July 7th
Divided we fall
President Trump says America will leave the World Health Organisation if he is re-elected. The prime minister says we'll crash out of Europe by Christmas. England is unlocking lockdown before the other home nations think it's safe to do so.
Home schooling,
Aesop fables: Key Stage 2
The Lion and the Bulls
Three Bulls fed in a field together in peace and friendship. A Lion watched them, but knew he had little chance of making a kill whilst they stayed together. So he spread evil tales and slanderous reports and caused each one to feel jealousy and anger against the others. No sooner did the Lion see that they avoided each other than he fell upon them singly, and so made an easy prey of them all.
The quarrels of friends are the opportunities of foes.
Wednesday, July 8th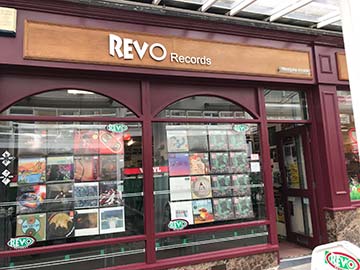 Jude and I went to the Piece Hall and had a coffee and I bought Alma Cogan at the corner bookshop. Mytholmroyd's Annabelle Stride wrote the enlightening and precisely weighted Introduction.
I remember Alma singing The Naughty Lady of Shady Lane and being told that she sewed all the sequins on her dresses. I've read books by Gordon Burn on the moors murderers and the Yorkshire Ripper, but this is the first time I've read his fiction.
"This is my book of the year, because it is the one I desperately wish I had written," wrote Hilary Mantel. So I'll just mention that the language is a wonder. It's a first person narrative and the sensory detail puts you heart beat close to Alma's  streaming consciousness.
We went to Revo records and driving home I listened to Patti Smith belting out G - L - O - R - I - A.
Alma and John
I got home and did a Yahoo on Alma Cogan. I found out that in her autobiography, Cynthia Lennon said Alma was the great secret love of John's life.
Tod writers' group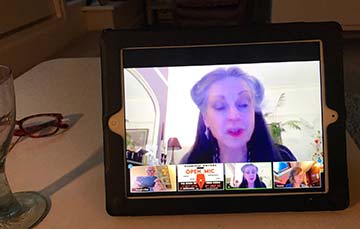 I managed to get myself on Zoom again in time to be entertained by H the Poet, who has opened up her shop in the mill. A good time was had by all. I did a sombre piece and a cautionary tale …
Joan, who spent too long on her phone and wor eaten.
Friday, July 10th
It's a hard time for professional performers, especially for folk singer Keith Donnelly, whose accountant forgot to send off his tax returns in time and so he couldn't claim any income support from the government based on his previous earnings. Keith has been an MC and performer at Shaggy dog club and at the Trades Club gig to support flood victims. Now he'd welcome any contributions in his hour of need.
I've borrowed this Musicians Unite picture puzzle from Keith. Apparently, you should be able to find 39 Beatles song titles in the picture.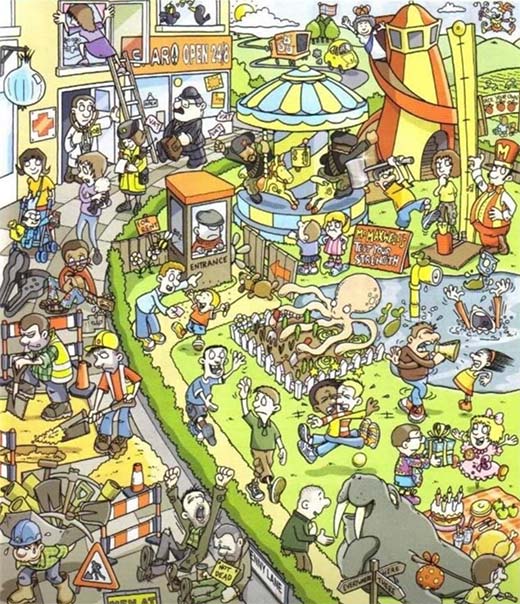 Saturday, July 11th
Gig
Here's Patti Smith at her famous Trades Club gig when she donated her fee to the local Flood Relief Fund.
Sunday, July 12th
Remember holidays? Once in Limone on Lake Garda 'The Italian Beatles' sang in Italo/Scouse accents to a large crowd on the lake side just below Jude's balcony. They finished with Hey Jude and hundreds of mainly German tourists joined in the chorus.
Readers write
I had a good response to my enquiry about the good and bad bits of lockdown. I'll contact everyone personally and include your responses in coming weeks. In the meantime your thoughts about the easing of lockdown will be gratefully received.
---
If you would like to send a message about this piece or suggest ideas, email George Murphy
More Murphy's Lore
See the Murphy's Lore home page for all 61 editions.
---