Number Twenty-seven of the regular HebWeb column from local writer and story-teller, George Murphy.
Murphy's Lore 27 - Tuesday, 2 July 2019
---
Scarf Woman
The woman walking in front of me doesn't know that her scarf is trailing on the ground. I accelerate to stop her from tripping over and crashing to a grisly Isadora Duncan moment on the damp flagstones, when she opens a door and goes inside an old mill.
Arriving just after her, I read the inscriptions on the glass door. Instead of turning out fabrics, this mill now hosts 'Hands Free Indian Head Massage', and other exotic practices, listed as 'COMPLIMENTARY MEDICINE' …
I linger for a moment. Should I pursue Scarf Woman to an office, perhaps labelled COMPLIMENTARY MEDICINE, and point out the egregious spelling mistake?
Unless, that is, her sessions are free …
Or perhaps she'd smile and say, "Well now, just look at you! Don't you look just great? Pre loved, but still in full working order, I bet!"
There is something mesmerising about her voice and her compliments. I feel slightly dizzy and she gestures towards a leather couch. I slump onto it.
She moves closer …
"My guess is, you're a retired lecturer and you want to give me a free spelling lesson? Well, that's very generous of you, darling. You'd be the third one this week, mind - Hebden is full of retired lecturers - but, you're far and away the best looking egg head I've seen! But, I can't help thinking, you gorgeous man, perhaps you need something else, while you're here … perhaps, my darling, you need an Indian head massage?"
Half an hour later, I emerge from a sort of trance, feeling a little lighter in head and heart, and I thank her quite profusely.
"And thank you so much for your advice, you lovely man!… Complementary medicine is spelled with an E… Well, is that really so?… In that case, my gorgeous, you owe me fifty pounds."
The biter bit
After one of my cafe visits, on Facebook I bemoan the use of a 'scolding teapot' - one of those cheap metal ones that don't pour properly. Sarah Courtney dropped me a line to say this conjured up a lovely image of me being chastised by the receptacle while I waited for it to brew.
Clever clogs.
The secret formula
"This England team have got me worried."
"Mr President, when England get to this stage they always lose; it's because of the Secret Formula."
"You mean, we slip something into their drink?"
"No, Mr President. We bribe the band to play 'God Save the Queen' very, very slowly. Instead of charging those Limeys up, they have to sing a dreadful dirge about a rich old lady and making her happy and glorious, blah, blah, blah and they want her to reign over them like for ever. Drains all the energy out of them. Works every time, Sir."
"Mmm, well thank you for that information …You can go now, but send in that new speech writer…"
(Moments later)
"Mmm … I've been thinking, Golightly…"
"Mr President?"
"The Star Spangled Banner… perhaps that song needs a bit of an update…"
Two Michael Jacksons
At Odsal, with my blue and white Halifax scarf on, I found myself standing amongst a herd of Bradford Bulls supporters. The Bulls were a mighty force in those days, but Halifax had locked them into a close scoring, tightly fought game.
The tannoy suddenly burst into life, "The Halifax substitute is Michael Jackson."
To hoots from home supporters, our big money, light-footed forward ran zig zagging onto the pitch and an old guy near me shouted, "He's the wrong colour!"
So, in solidarity, I chanted, "Two Michael Jacksons, there's only two Michael Jacksons; two Michael Jacksons, there's only two Mi …"
There were a few snorts and an intimidating sullen silence from the surrounding Bulls fans. So I desisted, feeling a bit cowed.
Mind you, we won the game with a breakaway try, set up by Michael Jackson!
"Two Michael Jacksons, there's only two Michael Jacksons…"
from Le Grand Depart
(To continue this sporting theme, here's the opening to a song I wrote after a big bike race took a detour through Yorkshire. The italicised bits are spoken.)
All t' lamp posts were bending wit' bunting,
An' skies were all cloudless an' blue.
An' yellow bikes hung from shops frontin'
On t' streets were big bike race were due.
An' Mrs Veronica Pomfret,
Casting off her widow's kit,
Frenchified her pub menu
For passing French men who,
Might fancy their cod piece
On a bed of pomme frites.
(Chorus)
Oh, when we had our Grand Depart,
On your bikes, au revoir, big Tara,
Le peleton went past in a glance,
Some folks took t' chance,
For a weekend romance,
But we all said that Yorkshire wor t' star,
When we had our Grand Depart.
Well, he stood out in t' crowd,
Bronzed and healthy,
Till someone said, 'Here's t' peleton.'
Then Bernard turned round for a selfie,
But when he turned back, bikes had gone,
So he walked on to t' pub in his beret,
With his hooped shirt and handlebar 'tache,
Though he looked like a cliché,
From t' Champs Elysee,
Mrs Pomfret admired his Gallic panache …
(Chorus)
Oh, when we had our grand depart (etc)
The Handmade Parade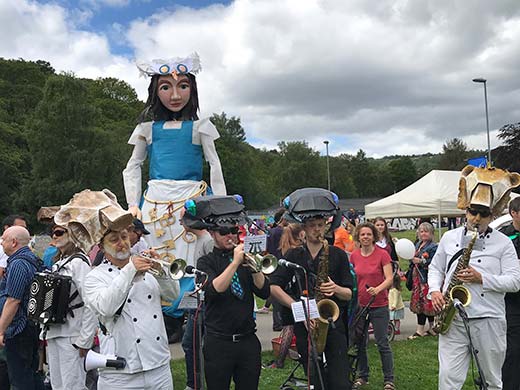 This week, the Murphy toast, butter side up, goes to the colourful, collaborative, kaleidoscopic Handmade Parade!

Bob a job
In Halifax dialect, 'bobs' belong in bogs, but at the school where I taught, someone was bobbing their bobs in the cloakroom, the hall, and everywhere except where bobs should be bobbed.
I was teaching in the canteen that year. One day I arrived and found that the elusive bobber had bobbed into the room, bobbed on the floor and then wiped their bobbed out bot on my math test paper.
At 9 o'clock, when the children filed in, the headteacher stood sombrely next to me as I told them about the erran t bob and the defiled maths sheet.
The Head asked If anyone had seen anything suspicious that morning.
James put his hand up. 'I saw Kelly's granny hanging around outside, sir.'
Kelly immediately vouched for all her granny's movements that morning.
I don't think the culprit was Kelly's granny, but we never got to the bottom of it.

---
If you would like to send a message about this piece or suggest ideas, email George Murphy
More Murphy's Lore
See the Murphy's Lore home page for all 26 previous pieces.
---