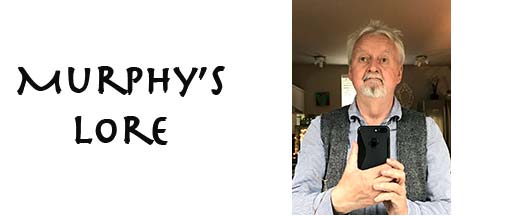 Third series, episode 7
All 99 episodes are available here on the HebWeb.
The latest episode includes Old and New Town takes on the jubilee, Seth and the princess, the severed head of ET, the meaning of 'blan a hoolie', a May blossom tour, differing opinions on immortality, a toast to Tolstoy, a city of culture, the roots of coincidence, a shop shutting and Teepie City.
---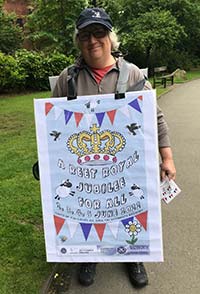 Platinum Jubilee
Despite new town Hebden Bridge being a republican enclave, Hannah bravely advertised Old Town's celebrations. See photo to the right
Seth and the princess
A few weeks post lockdown, I came across Seth on the two horses bench. He patted the seat for me to join him, barking in his gravelly voice, "I've a story for yer, Prof."
Turns out he stayed late at the Trades Club one night and fell into a maudlin conversation with a woman called Di, who took him back to hers and, despite a disparity in age and height - she's late 50s, four foot eleven when she kicks her heels off, he's my age and six foot two - he moved in with her. He slept in the box room, feet projecting out of the single bed, and paid half her fuel and food bills. Then matters became more complicated.
Early doors, Seth likes to don a parka over pyjamas ensemble, 'to save on leccy bills'. One morning he was going back to bed for a second snooze when he met Di on the landing, and seeing her bustling to the loo in her nighty, couldn't stop himself from giving her a hug.
"Give up, Nanuck of the North!" she cackled into his armpit, "I'm going to wet myself!"
I winced on his behalf, "Tell Princess Di that stress hormones are lower in women who get a hug of a morning. The Germans and Dutch have done some research, getting people to put their hands into freezing cold water for a minute, then measuring their stress levels. Women who've had a cuddle sail through it."
"What about fellers?"
"Men can't take it - we get stressed, hugged or unhugged."
"Well, as it happens, my spontaneous hug ignited a flame in diddy Di's heart. Ten minutes later, I wor nodding off on sleep number two when I wor woken by a sultry whisper. 'Seth, Seth … are you awake, Seth?' I'm not good for horizontal exercise at that time of day, Prof, I need to catch up on my sleep. So I made a snaffling, snoring noise, retracted my size twelves under the covers, rolled over to face the wall and played sleeping lions. An awkward silence ensued. She slammed the door in a robust fashion on her way out. Bloody hell, Prof, I'm too old for romantic entanglements!"
The following Monday, I bumped into Seth in the park. His pores were exuding a cannabis based aroma onto the prevailing westerly. "Here's an update for you Professor. Princess and I are no longer an item!"
Turns out Di went to the Trades on the Friday night after he rebuffed her, saying she was meeting girlfriends from work, whilst Seth had a quiet night in, chilling out on wacky backy, Gardener's World and Goggle Box.
"She woke me with her racket in the early hours, shushing very loudly and then laughing in an hysterical fashion - as is the wont of the drunkard. I thought she'd brought back one of the girls from work, but discerned a bass note in the ensuing conversation before I zonked out. Next morning, Bob the Builder was sitting at the breakfast table in a vest and jockey shorts combo, looking askance at me in my Liam Gallagher get up. Man with a Van said he didn't really feel the cold, being as he was a wild swimmer. Anyway, the upshot is, I've moved out and muscle man has moved in. If you guessed he wor half her age, you wouldn't be far out. Now the green eyed monster has me in his clutches and I didn't see that bugger sneaking up on me, I must admit." .
I wasn't sure what to say in response to Seth's wistful story. I eventually managed, "I bet Di's cortisol levels have plummeted."
Eating ET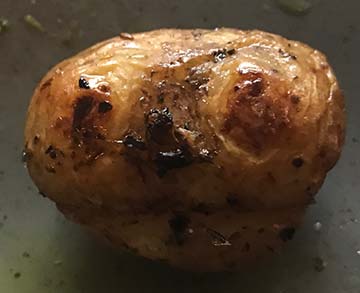 Finding the severed head of ET in my sea bass course, in no way detracted from my enjoyment of the food and hospitality when we dined out at The Old Gate.
Blan a hoolie
PW's Geordie cousin Val and her husband John came down for a weekend. John's just had his 60th, but on the Saturday he completed a charity bike ride through Kettlewell, Burnsall, Settle and the like. I asked him if it was windy. He said, "On top of the hills it was Blan a hoolie." In other words, it wor wuthering on t' tops.
Next day, John warmed down by cycling the Cragg Vale, Todmorden loop. Then he took Val for a drive in the hills, but kept arriving at road closed signs. Val accused him of being lost, but John carried on with reckless abandon, until drystone walls closed in on either side and they ended up in a farmyard. After which, Val cursed him each time he climbed a steep incline or drove near a precipice; her fury not assuaged by him saying, "The scenery's canny mind."
The great escape
We thought we might escape the build up to the Jubilee celebrations by meandering up to Romaldkirk on our annual May blossom tour. Cow parsley, hawthorn, sheep, limestone walls, cottages and clouds put on an eggshell, pale grey and vanilla show, despite the intermittent showers. Strolling round the village green we couldn't completely escape the impending celebrations.
Where's thy sting?
According to a study by YouGov and a religious organisation called Theos, a quarter of under 40s would like to live for ever, compared to ten per cent of over 60s. Overall, 60 per cent of us don't want to be kept alive ad infinitum.
More than twice as many men than women would like to be immortal, but religious types don't fancy it, perhaps because they believe in an afterlife. I just hope to pop my clogs in a peaceful, pain free departure, no more than a hundred years from now.
That's novel
Reminding myself of the depth of Russian culture, I borrowed Tolstoy's The Death of Ivan Ilyich from the library. It blew my socks off, reminding me of the impact I felt when I read Middlemarch and Huckleberry Finn, maintaining the abiding duty of novels to be novel, but in their case without using fantasy. I suppose impatient readers might find the death bed scenes a bit drawn out.
In the story, Magistrate Ilyich is aware of the roles played by family, friends and doctors who visit him in his final weeks. He realises that they expect him to play his assigned role: to be brave, or at least hide his fear. What he sometimes needed was to cry in their arms and be comforted like a child.
Ivan wasn't prepared for death to cut him down in his forties. 'All his life the syllogism … Julius Caesar is a man, men are mortal, therefore Caesar is mortal - had proved to be true only when it applied to Caesar, certainly not to him … he had always been a special being.' He thought of the uniqueness and vividness of his early memories - 'Was it Caesar who had kissed his mother's hand like that, and was it for Caesar that the silken folds of his mother's dress had rustled the way it did?'
Tolstoy must have been present at death beds and witnessed or heard accounts of people seeming to be transformed in their last moments. So honest is the account, that Ivan's final emotions are open to a scientific interpretation from a 21st century perspective, as well as the religious one suggested by the great author.

City of Culture
Hooray for Bradford! Yorkshire's forgotten city has a chance to shine again. Here's Jude hanging out with some celebs back in the 90s at the National Museum of Photography, Film and Television, which has since become the National Science and Media Museum, having lost its film festival because of financial difficulties.
Roots of coincidence*
Yorkshire's Joe Root, with the 1st test in the balance, needed to score exactly a century to become the second English batsman to record 10,000 runs in test cricket. Both Root and Alistair Cook, his predecessor as England captain, achieved the feat when 31 years and 157 days old. So it seemed he was fated to succeed, which didn't shield me from suffering many angst filled moments as he achieved personal glory and clinched England's unexpected victory.
Everything must go!
I discovered a friend of mine selling antiques in what once was The Hole in the Wall pub, site of civil war battles, Tetley Bitter ads and my surprise 50th birthday celabrations.
She's regretfully closing down her shop. Be sure to snap up a bargain.
Suddenly, there's a dearth of shops on the west bank of the river from the old bridge up to the surgery.
Tee Pee City
There once was a chap called Pete Farquhar,
Who wrote off his Pa's Jaguar car.
His old man threw out
That long haired roustabout,
But his Ma said, 'That's going too far, Pa!'

So Pete said, 'I've made a faux pas, Pa.
But it's alright, I'm leaving - ta ta, Ma -
For Teepee City,
With a girl most pretty,
Who's got her own mini...Ha Ha.'

So Pete drove North with Ophelia,
In a car painted with psychedelia,
To a tent like a fridge,
Just outside Hebden Bridge
With a suit case of rock memorabilia.

Teepee City - next morning revealed -
Was some tents and a tap in a field.
After washing alfresco,
They drove 10 miles to Tesco.
'This isn't the good life!' she squealed.

Ophelia left early one day.
But Pete had decided he'd stay.
In late night carouses
He'd asked about houses -
And round here they gave them away.

For the Hippy Life gave Pete cold feet,
But he'd got a Great Aunt he'd kept sweet.
And you never say 'can't'
If you've got a rich Aunt,
And soon Pete had bought half a street!

But though he owned houses and cars,
Pete's heart was still covered in scars.
He asked his guru
what to do,
to undo
his hoodoo,
And he said, "Watch where you put your Rs!"

(Northern Elocution Song)

For there might be a simple solution,
With this lesson on our elocution:
For here's how to be a wise owl,
To whit: to woo with flat vowels …

(Chorus)

So…
Don't put your Rs in parth
They'll just think you're having a larf,
It's time to renounce the way you pronounce,
If you put your Rs in t' barth,
But, if you're on t' path to romance,
And you think that you might have a chance…
If you're having a glass with a Northern lass,
Don't put your Rs in t' glarss!

Now, they might want a slice of your bread,
Some lasses like dough, it's been said.
But, for your staff of life's sake,
You should know this…
Try to sound like an advert for Hovis.

(Chorus)

So…
Don't put your Rs in parth
They'll just think you're having a larf,
It's time to renounce the way you pronounce,
If you put your Rs in barth,
But, if you're on the path to romance,
And you think that you might have a chance,
If you're having a glass with a Northern lass,
Don't put your Rs in t' glarss!

Now they might love your every particle,
If you drop t' definite article!
But if your loving action's still sparse,
Be careful where you put your Rs!

(Chorus!)
Foot notes
I read Koestler's great novel, Darkness at Noon, in my teens. Later I was intrigued by his book Roots of Coincidence* (referenced above) in which he discusses the mathematics of, for instance, the predictable number of annual deaths at suicide hotspots, and the implications for our belief in free will. Such predictability has become the basis for modern polling organisations making accurate predictions of people's voting intentions at election times. Koestler's reputation has been tarnished in recent years. Former Labour leader Michael Foot, claimed that Koestler raped his wife, the feminist writer Jill Craigie. In one of his letters Koestler wrote, 'without an element of rape in seduction there is no delight.'
According to one biographer, "Koestler was short, handsome, and energetic, and attractive to women. He was, however, sexually predatory all his life - among other affairs he was the co-respondent named in Bertrand Russell's divorce from his third wife, Patricia Spence - and he was capable of treating women brutally." His lovers included Simone de Beauvoir, Elizabeth Jane Howard and Sonia Brownell, who described him as a sadist.
Readers write
Thanks to Janis Jackson and other kind readers, who let me know how much they enjoyed Coming out day.
Next time: recent works by local authors, pets, vets, politics and parties - and the imminent return of Shaggy Dog to Stubbing Wharf.
---
Murphy's Lore, the book is available to order here
If you would like to send a message about this piece or suggest ideas, email George Murphy
More Murphy's Lore
See the Murphy's Lore home page for all 99 episodes.
---