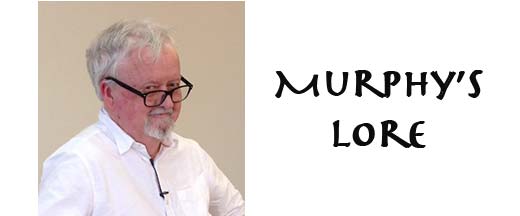 Third series, episode 9
All 101 episodes are available here on the HebWeb.
Murphy's Lore 3, episode 9, there are sacred facts, Ukrainian guests, disappointing legs, a puzzle and a lion, an ancient tale and a new one, a reviewer's confession, a golden circle and a studio tour.
---
Where's Wally?

There he is - outside the Lawrence Batley Theatre at the Grand Northern Ukulele Festival in Huddersfield - and he'd only had a half!
Bending the facts
C.P. Scott, editor of The Manchester Guardian once wrote, "Comments are free, but facts are sacred."
On the evening of the Wakefield bi-election, an item on Look North surprised me. Spencer Stokes as part of a wider vox pop, had interviewed David Fletcher, owner of Innovation, and as the camera panned across the empty cafe, the businessman bemoaned the impact of the RMT strike on his takings. It's not his comments that surprised me.
That late morning, Hebden Bridge was full of visitors. I couldn't find a seat in my usual hang outs, so I went to Innovation. The tables in front of the cafe were packed. Out of politeness to interviewer and owner, and lured by the sun, I placed my order and then went outside to the riverside terrace. Other customers had done the same, the tables were all occupied, but I managed to get a seat next to a friend. If there'd been a sudden downpour and we'd rushed inside with our coffees and light bites we might have filled the place. Whoever decided to put out that report on the impact of the railstrike knew that the Hebden Bridge item was misleading, and knew that Innovation customers had witnessed the deception.
In a sad coincidence, much loved Look North presenter Harry Gration died the following day, and in a subsequent tribute programme, Bishop John Sentamu commented that Harry would "never bend the facts to fit the story."
Ukraine to Heptonstall
In Oasis I bumped into three Ukrainian refugees, one lad wearing a dashing white busby. They're presently living in Heptonstall. Huge displacements of people are one of the outcomes of war and many West Yorkshire families have ancestors who fled from previous conflicts. As for how the war is going, it feels at times as if the NATO countries are providing Ukraine with just enough medium range artillery to allow Putin to achieve his main objectives, in the hope that he will offer peace talks before winter arrives.
A good year for the roses
Last year I did some heavy pruning, thinking I might get rid of the roses if they didn't buck their ideas up. This year I found myself thinking, "It's a good year for the roses," then looked up the lyrics to the song of that name. First sung by George Jones - the version I remember is by Elvis Costello - it's a story about a guy who notices things are going wrong when three years into their marriage his wife stops making their bed every morning and no longer dashes to the nursery to feed their bawling infant. It's fair to say it's not an equal opps lyric. It ends mournfully, but at least there's one good thing to say …
When you turned and walked away
And as the door behind you closes,
The only thing I know to say,
"It's been a good year for the roses."
Disappointing legs
Three elderly women at the next table were chatting about the prospects for Wimbledon. One liked Matteo Berrettini, the handsome Italian contender, who'd just done well at Eastbourne. Another wrote him off, saying, "He's got very disappointing legs."
As it happens, I'd just read about legs being a useful measure of life expectancy. Apparently, if I manage to stand on one leg for ten seconds, I should live into my eighties. Back home, alas, I discovered that my legs are also disappointing. I managed, on my third attempt, to stand for ten seconds on my left leg, but failed the test on my right, and wondered if this halved my chances of seeing out the decade.
I expect to see a headline soon about someone who tried out the ten second test but lost balance and fatally dashed their head against the mantelpiece. So, if you want to live longer, do the test on your strong leg and surround yourself with soft furnishings.
A puzzle and a lion
At Puzzle Poets in Sowerby Bridge I enjoyed listening to readings by friends old and new. I later got a great unbidden write-up from artist, writer and gardener, Joy Edwards, who bought a signed copy of Hippy Valley. Now, I just need to write another book and then I can slap Joy's words on the cover.
At Todmorden, the rows of prose writers and poets was bolstered by a visiting pack of Clitheroe poets. I was half way through a song in praise of Yorkshire when I thought, 'Oh God, I'm surrounded by Lancastrians.' Despite which, I managed to sell another two copies of Hippy Valley.
In the interval, we all gazed out at the beautiful skyscape, as dusk mixed with Saharan dust to create a lovely vista over Whirlaw. At the Puzzle and the Lion, I planned to give advice on sex education, nature being very fecund at the moment, but forgot to take the script with me. So here it is…
The crow and the pitcher
Here's an ancient fable told by Aesop more than 2,500 years ago.
A Crow, half-dead with thirst, came upon a Pitcher which had once been full of water; but when the Crow put its beak into the mouth of the Pitcher he found that only very little water was left in it, and he could not reach far enough down to get at it. He tried, and tried, but at last he gave up in despair. Then a thought came to him, and he took a pebble and dropped it into the Pitcher. Then he took another pebble and dropped it into the Pitcher. Then he took another pebble and dropped that into the Pitcher. Then he took another pebble and dropped that into the Pitcher. Then he took another pebble and dropped that into the Pitcher. Then he took another pebble and dropped that into the Pitcher. At last, at last, he saw the water mount up near him, and after casting in a few more pebbles he was able to quench his thirst and save his life.
Stop press: researchers have discovered that crows use the very technique described by Aesop! As Aviva Rutkin in The New Scientist has pointed out, this puts them on a par with children aged 5 to 7.
Aesop isn't here to point out the obvious moral, so here it is: your kids aren't that clever.
Wake up little…?
At an antique shop, I met an old acquaintance whose name I'd forgotten. A few days later I returned, having received a tip off, and confidently said, "Hello Sue."
"Susie," she said.
In fact, Susie was thinking about transitioning to Suzanne, or perhaps Suzanna. I told her I was trying to shake off the habit of not asking old acquaintances to remind me of their names. How we laughed. I was just going to start my tour of the Open Studios when she shouted after me.
"What's your name, by the way?"
The unreliable reviewer
I can't enjoy some books I'm told I should enjoy. Take fantasy novels. I haven't managed to read Tolkien, The Discworld novels, The Hitchhiker's Guide, Tristram Shandy or Don Quixote, despite spirited attempts. Yet I love Swift, H.G. Wells, Lewis Carroll, A Midsummer Night's Dream and Animal Farm. In trying to understand my preferences, I remembered something a Year 2 child once asked me on a nature walk round Mixenden. "If god created the world, what did he stand on?"
I think I need to have one foot firmly on the ground to enjoy fantasy, sci fi - and religion. So, when I give my views on books, I'm aware of my own limitations and blindspots. As for films, Star Wars didn't grab me, but I was a wreck at the end of ET.
The Perfect Golden Circle
In The Psychopath Test, Jon Ronson touches on Team Satan, apparently the creators of such wonders as the Julia Set Crop Circle. It's not Ronson's fault that I find Team Satan's self-satisfied online teases over extended and annoying. Contrastingly, Ben Myer's The Perfect Golden Circle gives you lead characters who try to explain their motivations. His humour is created partly from recreating the sometimes starry eyed, sometimes disgruntled reactions in newspapers and newsreels of the time. At a Tod Lit Fest debate on the Brontës, a member of the audience said there was something ineffable in the the sisters' view of nature. Which is true of Myer's work, I think.
One night, as a teenager, I was walking glumly beside an arterial road on the outskirts of Ellesmere Port after being snubbed on a blind date - mind, she was a foot taller than me - when a police car drew up alongside me. The officer asked if I'd like a lift home, but I didn't like the idea of rolling up in a Z car outside our house. So, being a runner, I legged it.
I jumped over the nearest farm gate and landed close to a small herd of cows who splattered away. Cows kill people every year, but when I ran through the nearby moonlit wood, it was fear of meeting other people and not animals that increased my pace. In The Perfect Golden Circle, the nightlife in southern cornfields teems with the quiet scurryings and sudden shrieks of creatures hunting and hunted, but what gives the creeps to Calvert and Redbone, isn't so much the surprise appearance of a bull, as the interventions by humans.
I don't like reviews that miss out the sentence level rewards of fiction. Such as, "Somewhere far off above can be heard the afterthought of an aeroplane." I read mostly non fiction these days, so I was glad to learn the names of the lunar maria, those "wide areas of the moon that look like seas, but which are in fact vast waterless plains of molten rock…"
The Perfect Golden Circle is set in 1989, but has lessons for us now. It also reminds us of previous toilers in the fields, now lying "in the rich soil of a singular cemetery called England."
Open studio images, 2022
I went round the open studios and took some snaps.
Readers Write
Here's a short story from Todmorden's Theresa Sowerby, festival organiser, award winning writer, member of Calder Valley Poets and MC of the Wednesday Writers open floor nights at The Golden Lion.
In the Pink

Graham didn't know what it was that had made him go to the Breast Cancer Charity shop. Was it loyalty to Pat's memory, or a faint feeling of guilt, or a sense that he should offer his services? Three hours a week manning the counter, selling clothes, hideous ornaments and pink bows. He could do that. But he had reckoned without Gloria.

Gloria had big hair and even bigger ideas. She had been waiting for just this moment – the arrival of a male in the all female enclave of the Breast Cancer Support group.

"Sit down, Graham. You see, we have this new initiative and you're just the man to launch it." Twenty minutes later, Graham found himself leaving the shop with four suitcases in the boot of his car and four dates in his diary.

Leeds and Birmingham he had managed and, surprised at his success, he was feeling up-beat about his evening in Manchester. Checking in at the Travelodge, he confirmed advance payment by Breast Cancer Support and laid out his belongings methodically in the ground floor room. Taking one of the two remaining cases, he made his way through blustery rain to the Star and Garter. The pub was as expected – worn carpet, tobacco stained ceilings and mostly male clientele. Ordering a pint, he noticed the door to a back room. A man in his forties looked out and made eye contact. Graham smiled to himself. They liked to secrete themselves away from the other punters. You couldn't blame them really.

There were eight men there and their job would be to get the support of about forty more. Graham began his by now practised spiel and awaited the predicted interruption. It came from a young man with cropped red hair and a barely suppressed grin.

"So, am I 'earin' this right? You want us to get our tits out on Deansgate on a Saturday afternoon?"

"No, Greavesy, he wants you to get your tits in! In one of these." The case had exploded on opening as the padded pink brassieres burst their confines. The speaker, a meaty man of about forty, slipped the straps over his shoulders and began a bad imitation of a lap dance. The others followed suit, several pints were downed and Graham left, minus the suitcase and with promised support for the following Saturday.

As he walked back Graham felt lighter, part of a group and less buttoned up than was his custom. He'd met forty or fifty men in the last fortnight – all united by the loss of mothers, wives or sisters to the common enemy and all willing to make their small contribution. He felt privileged, elated.

What happened next he has never been able to explain. Was it down to the camaraderie, a feeling of connection with Pat that he hadn't known since her death, or the unaccustomed sixth pint bought for him by John, the Mancunian plasterer? Back to his room and thinking about the other men prancing self-consciously in his products, he absent-mindedly turned on the TV.

Classic films. He recognised it immediately. "Some Like it Hot" had been a favourite of his and Pat's. As he watched his hand opened the last case, its contents springing out. He fingered the lurid brassiere, padded amply to emphasise its fake adornments. Giggling, he carefully removed jacket and shirt then contemplated the item in his hands. First he slipped it over his shoulders like the man in the pub and fumbled to fasten the hooks. Failure. His fingers scrabbled foolishly after the too high fasteners. How had Pat managed it? He wished he'd been more observant. Then a brainwave struck him and he turned the fasteners to the front, hooked them tightly and wriggled the garment round over his ribs. The absurd pink globes pleased him as he looked in the mirror. He posed, pouted, did a little jump to see them bounce and walked around the room. Taking his shoes off to reveal green and tan socks, he found it easier to move from the hips and practised gliding.

Familiar strains of music and Graham turned to see Jack Lemmon, spectacular in evening gown, begin his famous tango. DUM dum dum dum DUM dum dum His Marks and Spencer's socks slid across the carpet, his heels beat the rhythm at each turn and he smiled until he realised what was missing. The rose.

There was a dearth of red roses in the Travelodge room but Graham sidestepped into the bathroom, snapped a toothbrush between his teeth and swung back into the main room. After three circuits of the limited space he essayed a backwards swoon on the foot of the bed and became aware of a movement at the window. A voice called out and he heard feet running past on the corridor and down the stairs from the upper floors. Within a minute the picture window to his ground floor room was packed with Travelodge staff and guests, pointing and laughing. The flash of phones gave him brief stardom. He froze, smiled sheepishly, vigorously mimed brushing his teeth and sidestepped back into the bathroom.

When Graham left hurriedly before breakfast the next morning, he found himself forty miles down the M6 without his final consignment of "equipment". The roaring success of In the Pink in three major cities would not be replicated in London.

At the Cancer Support Trust the women were ecstatic. It was no mean achievement, they told Graham, to persuade hundreds of men, many from a very macho culture, to put aside their embarrassment and don the pink brassieres in memory of their loved ones. The You Tube performance, they said, was a stroke of genius. In short the three
marches had raised smiles, awareness and fifty thousand pounds.

Basking in a glow of worthiness and wine, Graham was just about to leave when he caught sight of her bearing down on him – hair died pink and a large pink heart throbbing on her lapel. Gloria, now promoted to the post of official "creative" to a range of cancer charities, threw her arms around him and summoned him to her new office.

"Take a seat, Graham." She gestured towards a pile of pink fluffy cushions.

"I'm so glad to have you on board." Graham felt his mouth open and close. "We must Carpe diem. Seize the moment. Ride the tide of success and follow our first coup with an even more daring initiative." Alarmed by the mixed Latin, naval and military metaphor Graham tried to protest.

Gloria barely paused for breath. "Graham, you did such a great job getting those men out there, making them think about prevention and saving other women from what had happened to their nearest and dearest. Now we must do something for them."

A brief pause. "Do you know, Graham, that testicular cancer, yes, testicular cancer, cancer of the testicles, the balls, the nuts, the goolies…" Graham was about to say that he had got the point but Gloria swept on … "is the biggest silent killer of men? And sometimes of young men. And why is this?"

Another meaningful pause. "It is because they are embarrassed. Embarrassed, Graham." She laid a confiding hand on his arm. He couldn't help noticing that her nails were painted fluorescent pink. She leant in conspiratorially. He found himself nodding. "And you, Graham, are to be our secret weapon."

"Me" was the single syllable he managed.

"You see, Graham," – she was now using his name to caress him in a way that he struggled to evade – "we must raise awareness of this silent killer. We must make young men feel they can come forward and bring it out into the open." Graham wondered if the double entendre was deliberate and concluded probably not.

"What we need is another series of marches." He tried to raise his hands in protest but found himself defeated by cushions. "Now, fortunately, Fun with Latex, who sponsored In the Pink, have volunteered to provide the necessary equipment."

"Equipment?" The one word escaped him and Graham was hoping frantically that his thoughts were leading him in a wrong direction, when he caught sight of it, semi-
camouflaged in the assorted pink regalia at the back of Gloria's cluttered desk.

"We have the prototype and they start bulk manufacture next week." She waved aloft a giant puce penis with enlarged balls (or were they goolies or nuts?) Glittery straps were attached.

"Five thousand this time and ten major cities. A mixed group of marchers, male, female, trans. We've code-named it Project Cojones – that's Spanish for balls. Would you like to model it for us?"

As Graham stood in protest, he found Gloria's arms encircle him from behind, strapping the item closely to his groin. She pushed him to the door.

"Everyone, look, it works. Lovely isn't it." For the second time Graham was faced with an uninvited audience. And so it was that he found himself with ten cases in his boot and ten dates in his diary.

"Er, please could I stay in Holiday Inns this time," he heard a weak voice beg.
Playtime
Meanwhile, with too many other headlines, and whilst we were looking away, omnicrom was having a play.
---
Murphy's Lore, the book is available to order here
If you would like to send a message about this piece or suggest ideas, email George Murphy
More Murphy's Lore
See the Murphy's Lore home page for all 101 episodes.
---