Number Thirty of the regular HebWeb column from local writer and story-teller, George Murphy.
Murphy's Lore 30 - Tuesday, 23 July 2019
---
This sporting wife
I'm still reflecting on a recent sporting event …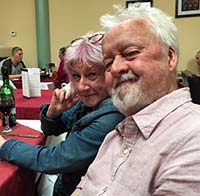 Downstairs, Present Wife choosing to watch Federer play the Wimbledon Men's Final against Mean Machine Djokovic; upstairs, I was able to watch the whole of the Cricket World Cup Final without being hauled away for our much anticipated meal at the Thai until the tennis was won and, in Federer's case, lost.
As the Lord's contest twisted and turned to its dramatic denouement, the commentators remarked, "You couldn't make it up!"
Well, you could actually. On rare occasions, sport elevates itself to match the imaginings of fiction writers and success starved supporters. The fact that it isn't scripted only adds to the drama.
Later, at the Thai restaurant, Noor asked me, "Who won the cricket?"
"England!" I announced.
Which earned me a spontaneous hug, because she knew her husband would be relieved.
So, as due reward for many delightful meals and my free hug, the Murphy toast goes to Rim Nam Thai restaurant.
Junk jokes
A good time was had by all at the White Swan Ukulele Jam, with customers applauding, singing along and even doing jigs as we whipped up a storm. It's good to join a club or society, to meet people who look out for you, especially if you have a joint enterprise. It doesn't always work out. At college I joined the Origami Society, but it folded.
Next day, I set off to the tip with a pile of junk, including old joke books.
Industrial workers
The summer before it was closed, I was sitting outside Moyles, enjoying a beer in the sunshine. There were actors at the next table, who'd  been filming a TV series set in Heptonstall. A young guy said he'd just met his dad for the first time in 7 years, whilst shooting a fancy dress race.
"Really? What part did he play son?"
"A bunch of grapes."
The young actor looked abashed as this caused spontaneous laughter all round.
A camp actor voice announced, "It could only happen in this industry, darling!"
Frantic Friday
Destination Anglesey, driving through rebounding sheets of rain. It takes 20 minutes to complete the mile to Scout Road, then we battle through mist and spray on the motorways, the wipers swashing frantically. At least I know we've brought everything we need in our overloaded jalopy.
Three hours later, we stop at a service station. I frantically put my hand in every pocket and realise I've left my wallet at home.
Household tips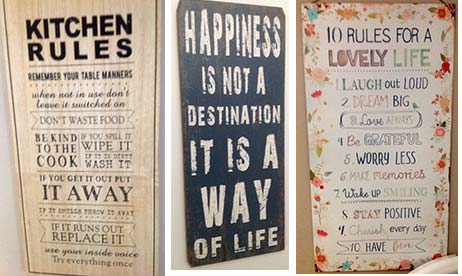 This holiday cottage has absentee landlords, but they've filled the place with helpful notices.

"Happiness is not a destination, it's a way of life."
"10 Rules for a lovely life."
"Rules for kids: live in the now."
"If your dreams don't scare you, they're not big enough."
The landlords have also provided tips for flushing number twos down loos and the optimum way to dry wet towels. Should they pay us a friendly visit during our stay, I fear I might run them through with a kitchen knife, beneath the sign proclaiming, THIS IS OUR HAPPY PLACE, then carefully tidy up afterwards, according to their precise, dying instructions.
The duke and I
The 'i' had a front page about aristocrats doubling their wealth since the 2008 financial crash.
Which reminded me that, in my youth, I ran on to a golf course near Chester where a solitary golfer was putting, and missing, on an immaculate green. In the near distance was an obelisk, a Cleopatra's Needle - which I assumed was a copy.
I shouted to the golfer for directions. He turned round, looking startled. He said I was on land belonging to the Duke of Westminster, who also had a private police force and I might be arrested at any moment.
I said, "Oh, it's ok, mate. I'll run to that village over there," nodding to the horizon.
"That's Eaton - it also belongs to the Duke."
"Oh. I'd better be off then - and remember to keep your head still when you putt."
Years later, I saw a photo of the Duke alongside his obituary. I convinced myself this was the guy I'd once chatted to on his own golf course. By some cute scheme his son and heir has taken over his vast empire and has legally dodged paying any death duties on his dad's demise.
That sinking feeling
Years ago I threw a ball onto the beach at Grange over Sands and was admiring the striking, youthful profiles of my son and nephew against the sparkling sea, when PW asked, in quick succession, "Why are they running in slow motion? … Why are they walking?… Why have they stopped?… Why are they stuck!?"
The suddenly statuesque boys looked towards us with bemused faces.
I pertinently remarked, "It says 'Beware of Quick Sand' on that sign."
PW turned to look where I'd pointed.
I explained, "I thought it meant miles out - right out in the bay!"
To avoid Present Wife (PW) vaporising me with a look, I immediately set off down the slip way. Only to be stopped by her shout, "No! You've got your new shoes on!"
So it was that my PW took on the heroic role that tradition would have assigned to me. A small crowd gathered on the promenade.
"You'll not get those wellies back!" shouted a know all.
He didn't know PW. She had hauled Jude out of his sink hole in no time, gunge caked gum boots still appended.
Then she grabbed and grappled nephew Callum - plus welly bobs - out of the gluey gloop.
The audience started to wonder off in a desultory, disappointed fashion as I pondered whether to shout a reminder to PW not to forget the football.
---
If you would like to send a message about this piece or suggest ideas, email George Murphy
More Murphy's Lore
See the Murphy's Lore home page for all 30 editions.
---