Number Thirty-one of the regular HebWeb column from local writer and story-teller, George Murphy.
Murphy's Lore 31 - Tuesday, 30 July 2019
---
Cat in the bin
On holiday we tried to avoid the B word … whoops, B words …
I buy CDs from a bargain bin for the drive to Wales, which sends me into a reverie about Cat Stevens, who stayed one night in a house we owned in Soyland, which we bought from a man with one arm called Stan - what did they call the other arm, etcetera - who worked for a record company and had seven children who dressed in orange, whose wife had already gone to Poona to follow the Bhagwan and Anne next door purred when she remembered Cat's visit and said Stan and his wife and friends once stood at the corners of our one acre field, stripped off their orange robes and ran naked into each other's arms and I'm driving and thinking the tune's the thing and Cat could certainly turn the hits out - although Morning has broken wasn't his - but then he swapped his religion and his name, because he was no longer cool for Cat.
A holiday, a holiday, the second one of the year. Jude likes Sandy Denny on a different CD. This holiday we have the tribe with us and Leah says the first holiday she remembers was in France.
When Leah was tiny, we sat doting on the sands with our backs against the harbour wall, watching her run naked through dazzling light to the glossy, tide washed shore. On the promenade above us were two English couples. "Look at that little un'," chuckled a Cockney guy.
A woman replied, "I don't like to see it. I don't care how young they are, I don't like to see it."
"Bloody English," we muttered.
Meanwhile, all around us, French women sunbathed topless.
A mental brassiere
Every day in Beaumaris I buy two papers from Ena's Newsagents, so we can slowly do the quick crosswords and catch up with the world. We read in a survey that less than 20% of French or English women bathe topless these days. In the 70s it was seen as a defiantly feminist act, but now women say they are put off by the amorous gaze of men.
In Italo Calvino's Mr Palomar, the hero strolls along the beach, notices a young woman's bare bosom and averts his gaze, but on reflection, decides that this is a reactionary attitude, as if he had created a kind of 'mental brassiere'. So he returns and allows his gaze to spend a fair and equal amount of time looking at the retreating waves on the shore, the bath towel on the sand, the coast in the distant haze and then the bare bosom.
Walking on, however, he decides he has now diminished a female 'human person' to a thing, perpetuating male superiority. So he retraces his steps and allows himself to look with admiration at the whole scene, but only glances protectively and at a distance at the naked bosom.
Then he ponders, shouldn't he show he is broad minded and supportive of Women's Liberation and feel free to admire this particular sight that gives him pleasure? So he returns once more, and takes in the whole view, with a show of smiling gratitude and admiration for the sun, the sand, the bent pines, the dunes, the rocks, the clouds, the ships in the bay, the whole cosmos and, at last, the bare bosom.
This time, however, the young bather stomps off with an irritated shrug. Perplexed, Mr Palomar reflects that, 'the dead weight of an intolerant tradition' prevents anyone's understanding - despite his own 'most enlightened intentions'.
The dangers of DIY
PW tells a tale …
Sixteen year olds, Kath and Morag, were very proud of their home made, white cotton bikinis and boldly wore them as they ran out into the chill waters off South Shields. When they returned, Kath's dad was waiting, holding up an outstretched towel, his eyes averted.
"Your bikinis have turned see through!"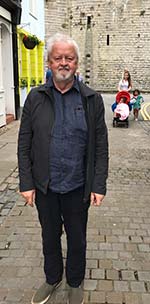 Murphy the Murderer
On the hottest day of the year, I visit Beaumaris Gaol Museum, partly to cool off. Much attention is given to the case of Murphy the Murderer, who killed his ex wife when she moved in with a new man. Locals presented a petition for clemency, explaining that, "it is apparent that the defendant is insane". So, with due deference to local feeling, my namesake was sent to Caernarfon to be executed. 
The gaol still has its treadmill and whipping room. In Victorian times it was decided that the inmates should be separated and kept in their cells for 23 hours per day and ordered to stay silent. They were also forced to turn a handcrank 2000 times to earn each meal. The device served no practical purpose at all. Oscar Wilde mentions this form of punishment in The Ballad of Reading Gaol:
With midnight always in one's heart
And twilight in one's cell,
We tear the rope or turn the crank,
Each in his separate Hell,
And silence is more awful far
Than the sound of a brazen bell
Home pride
We get back to Hebden as the weather breaks, sorry to have missed the Pride Festival, but proud to live next door to Nicola, one of the organisers. Amanda along the way is rehearsing for an outdoor busk with her band, a writer of crime fiction has moved in a few doors away and at the stone masons' Richard is carving a Yorkshire Rose plaque. Peter Riley has a new hardback out and I'm in time to compere for a storyteller I admire at Stubbing Wharf.
It's good to be back.
I especially enjoy the wild flower beds in the park, now in full bloom. Ellen Limebear and daughter Elizabeth tell me that they've been foraging and bilberries have been abundant this year. They've gathered lots, but hardly anyone else is picking them. So, this week I give a Murphy toast (butter side up) to Parks and Gardens Staff for their wild flower displays and the gloriously named Limebear family, for keeping up a foraging tradition.
Spiked news
Highlighting the attack on a lesbian couple on a bus, The Guardian reports that homophobic hate crimes have increased by 144% and suggests hate speech from Populist leaders and from right wingers on twitter forums is a cause. An article in Spiked disputes the significance of these figures, suggesting the increase is due to better police training and more diligent recording of hate crimes.
I hope this is true. Spiked claims to be a left wing, but 'Anti Big State' journal. It argues that all censorship should be banned and it campaigns against Political Correctness in universities and decries laws to stifle racist and homophobic speech.
Meanwhile, in Poland, where the right wing government has turned its attention away from immigrants to attack LGBT groups, Jacek Dehnel reports (for the Guardian) that thugs have attacked a pride event in Bialystok, with men beating everyone, including teenage girls. It's not just local men who are homophobic. In the angry mob, a woman with a toddler, aged two or three, held his hands and coaxed him to hold his middle fingers up and shout, "Fuck-off-fag-gots! Fuck-off-fag-gots!"
For a purportedly left wing journal, Spiked is also unusual because it scorns what it sees as exaggerated and hysterical reports of global warming. George Monbiot has argued that Spiked is actually a fanatical right wing publication, funded by a millionaire American businessman. Now I see that several of their writers have joined the Brexit Party.
Protest songs
I was recently invited to an Extinction Rebellion event. A few days later, I watched a documentary on protest music. Billy Bragg said it was the duty of the protest singer, not to follow, but to lead, by sensing what people feel uneasy about and then by trying to turn their concerns into songs. So I wrote this …
My daughter's darling daughter
Vikings, Normans, such as these,
Came to these islands as newcomers,
These brooding lands in pewter seas,
Shone emerald bright in rainbow summers.
With birds tumultuous in the trees
And fish abundant in clear water,
Oh, I would like to leave you these,
My daughter's darling daughter.
Chorus
But it's late, old man, it's too late,
Smell the smoke from the Redwood trees.
And it's late old man, it's too late,
Hear the ice crash in Arctic seas.
With barefoot prints on jewelled grass,
When play time's long and nights are shorter,
Be sure these precious hours to seize,
My daughter's darling daughter.
Chorus
With poisons cleared from valley air
And moorlands free from rich men's slaughter,
I close my eyes and see you there,
My daughter's darling daughter.
Chorus
A reader writes
Tipped off about a strand in this week's column, our friend Joyce has written with a true tale about a voyage.
Hi George
We had been in the cabin a few days. We knew that, with it looking onto a public deck, the window was designed so people could not see in and we had been amused to be able to clearly see passers-by whilst they could not see us. Unbeknown to me, at dusk this stopped working and people could see in. There was a notice which I had misread detailing this.
One evening, after my shower, I stepped out of the shower room into the cabin and started drying myself. As I looked out, I thought how funny it was that I was watching others who could not see my ablutions; so I started doing the back drying, pulling the towel behind me to the right and to the left with all my front nakedness exposed. I was humming and jigging a bit and actually said aloud 'None of you can see me!" to the rhythm of na na na na na na. This was the moment when the ship's classical pianist strolled in front of the window. To my horror ... his stunned and shocked expression and his hastened, nay sprinting, motion away from the window, hit me in the (bare) stomach. I quickly wrapped up.
When John returned shortly afterwards, I asked if he would check whether the window could be seen through. He rushed out and back and aargh... yes!... you could see through it quite clearly. We were going to the piano concert that evening. I said, "I am not going! What if he recognises me?"
John said, "He won't - he wouldn't have seen your face!"
We went.
---
If you would like to send a message about this piece or suggest ideas, email George Murphy
More Murphy's Lore
See the Murphy's Lore home page for all 31 editions.
---