Number Forty of the regular HebWeb column from local writer and story-teller, George Murphy.
Murphy's Lore 40 - Monday 30 September 2019
---
Dear Moggy,
I think things have been going rather well, old sport. After we were thrashed in the courts by Spider Woman, the Red Army were smelling blood (my blood to be exact!) Then one of their harridans had a touch of the vapours, I cried 'Humbug' in quite a restrained fashion in the circs and all hell broke loose. Soon our court defeat was lost sight of in Labour's red mist!
The Dominator reckons the more Labour bang on about violence in the streets (helped a little by our side, ho ho) the easier it will be for us to use 'Special Powers'. That should take us nicely past the Witching Hour and onto the sunlit uplands of November!
Moggy old chap, that's when I mean to send you out on manoeuvres. Be ready to wake up Nanny, get the chauffeur to polish the Bentley and point your winged chariot northwards for a spot of canvassing. The Unwashed love to see their superiors in all their finery. Btw Mog, I wouldn't bang on about your 'buried treasure' in the Cayman Islands during the hustings, what!
I have to admit, once victory is secured, I'm certainly not looking forward to years of haggling over blessed Trade Deals with Johnny Foreigner. But don't worry, I won't involve you in those shenanigans. We'll leave all that to Raab and poor old Gove, haw haw!
Must go old chap, that awful bounder Farage is at the tradesmen's entrance.
What ho!
Boris
Boiler Man!
Strolling home from Hebden station, I glanced up and noticed Present Wife at the bedroom window, apparently sans apparel, waving frantically with both hands for me to quicken my strides. Be still my beating heart …
Once through the door, it turned out the boiler was banging away like Keith Moon on acid. I rang for Boiler Man, shouting over the din at the receptionist, "Tell him our boiler's going to blow any minute." Meanwhile, PW threw on some gear and we rushed out into the garden.
Two hours later, Boiler Man arrived, whistling calmy. As we begged him to take care, he strolled past us into the house. I turned to PW and solemnly said "I'm going in."
I tried not to cower behind him as we ascended the stairs towards the thunderous racket. Despite Boiler Man maintaining his reassuring whistle, I couldn't help imagining a timer on an explosive device, as in one of those James Bond films, ticking inexorably towards zero. Heart racing, I stood at the bathroom door as Boiler Man opened the boiler cabinet to the deafening, booming racket.
With the well oiled technique of a Bomb Disposal expert, he reached out and … turned a valve quarter of an inch to the left. The banging stopped.
I made a silent vow to myself, 'Next time, I'll be 007'.
Silver Jubilee
Friday night I went off to Stubbing Wharf for Shaggy Dog's Silver Jubilee Night and a special presentation to founder member, Christine McMahon.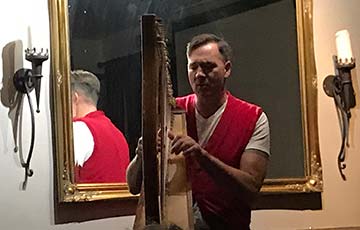 Long time favourite and guest performer, Nick Hennessy accompanied himself on the harp and dazzled and delighted the packed room, ending with a trickster tale that combined repetition, comedy, a requisite amount of gore and a gradually increasing tempo, to take us on an exhilirating journey to the obligatory happy ending.
Double Trouble
Driving to Hardcastle Crags, I passed our former abode and couldn't help thinking of PW's wistful refrain, "Remember when we had a stove with a double oven?
My mind flitted back to a balmy teatime long ago and her written instructions: Put the large spuds into a pre heated oven for 40 minutes before preparing the rest of the meal.
Just in from work, I didn't bother with the preheated bit, just bunged them in, nipped back across the kitchen and double-checked what setting to put them on. Dashed back to the stove and precisely tweaked the necessary knobs before dashing out at last into the bird exulting woods.
When PW rang from work on my return, she asked me if the spuds had baked. I triumphantly threw open the oven door and cried, "DAH DAH!…Oh."
The spuds had vanished …
I found them in the other oven, cold as the brass monkey's proverbials. Then I heard a murmur of muted laughter coming down the phone from Rochdale. PW had treacherously relayed our conversation for her colleagues to hear!
Double ovens - who needs them?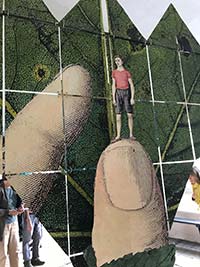 Grimm Tales
Christine McMahon and I enjoyed the opening of the Grimm Tales exhibition at Gibson Mill where Shaggy Dog folks will tell tales on Friday, 1st November, by which time, apparently, BJ will either be dead in a ditch or we'll have left the EU.
For my part, I have to tell two or three grim Grimm tales, then put my poetical head on and dash off to perform with Calder Poets (yay!) in Todmorden. A free glass of vino later and meeting an old, but beautifully preserved, friend helped me to think it will all be right on the night.
Pizzas and Fleabags
PW and son having gone to County Durham for a wet weekend with the Geordies, I was home alone. I can honestly say that I looked at our single oven for a quite a while, before eventually deciding to nip out to that new pizza restaurant in Organic House, where the service is wonderful and the pizzas are made in front of you. I thought I couldn't possibly manage a 9 incher (Ooh, madam!) but ended up taking it all in, and washed it down with a glass of quaffable claret.
Thence to the Picture House to watch Fleabag. It was 'LIVE!' (albeit two hundred miles away). It also cost £15 for a concessionary ticket. Phoebe Wallaby must be raking it in. I bought another large red one to get over the shock.
I'm a Phoebe fan and seeing her 'simultaneous broadcast' worked for me, although it seemed strange not to clap at the end. I liked the jokes, timing, acting and physical humour. I know that's what all good actors do, apart from the writing bit, but I'm glad my mind can still be boggled by it.
Afterwards, for the record, I scooted past packed pubs in plenty of time for an early night.
Harriet and Danny La Rue
Reading back over last night's proceedings, I notice I came over a bit Danny La Rue.* Which reminds me …One year we escaped to Walton Hall, a stately timeshare in the Midlands, which was once owned by Danny. On arrival we were told about the terrible history of the place.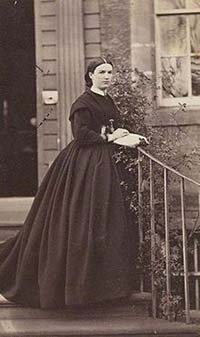 This is Harriet, Lady Mordaunt, who was the Scottish wife of the English baronet and Member of Parliament, Sir Charles Mordaunt. Mordaunt returned from a shooting trip and discovered Edward, Prince of Wales was being 'entertained' by his wife. When the Prince hurriedly left the scene, Mordaunt ordered his wife to watch as he had her two favourite white ponies brought from the stables. Then he shot them.
A sensational divorce case followed, in which the prince was a witness. Harriet's father, to save the prince's repututation and presumably his own, filed a counter-petition that his daughter was insane. Harriet spent the remaining thirty-six years of her life out of sight in a series of privately rented houses, and then in lunatic asylums.
*In the 1980s Walton was bought by Danny La Rue, who had it converted into a hotel and then sold it to a man who was subsequently gaoled for a timeshare scam.
---
If you would like to send a message about this piece or suggest ideas, email George Murphy
More Murphy's Lore
See the Murphy's Lore home page for all 40 editions.
---