Number Forty-two of the regular HebWeb column from local writer and story-teller, George Murphy.
Murphy's Lore 42 - Monday 14 October 2019
---
Growing pains
After moving the weighing scales to a different corner of the shower room I discovered I was 5 pounds lighter than before. Then I went for my check up at the surgery and they said I was half a stone lighter than my lying bathroom scales had told me. So I'd lost almost a stone in a few hours.
I was on a roll. Turns out I'm also half an inch taller than I thought I was. The nurse told me parts of old men's bodies keep on growing… such as their ears.
I pondered asking for further measurements, but decided to quit while I was ahead.
An Inspector calls
Last week we went by train to Chester. There was a young woman typing on her laptop at the far end of the carriage and I remembered an article about Malory Blackman, the former Children's Laureate.
The first time she travelled first class an Inspector boarded the train and demanded to see her ticket. When he turned to get off, she asked him, "Aren't you going to check anyone else's tickets?" He said that wasn't necessary.
Malory was the only black person in the carriage.
Train surfing
The first train journey along the Leeds to Manchester line was in 1840. When the train stopped at Brighouse, so many tickets had been bought that passengers couldn't be seated in the carriages, so they climbed on the roofs. At Sowerby Bridge the crowd was even larger and more people clambered onto the roofs, but finding all the seating positions taken, they stood upright.
A journalist for The Leeds Mercury reported:
in that fearful position did they remain all the way to Hebden Bridge, stooping down as they passed under the tunnel and the numerous bridges on the line, and then rising and cheering… to the astonished spectators! …
On the journey from Brighouse later that day, the authorities brought up a cattle truck to house those travellers who would otherwise have clambered onto the roof. Then they unhooked the truck from the rest of the train and pulled away without it, "to the infinite amusement and applause of the spectators."
Those first Leeds to Manchester journeys were incomplete because Summit Tunnel took another year to dig out and line with brick, by which time 41 workmen had lost their lives.
Jack's barbers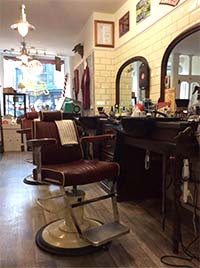 Jack's is a stylishly tiled and fitted retro establishment and Jack's good for a natter. A playlist of GI jive and swinging vocal pop from the 40s and 50s pipes up from a dinky player styled on post war jukes.
Jack placed me when I told him PW had recently done a recce, quizzing him about a genial guy we know, who might fear Jack could transform into Sweeney. She reported back that Jack knows about such things, and about guys with autism having super-sensitivity in the neck area.
I got change from a tenner for my concessionary trim and emerged sleeker and smarter into Albert Street humming an Andrews Sisters tune. It might might have been The boogie woogie bugle boy of company B, but due to memory leak I can't swear to it.
So here's a Murphy Butter Side Up Toast for Jack's Barbers.
The 1st Mrs Rochester
As John Sutherland puts it in The Brontesaurus, Rochester's first wife plunged to her death "exulting in the destruction of Thornfield Hall, Rochester's eyeballs, and one of his arms."
Mr Rochester was inspired by the Quakers and the famous York Retreat, where residents were treated with dignity and care. He tried to create a retreat for his wife in his own home, by hiring Grace Poole and her son, who had previously worked at 'the Grimsby Retreat'.
Despite the attic's minimum security, Sutherland uses textual clues in Jane Eyre to argue that the eventual tragedy occured because Grace was a drunkard and on the fateful evening was 'pissed out of her head'.
Archibald and Topsy
Archibald Leach's father had his mother committed to an asylum when Archie was 11. Although she suffered from psychosis, she was harmless. 30 years later, as Cary Grant, he rescued her from the asylum and provided supported living for her.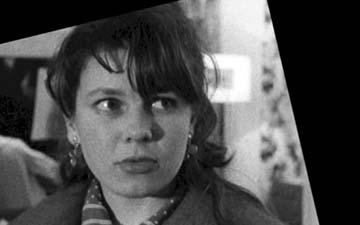 The onset of Schizophrenia tends to occur later in women than in men. In The day the music died, Tony Garnett discusses the case of his wife, Topsy Jane Legge, the brilliant young actress who starred alongside Tom Courtney in The Loneliness of the Long Distance Runner. She was chosen to star in Billy Liar, opposite Courtney, but had a mental breakdown and never acted again. An untried actress called Julie Christie took over the role.
'A man's a man' …
Spring in Arran, 1970. I was working at Ravenscraig Psychiatric Hospital in Greenock. We took a group of men from the open and locked wards to 'Scotland in Miniature'. The weather was perfect all week long and it was too early in the year to be pestered by midges. Some of these men were institutionalised and often they were misdiagnosed, but had spent years working as cheap labour on farms or in occupational therapy, making circuits for IBM. On the ferry, one man recited Robbie Burns, 'A man's a man for aw that' .
I got an afternoon off. Below a cliff near Whitesands Bay, a golden eagle glided serenely, gannets dive bombed the waters and a nuclear sub dropped booming depth charges out in the bay. Lolling on the cropped headland grass I read a poetry anthology and discovered John Clare's I am, written when he was in an asylum:
'I am—yet what I am none cares or knows;
My friends forsake me like a memory lost:
I am the self-consumer of my woes—
They rise and vanish in oblivious host,
Like shadows in love's frenzied stifled throes
And yet I am, and live—like vapours tossed

Into the nothingness of scorn and noise,
Into the living sea of waking dreams,
Where there is neither sense of life or joys,
But the vast shipwreck of my life's esteems;
Even the dearest that I loved the best
Are strange—nay, rather, stranger than the rest.

I long for scenes where man hath never trod
A place where woman never smiled or wept
There to abide with my Creator, God,
And sleep as I in childhood sweetly slept,
Untroubling and untroubled where I lie
The grass below—above the vaulted sky.' 
---
If you would like to send a message about this piece or suggest ideas, email George Murphy
More Murphy's Lore
See the Murphy's Lore home page for all 42 editions.
---