Number Forty-six of the regular HebWeb column from local writer and story-teller, George Murphy.
Murphy's Lore 46 - Monday, 11 November 2019
---
Leonardo game
Leonardo played a game where he stared at objects and saw faces in wood grain or soil.
Thinking about this, I think I notice, just above a white spot on the floor, a mean faced guy on our rug looking up at me through binoculars. Except, when I look closer, it seems more like a crowd scene. The red faced man in the red cap bottom right is wandering into a packed medieval market place.
Each time I look at the rug it becomes more Breughel like. Our rug is seething with closely packed peasants.
Later, at Lanterns Cafe, I glance down at the floorboards and notice a feller merrily singing along to whatever he's got playing on his headphones, whilst wild swimming in a fast flowing stream. That knot of wood is his headphones and he's swimming to the left.
PW said she couldn't see anything apart from wooden planks. I said, "Only very clever people, like me and Leonardo, can play this game."
Calmed by horror
In this season of crow black, sloe black, narrow boat bobbing nights, storytellers like to frighten us - and we like to be frightened.
Perceptions of terror are different for people with psychosis, who can feel paranoid just watching live TV broadcasts (believing, say, that Louise Minchin or Charlie Stayt are sending vicious thoughts into their heads) yet stay calm watching the grisliest of horror films. In horror films, action is prerecorded, terror is bearable, a chainsaw massacre is just a ketchup bloodbath. It's reality that is raw and threatening.
Beware The Dipper
At Stubbing Wharf, a woman from York tells us there have been 11 deaths in the city's rivers this year. The police cite drunkenness and suicide as causes, but a myth has grown up about a malevolent demon. The Dipper sidles up of a night and pushes befuddled victims into the cold waters of the murky Ouse and Fosse.
How alarming
Munch said about The scream, "I sensed an infinite scream, passing through nature." The person on the bridge is trying to block his ears. He isn't screaming.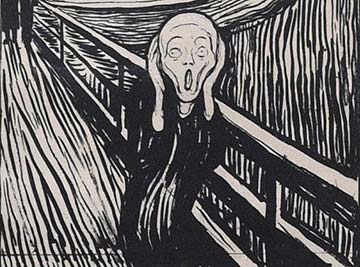 Scientists have found that frightening screams have a trait called 'roughness', which means the sound changes abruptly. A drawn out, lengthy, scream is less frightening than a shorter 'rougher' one.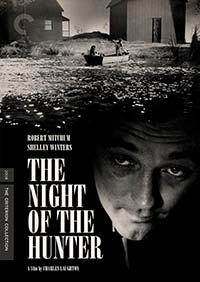 Such screams - and other disturbing sounds - trigger a fear response in the brain's amygdala. Its reckoned that makers of alarms and sirens have intuitively built 'roughness' into their devices to warn and alert us.
Yet sometimes it's not the most piercing noises that make our skins crawl. The film A quiet Place kept audiences in fear of sudden noise. As long as the characters were silent they were safe.
The Night of the Hunter frightened PW when she was young. It borrowed some techniques from silent movies. She remembers with a shiver, the murderer, played by Robert Mitchum, searching for the boy and girl in the darkness beside a river, calling in a smooth, chilling but coaxing voice, "Children … where are you?"
Dewey eyed
In my teens, the local library allowed me to choose from the whole sweep of fiction and non-fiction, as I steadily worked my way through a list I had copied down of 100 Classics, but I often got distracted towards other tomes … Marx and Bonhoeffer, Zen and Lolita, Women In Love, Larkin and Hughes (Dick Straightup chipped from the ice in Heptonstall). I fell for Coleridge, Wordsworth and the Merseybeats, borrowed Messien records that mimicked bird songs in Japan … Sibelius in the snow … Bob Dylan with a girl on his arm, The Story of The Blues and Debussy.
I read sports biographies (Zatopek and Elliot), discovered the Aztecs, poured over newspapers and borrowed Orwell and Priestley. I was gripped by Of Human Bondage and fascinated by Stanley Spencer and William Blake. I wondered why The Telegraph reported rugby matches between posh schoolboys, read Roy Jenkins on Asquith, Crime and Punishment twice, Ionescu and Waiting for Godot and tried to fill the gaps in my education.
I was the only pupil in the school 6th form and the teachers turned a blind eye when I wandered off into town to the library.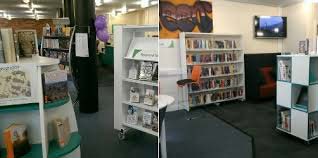 Just now I'm catching up on the local Luddites and the Chartists at Hebden Bridge library. So here's a heartfelt toast to our local libraries - long may they survive!
Lest we forget
Our friend Peter grew up in a schoolhouse in a small village in a German speaking part of Silesia, where his parents ran the local school. When the Russians were coming they put blankets and clothes and food on a cart and walked West.
Stopping in a safe village they watched a troop of Nazis come through with a large group of Jews. Suddenly, an old woman collapsed and an officer lifted her onto a sledge and walked off with it into the woods. Peter thought his parents were wrong, perhaps the Nazis weren't so bad after all.
Then he heard a single shot ring out.
Millions died in WW1, but sometimes it's easier to understand loss on a smaller scale. Here's a memorial to cricketers from a local club, showing those who did not return from the war.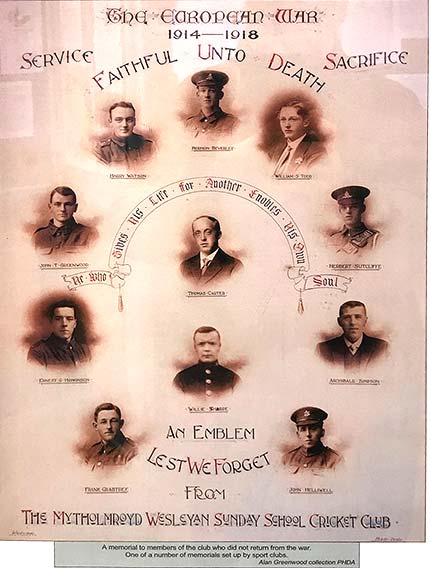 Surprise!
It's getting near that time of year when my present wife takes me to shops, points to books or earrings and says, "That would be a lovely surprise present!"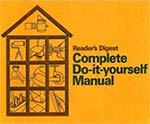 In the early days she trusted me to choose her surprises. One year, I pretended I'd forgotten about her birthday, but I secretly hid her gift in our bed. PW didn't raise the matter, but she was in a silent, wounded mood when she got under the covers. Then she shouted "Aaagh! What's that?" She'd bruised her foot on The Reader's Digest Complete Do-It-Yourself Manual.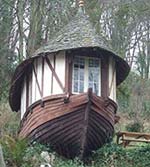 Strangely, she didn't seem enamoured with her surprise discovery.
This year PW has asked for a shed. As we're on the flood plain, I've been secretly browsing online for the ideal shed for the woman with everything.
Then it strikes me that subsidised boatsheds should be included in manifestos to attract floating voters.
Waiting times
A friend has a side effect from some medication and rather than popping into the surgery and asking the doctor to reduce the dosage, he has to wait weeks for a blood test. After the blood test, he got promised a phone call from a GP.
Weeks later the GP rings and tells him that the blood test shows he needs to increase the strength of his daily dose. My mate tells him it's not true - he'd stopped taking the tablet every day because of the side effect.
So the doctor asks him to come into the surgery, but doesn't offer an appointment. Instead he has to pick up a test kit from reception to monitor the side effect of the medication. In a few weeks time he'll find out what the test showed.
Eventually, I expect they'll tell my friend he can use the lower dose tablet he asked for months ago.
In autumn sunshine, two women met outside Cafe Cali and bemoaned the lack of news, support or reassurance they've had since their radiotherapy back in the summer. I tell them that this might be a good sign, but for them silence isn't golden.
Their cancer was discovered in the spring, their treatment was in August and they'll find out their results (they hope) next week.
Perambulating
Power walking along the tow path, a friendly voice behind me says, "Can we just ease past you, please?"
I step aside and feel my face morphing into Victor Meldrew's as a young woman goes by with effortless rapidity, despite pushing twins in a double sized pram, with a bigger kid riding pillion, whilst checking her mobile phone messages.
On the corner of Bridge Gate, Lisa says "Hello!" and we shake hands. She says she feels as if she knows me from HebWeb. Lisa's from Lancashire in Kansas, which makes my head spin, but now she lives here.
I say I like the way Americans come up and say 'Hello'.
Lisa says we had a close call with all that rain yesterday. I walk home thinking - yes but in Kansas you get tornados.

Back home, I turn the news on and discover a woman has drowned in flood water near Matlock.
Perhaps John McDonnell's argument that we need to think big and rebuild our infrastructure - like we did after the war - might soon get more favourable coverage in our newspapers, but I doubt it.
---
If you would like to send a message about this piece or suggest ideas, email George Murphy
More Murphy's Lore
See the Murphy's Lore home page for all 46 editions.
---