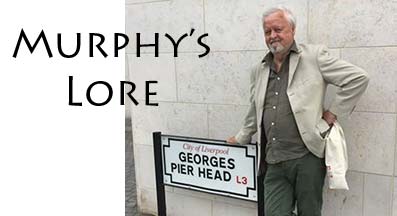 Number Forty-nine of the regular HebWeb column from local writer and story-teller, George Murphy.
Murphy's Lore 49 - Monday, 2 December 2019
---
To Borisov
I've been reading about the Prime Minister's use of intemperate language. In response to business leaders criticising his Brexit policy, he exclaimed "F**k business."  To a critic of his cuts to London Fire Service he yelled, "Get stuffed!"
Boris Johnson has said money spent on an inquiry into historic child sexual abuse has been "spaffed up a wall." I hadn't realised how inappropriate this usage was in this context until I checked its meaning in The Urban Dictionary.
Coincidentally, Comet Borisov, only the second known interstellar visitor, will move within range of telescopes from next weekend. Perhaps, on the 12th December, whilst the comet continues on its course, we can add a new term to our political lexicon:
BORISOV: (OED) to go on a lonely journey into political oblivion;
BORISOV: (Urban Dictionary) "F**k off and don't come back."
The gasman doesn't cometh
Glad to see there's another Flanders and Swan fan in town.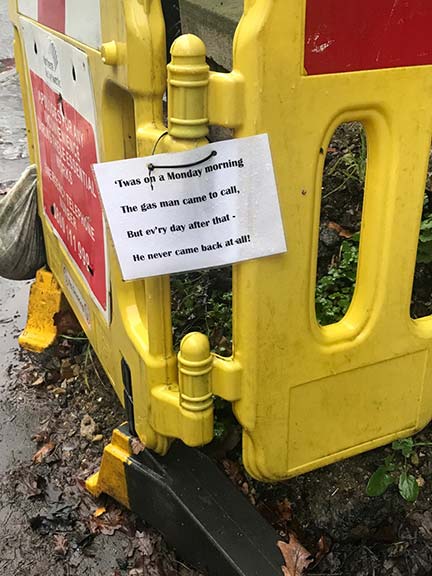 Have you seen Craig?
Craig is a shy, retiring chap. If you find him wandering around, looking completely lost, please don't ask him challenging questions of a political nature. Last Monday, Craig should have attended a Public Debate on Global Warming, but he couldn't find Hebden Bridge. On Thursday, Craig should have been at Brooksbank School for an Education Debate, but sadly, he didn't arrive. There are rumours, however, that Craig turned up at Todmorden High School by mistake on Thursday, got accidentally locked in by the caretaker and climbed up onto the roof to escape.
Apparently, Craig's agent has assured his family that he will be rescued at first light on Friday, 13th.
This CCTV image has emerged …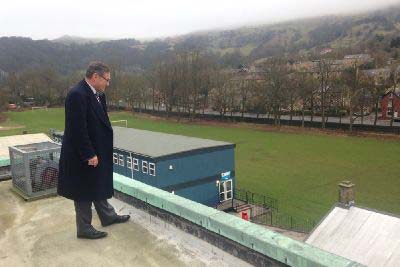 Omwami Walugave
I've received a royalty cheque for a children's book based on an African folk tail. The hero is King Pangolin.
This prompted me to do some research into Pangolins. This gentle, scaly skinned anteater is eaten as bush meat in Africa. It's also captured, killed and transported to Asia for use as 'medicine'. Up to 100,000 pangolins are hunted and traded each year, which makes them the world's most hunted creature.
The Snake Pit
I usually go to the friendlier shop a few doors down, but this time they didn't have what PW needed. So I went to The Snake Pit.
I grabbed my purchases as fast as I could, before the inane DJ chatter and pop pap from the blaring speakers melted my brain. At the counter, I said "Hello," to the assistant and smiled. She ignored my greeting.
No doubt the assistants in The Snake Pit are underpaid - but then again, it's not me who underpays them. I was in there one evening a few years back when the manager breezed in. Despite the freezing weather, he shoved and bullied and forced the door to stay wide open, stomped behind the counter, turned up the radio to Torture setting and shouted at the cowed assistants, "For god's sake SMILE!"  and then stomped out again. Perhaps they just feel unloved.
Over the years, some of the Snake Pit assistants - the ones who didn't stay long - have been jovial and polite. And a few years back, a genuinely friendly woman worked there, who warmly returned her customers' greetings and even asked after their health, but she died, suddenly. So many shoppers told her sour faced colleagues how wonderful she had been, that these Snake Pit vipers could feel the venom multiplying its strength inside them.
My toxic assistant had a tactic of avoiding eye contact. She stated what I owed, then turned to chat to one of her venomous pals, thus avoiding saying, "Thank you," at the end of our little transaction. Face averted, she slapped down my change.
Infected with her little dose of poison, I went off with it festering inside me … until I wrote this piece.
Mooching at mooch
I've spent hours hunched over newpapers and cappuccinos at Mooch. It's where the visiting storytellers and writers, American tourists who sometimes forget to leave, artists, actors, play producers, burlesque performers and TV people tend to chill when they come to Hebden.
The reception is always friendly, which isn't a given (see the above) and the LP records are played quietly enough and are varied enough to provide a welcome accompaniment to the polite and friendly smiles of the staff.
If they'd remember not to put the metal jacketed butter that's already been through a thousand pairs of hands directly onto the bread that accompanies my soup, they'd be another rung up the ladder. I like the selection of snacks hot and cold and when PW makes a royal visit they don't mind us sharing a toastie with plenty of green accompaniments in a tasty, delicate dressing.
Here's a well deserved toast for Mooch on Market Street! Butter side up - of course.
Living well
On Saturday, I performed a charity gig at Tod Methodist Church for Living Well. It was the third time I'd performed a pre Christmas set for these women affected by cancer, but this time I performed alongside H the Hat Woman. They especially loved her rude rhymes.

As for my stuff, perhaps it's the Sirens piece they like the most.
Afterwards there was food and presents and we both got further bookings. I sold all the Hippy Valley books I brought and got a hug from Elaine the organiser, who - with her willing helpers - makes all these things happen.
Leaf running jacanas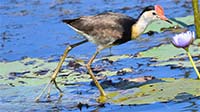 Clive James died, and Jonathan Timbers shared a piece James wrote about his compatriot, Les Murray, who died earlier this year. "When I first read Les Murray's poetry, an unfamiliar feeling of humility overwhelmed me."
In 1992, Murray gave a reading in Manchester and Pat Munday, of Blackshaw Head, got me a signed copy of The Daylight Moon*. In the opening poem, he sits in a motor boat as it roars across 'the never-never meadows of the monsoon wetland' with a 'wigwam of spray' overhead. Reading again the images of abundant tropical wildlife helps lighten this dank, cold, Crow Hill shadowed winter for me …
leaf running jacanas, twin boomed
with supplicant bare feet for tails;
knob-headed magpie geese
row into the air ahead of us;
water-lilies lean away, to go
under as we over-run them
and resurrect behind us.
We leave at most a darker green
trace on the universal glittering
and, waterproof in green and blue,
waterlilies, on their stems, circling."
*The daylight moon, (1988) Les A. Murray, Carcanet
---
If you would like to send a message about this piece or suggest ideas, email George Murphy
More Murphy's Lore
See the Murphy's Lore home page for all 49 editions.
---