Number Fifty of the regular HebWeb column from local writer and story-teller, George Murphy.
Murphy's Lore 50 - Monday, 9 December 2019
---
Disappearing Amazon
I was upstairs, but the delivery man didn't ring the bell before he zoomed off. I found his note in the post box: "Parcel in black bin."
We haven't got a black bin.
I looked down into the depths of our green wheelie bin and sure enough, the Amazon logo was smiling up at me through a shallow sea of mush - our granddaughter's Christmas present.
The Doris
When interviewers challenge the PM on his racist, mysogynistic statements, he is far less apologetic than Corbyn has been about the antisemitism in Labour ranks. Trump and Johnson know that many voters share their prejudices.
Seeing Johnson and Trump together last week, I accidentally called them 'Doris'. Which triggered a terrible image … the two leaders conglomerated into a honey blonde Goodtime Girl, in a too tight dress.
Birthday boys
I share my birthday with several cool celebs, Kirk Douglas, Judy Dench, Joan Armatrading, John Malcovitch and … errr … Donny Osmond. So does Rob Collins, the Hebden Bridge luthier. On Saturday, I was invited to the big man's 50th at The White Swan.
'Out of the box' entertained us, and magically wrapped us in a warm embrace of ancient and modern tunes, rousingly performed. A few pints helped the magic to last. I walked the thousand yards home through the icy rain singing, "And I will walk 500 yards and I will walk 500 more …"
December 9th, 2000
I didn't realise a party had been planned for my 50th, but dozens of guests had gathered at The Hole in the Wall.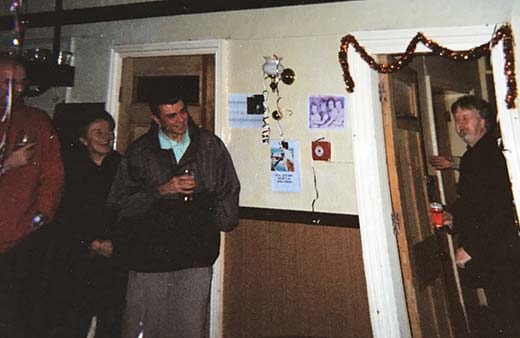 I should have been alerted by events earlier that day. PW, knowing friends would be staying the night, appointed me Cobweb Killer for the day, handed me a feather duster on a stick and - despite my complaints ('It's my birthday!') - we started cleaning the house from top to bottom. Whilst hoovering the bedroom, PW glanced out of the window and noticed two of my childhood friends walking along the lane past our house. So she pulled me onto the bed in a passionate clinch. Reader, I thought it was my special birthday treat.
Ten seconds later, she said, "Right, stop that now, I've just spotted a cobweb."

Canalside Comedy
On Sunday I did get a special treat. PW took me to Canalside Comedy at the Little Theatre. Congratulations to Stacey Buss, who moved to Hebden a couple of years back, but has now returned to her previous career - running a comedy night. The compere had done some research into Hebden and decided to make a joke about people dying from asbestosis. A woman in the audience shouted out, correctly, "That's not funny." Apart from that, I enjoyed the evening and Steve Day, the headline act, "the only deaf comedian," was hilarious.
So, for helping provide more of life's best medicine, here's a Murphy toast to Stacey Buss and Canalside Comedy club - butter side up, of course.

The masochists
Every night in the Election campaign, the TV people have tracked down lifelong Labour supporters who voted Leave in 2016. These vox pops follow a well worn pattern.
We particularly enjoyed the one featuring a Bradford woman who didn't know where the next penny was coming from, moaned about filling in those terrible forms for Ian Duncan Smith, could only work part-time because of her back, paid too much in rent to her grasping landlord, went to A&E and waited for hours because the poor nurses were 'run off their feet' and admitted that her daughter visited a foodbank every week.
When the presenter asked how she'd vote on December 12th, she said, "Well, I've voted Labour all my life, but not this time. We need to get Brexit done!"
How we used to live
This week I'm wincing as I read Mr Stott's Diary (Halifax 1914 - 1916), edited by Robert Hamilton, which gives a fascinating insight into the attitudes of the time. William Stott owned a small textile business in Halifax. Here's his entry for 22nd May 1914 …
"Suffragettes made a scene and insulted the king tonight at a Command Performance for a theatrical charity in London. Why not put them in a lunatic asylum?
"I wonder if this is a lonely woman that poets and painters have sung to us about. Shakespeare's wise lines are appropriate … 'Lilies that fester smell worse than weeds'."

A reader writes
Yo George ….
Love your 'stuff' and was even accidentally mentioned once after we had an 'interaction' in Pennine Provisions.
However …… re. 'the Snake Pit'. If I have correctly identified the venue, I go in most days and get on very well with 90% of the staff. We 'banter', chat, get necessary local info etc. They are generally very pleasant work slaves doing a cold, difficult job. Their 'boss' is indeed a demanding, unpleasant capitalist of the first order ….
So please George, have pity on them. Go and have fun in [ xxxx ] cafe, where the staff are almost entirely hilarious and work their socks off for another well known local capitalist. You can read the papers (sorry, forgot Mooch is your place), gossip and keep warm against the icy blast.
All the best and thanks for attempting to cheer us in these dark times. Keep wearing the hat - my winter one is bright red and spiky so if you pass it on't street, stop and we can have several rousing choruses of ' F… the Borisov'.
Sarah Rae
Dear Sarah,
What a lovely letter. I remember your hat! As for The Snake Pit, it might have been a fictional shop, you know. No shop in this town could ever be so charmless!
George
---
If you would like to send a message about this piece or suggest ideas, email George Murphy
More Murphy's Lore
See the Murphy's Lore home page for all 50 editions.
---