University of the Third Age
Claire Benedict talks acting to Todmorden U3A
Sunday, 29 April 2012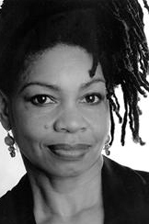 Members of Todmorden U3A attending the April general meeting were treated to a delightful talk given by one of Todmorden's showbiz citizens. She eschewed describing herself as a star of stage and screen but in fact she has graced both the small and large screens as well as trodden the boards. Claire Benedict, for it was she, commenced her lively, amusing and enlightening talk by telling her audience that her first love is theatre, and so decided to entitle her talk, "Treading the Boards". Claire did not regale her listeners with her triumphs, but said something of the tribulations actors go through before concentrating mainly on the craft of acting.
Before that, some biographical details. Claire threw herself into school plays with an enthusiasm which led her to deciding at age 15 that she wanted to be an actor. However, she knew that Dad wouldn't like it much, although Mum would be more easy-going. Claire was fortunate in that an English teacher, herself an actor doing supply teaching between jobs, knowing Claire's ambition, hit upon a plan. Claire herself does not know what passed between her teacher and her parents at a PTA meeting, but they were persuaded. They not only to let Claire choose her own path but for her to not go into the sixth form at her school. Instead, Claire went to a college that had a drama course. Claire's English teacher also encouraged her parents to encourage Claire. So she was set on her path to a successful career.
The downside of acting is, in Claire's word, that it's "gruelling" when out of work. The living with hope and expectation and the challenges of auditioning. The end of uncertainty when a job comes has Claire celebrating each time, she said. It's also difficult to make future plans like holidays, when you can never tell whether or not you will be working.
Turning to the craft of acting, two classes of skills are needed, Claire told her audience – analytical and technical. The analytical include reading the text, getting historical background if say, it's a classical play. Asking herself the question: am I right for this? How can I/we make this work? Acting is very much a collaborative enterprise – people coming together to get to know each other and drop their reserve in order to serve the play. The technical skills are verbal and physical: using the voice and the body in the ways a particular character would. Sometimes Claire has been called upon to dance in a role, not her forte, she said. Another question that Claire puts to herself, especially when in a part interpreted many times before her, is: how can I make this part my own? An actor needs to bring something of her or himself to the role but also be true to the text.
Claire then spoke about the importance of the audience to the actor, their response to what is put before them. Actors have expectations of an audience, if it's a comedy, are they laughing in the expected places? In a serious drama, are they hushed in a way that conveys their absorption in the piece? Actors experience audience responses as a judgement on their performance. For this reason, Claire loves the danger of theatre work, she said.
Claire rounded off her talk by getting three of her audience to do an improvised piece. She felt that when watching soaps, she observed actors having only one way to express anger. She wanted her trio to illustrate the variety of ways this emotion could be expressed. Claire set up a scenario based on Romeo and Juliet. A daughter tells her parents that she does not want to go through with her imminent wedding because she loves another, not her intended. Yet more talent within Todmorden U3A was revealed when not only acting and improvisation abilities shone through but were laced with wit that drew much laughter from the audience. So far, so good but then Claire whispered a word into the ear of each and asked them to perform it again. This time the variety in the expression of anger came forth and afterwards Claire revealed the three whispered words: "cool" for the mother, "fire" for father, whilst daughter was asked to express her anger through feeling "claustrophobia." Thus Claire brought an end to a fine talk which drew her a round of well deserved applause.
Many thanks to John Bouttell for this report
University of Third Age, Todmorden website
Previous U3A reports on the HebWeb
HebWeb News - Kate Moreton-Deakin spoke about her day job as Associate Director - Corporate Social Responsibility with Calderdale and Huddersfield NHS Foundation Trust. (Feb 2012)
HebWeb News - Fair Trade Movement (Feb 2012)
HebWeb News - Fancy a cruise to the Antarctic? (Feb 2012)
HebWeb News - Gail Allaby, U3A's Queen of the Underworld (Dec 2011)
HebWeb News - September meeting report - Report of meeting about Walking the Pacific Crest Trail
HebWeb News - August meeting report - Bolton Abbey
HebWeb News - May and June meeting report - Keep Learning: Live long and prosper and the role of the Lord-Lieutenant
HebWeb News - April meeting report - Belt and Braces - An Everyday Guide to Risk and Chance
HebWeb News - March meeting report - Growing Old in the Twenty-First Century