Handmade Parade 2012: Join the skills classes
Tuesday, 1 May 2012
If you fancy joining a street band, making a giant sculpture or inflatable costume, trying your hand at a dynamic Brazilian art-form or learning how to stilt, the Handmade Parade Skills Classes could be just the thing for you.
This year's parade is on June 23, and there are open workshops for people to come and make costumes and carryable art from June 2 to 21. For those who want to get more involved and learn a new skill, the parade skills classes are a chance to learn from some great artists and performers.
Parade Co-ordinator Rebecca Dearden said: "The parade skills classes are a fantastic way to learn how to do something completely new, and they're so much fun. I never thought I'd dare get up on stilts, but I was even dancing on stilts after just one session. I've also helped make a giant head out of willow and, this year, I can't wait for the capoeira classes."
The capoeira classes are new this year, and bring this exhilarating Brazilian mix of dance, acrobatics, martial arts and music to Hebden for the first time. In three sessions with Contra-Mestre Piolho, participants will learn great carnival choreography and be able to whirl and spin down the parade to the amazing music of the Handmade Samba Band!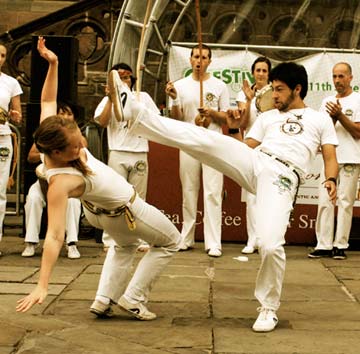 Capoeira is a game for two people, so why not bring members of your family or friends and learn to play and perform together. Sessions will be held on Tuesday, June 5 and 12 from 6.30pm to 8.30pm and Friday, June 22 from 6pm to 8pm. Classes are for adults and children aged seven and over and cost £20 for adults and £10 for children. Children under 12 must be accompanied by a participating adult.
There's also the chance to join a funky street band led by Peadar Long, who co-founded the Peace Artistes. Brass, sax and percussion players who have their own instruments, can play at least at a basic level, and aren't afraid to have a bit of fun as they play are welcome at the practice sessions on Wednesday, May 30 and June 6, 13 and 20 from 6pm to 8pm. Sessions are free, but booking is essential.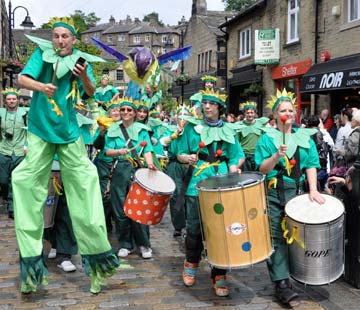 If samba drumming is more your thing, you can get into the groove with Mitch Oldham. Sessions for teens and adults are on Saturday, June 9 from 10.30am to 12.30pm, Monday, June 11 from 6pm to 8pm and Thursday, June 14 from 6pm to 8pm. All levels are welcome and it costs £3 a session.
Todmorden artist Lisa Gort will be leading a workshop making a show-stopping giant inflatable carnival costume for this year's parade. In these workshops, you'll be shown in simple steps how to make an inflatable and how to turn your ideas into large 3D forms. Workshops for adults and teens are on June 5, 7 and 12 from 6.30pm to 8.30pm.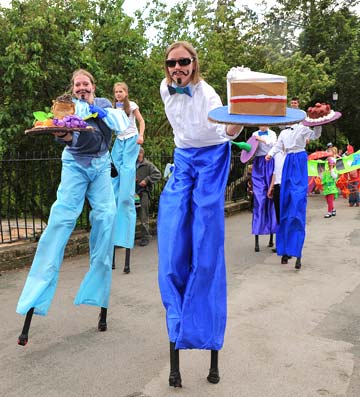 If you've always fancied learning to walk and dance on stilts, join the workshops with Andrew Kim and Travis Downs, who'll be training adults and children (age 10 and up) to stilt walk and make costumes for the parade and finale. Workshops are on Mondays and Thursdays, June 11, 13, 18 and 21 from 4pm to 6pm.
There's also the chance to make a fantastic, huge sculpture working with Kerith Ogden, the artist who brought you the Squid, Giant Snail and Heron from past Handmade Parades. This workshop will be a very good introduction to withy sculpture - from basic construction and simple forms, to making more complicated 3D sculpture. Workshops will run on June 10, 16 and 17 from 10am to 12pm and are for adults and teens.
Stilts, inflatables and withy sculpture cost £20 for the three sessions.
All the above parade skill classes will meet at the parade workshop at Victoria Road. No previous experience is necessary.
To sign up, email your name and which class you're interested in to info@handmadeparade.co.uk phone 07972 167945 or visit www.handmadeparade.co.uk for more details.
Photos
See HebWeb Gallery of photos 2011 - 2 March 2012
HebWeb Photos of Handmade Parade 2010
HebWeb Photos of Handmade Parade 2009
HebWeb Photos of Handmade Parade 2008
See also
HebWeb News: Parade Spark Day is a Hit (March 2012)
HebWeb News: Handmade Parade to go ahead on 23 June
HebWeb News: The Fabulous Feast delights Hebden Bridge - June 2011
HebWeb Forum thread - June 2011
HebWeb News: Handmade Parade: Get ready to make some mouth-watering food art - 7 June 2011
HebWeb News: Handmade Parade: Get ready to make some mouth-watering food art - 24 May 2011
HebWeb News: Handmade Parade will be a 'Fabulous Feast'
HebWeb News: Which will come first - the giant chicken or the eggs? - March 2011
HebWeb News - Feb-March 2011