Hebden Bridge Food and Drink Festival updates
Monday, 22 October 2012
Kids' Cooking
Classes are with Sophie from Purple Sage and are are free and on a first-come, first-served basis and are limited to 12 participants. Weds (24th) and Friday (26th) are for 7 - 11 year olds and Thursday is for 12 to 15 years olds.
Oktoberfest, celebrating local beer and cider, with the new Town Hall thronging in the warm Hebden Bridge Sunday sunshine. Click photos to enlarge.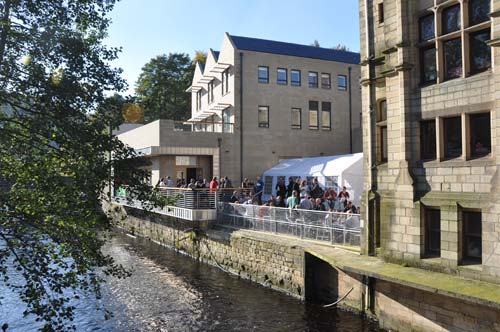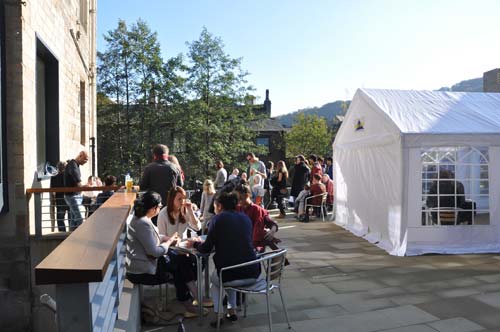 Hebden Bridge Food and Drink Festival
Tuesday, 16 October 2012
Next week from October 20th to 28th, during half term, Hebden Bridge is hosting its first ever Food and Drink Festival. While many of the events are based at the Town Hall, there is more than enough going on in the town to keep visitors and residents alike entertained.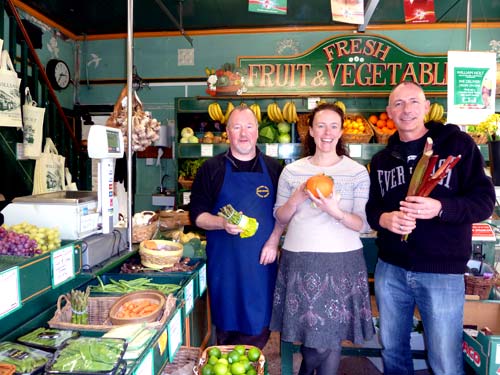 Highlights include a tasting trail around the town, taking in cheese, chocolate and chutney amongst other things, a wide range of cookery demonstrations, an Oktoberfest, competitions, markets, giveaways, special offers, and an opportunity to Meet the Producers of much of your local produce.

Event organisers, Amy Leader and Jason Elliott have recruited top demo chef, Phil Leverington (aka the Love Food Doctor) to help run a temporary four range kitchen at the Town Hall, kindly supplied by Intoto, where many of the cookery demonstrations will be held. "Phil is a master of this kind of thing, having run events all over the country" says Amy "and we were delighted when he agreed to participate."

Jason added, "Amongst the items on the demo timetable so far, there are classes in making piri-piri, cooking with liver, making buffalo and bison burgers, using spices in vegetarian cooking, baking gluten-free cakes, chocolate face-painting and much, much more. We are confident that having a full programme of these kind of micro-events will both inform and entertain, Phil being somewhat talkative!"
One of the highlights of the week is the Oktoberfest being held on Sunday 21st at the Town Hall where there will be beer and cider from some of our local producers; Slightly Foxed Brewing Company, Little Valley Brewery, Bridestones Brewing, Cuerden Brewing, Owenshaw Mill Brewery, the Real Cider Company and Haworth Steam Brewery. There will also be a German kitchen running throughout the day with foot-long frankfurters, pretzels, meat and cheese platters, sauerkraut and four different types of German cake for that authentic Octoberfest flavour!

Speaking on behalf of the event's lead brewer, Slightly Foxed, Simon Trapp said "With so many exciting micro-breweries in the area, each brewing with their own distinctive style, I'm surprised we haven't got together to do this before. I'm really looking forward to it and I'm sure it'll become a regular feature in the Hebden Bridge calendar."
For those who want to use more local produce, but don't know where to source it from, Calder Food Hub will be hosting a "Meet the Producers" event in the Town Hall on the Friday afternoon and evening, where people will have the opportunity to meet local growers, makers and rearers and taste samples of their wares.
"We have had lots of feedback from local retailers that they want to use more local produce, but don't know where to source it from" says Kath Baker of the Calder Food Hub. "We hope that this is the first of many events that connects local producers with local customers."
There will also be two special food and drink markets on Saturday 27th and Sunday 28th and a special one-off Street Food night market with gazebos in St Georges Square for al fresco dining.

For more information about the Hebden Bridge Food and Drink Festival, go to www.hebdenbridgefoodanddrink.co.uk
Previously, on HebWeb
Hebden Bridge Food and Drink Festival - 10 September 2012