New faces at Arts Festival
Monday, 22 October 2012
Hebden Bridge Arts Festival has appointed six new trustees as it prepares for its 20th anniversary next year.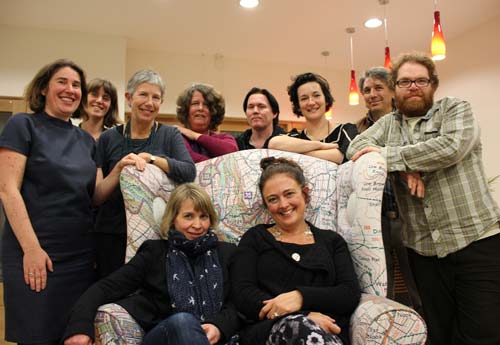 Ben Jancovich, Sian Rogers, Susan Burns, Chris Bradley, Sara Robinson
and Paul Clarke bring a wealth of arts community PR and curating
experience at a national level that will help the festival retain its
reputation as one of the UK's most innovative festivals.

"Our new trustees who all live in our community were appointed after a
rigorous interview process replacing Graham Packham, Dave Nelson,
Chris Ratcliffe and Miles Hutchinson who are stepping down, and we
can't thank them enough for their huge contribution to the festival
over many years," says Arts Festival Chair Maggie Holborow.

The new members have already met with long serving trustees Stephen
May, David Burnop, Jen Gibbons and Kate Kershaw to get on with
planning the ten day festival programme that kicks off on Saturday 22
June 2013 with the nationally renowned Handmade Parade, a
collaboration which began this summer and which the festivals plan to
turn into a mega-event in the park next summer
The first meeting took place in the Arts Festival's new HQ. "After a
decade in Albert Street we have moved into our office in the new town
hall so the board thought they should have their first meeting where
many of our events will take place," says Festival Artistic director
Helen Meller.
"It was an incredibly productive first meeting with the new trustees
acknowledging the fact that the festival is in very good shape, and
the board reaffirmed their commitment to reaching as many people in
the town as possible. "
The festival team are already planning a community event for next
month and intend starting to announce some of the acts for the 2013
festival bill in the new year.
More info:
Hebden Bridge Arts Festival – Helen@hbaf.co.uk or visit www.hbaf.co.uk
Handmade Parade – info@handmadeparade.co.uk or visit www.handmadeparade.co.uk