Incredible Edible Mytholm's Growing Futures Field Day
Monday, 18 March 2013
Easter Saturday, March 30th
Midday to 5pm, Update: Venue changed to Hebden Bridge Town Hall, Waterside Hall and Courtyard
Everyone welcome
Fancy an alternative Easter celebration? Then come to Mytholm Playing Field where Incredible Edible Mytholm will be launching ideas for an exciting community-owned, sustainable food business - Growing Futures.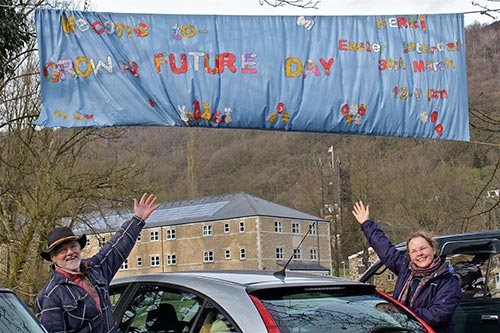 Kick off the day's activities at 12 noon with Nick from Incredible Farm, who will be planting up to 30 apple trees, weather permitting! Then come to the information tent and find out more about Growing Futures plans for the brownfield Mytholm Works site, and stir your own thoughts into the mix.
If that doesn't entice you, we will be rustling up some food made from fresh local produce from 1pm. So come along and find out what the Growing Futures would mean for residents of Hebden Bridge, the Upper Calder Valley and beyond.
The Field Day is a chance for everyone who likes food to get together and share ideas about what a fair and sustainable food system might look like, how best to educate and train young people in this topic, and how to make sure that people working in the food industry have decent working conditions and earn a living wage.
Growing Futures plans and drawings will be on display - at the heart of Growing Futures, we see an intensive, permaculture food growing project, in architect-designed biomes or growing halls. These will create an attractive profile for this "gateway" site to the town.
Linking out from the permaculture food growing project, there will be:
sustainable food education and training
retail market/distribution centre for the growing volume of locally-produced food
visitor attraction that builds on the Upper Calder Valleys existing draw for "veg tourism" and includes eco-themed music and arts venue and children's nature play areas
eco hotel and glamping site
Throughout the afternoon, visitors can share ideas and find out more from Incredible Edible Mytholm members and visiting speakers Charlie Clutterbuck, Barbara Jones and Tamsin Robertson (TBC). We want to know what you think!

From 2pm to 5pm, there will also be roundtable discussions with these speakers, about:
Permaculture food growing (Nick Green)
Sustainable food education/training and land-based employment issues (Charlie Clutterbuck)
The wider issue of green jobs and training (Tamsin Robertson, Otesha Project -tbc)
Permaculture/strawbale construction methods for Growing Futures' buildings attraction Barbara Jones of Strawworks).
And enjoy some HandMadeParade art.
Admission is free
Incredible Edible Mytholm could use help on the day with:
Live music - looking for volunteer acoustic musicians between 12-2pm - lunch provided!
Setting up and running food stalls during the afternoon (especially round tea time) - this would be for food groups who'd like to display and sell their food.
Anyone with ideas & resources for food-themed kids activities (CRB checked)
To volunteer, or for more info, please email the Incredible Edible Mytholm Secretary, Jenny Shepherd.

Previously, on the HebWeb
HebWeb Forum: New Supermarket and Hotel plan? (Oct-Nov 2012)
HebWeb News: Planners recommend refusal of plans (27 November 2012)
HebWeb Forum: Brown's site (July-Oct 2012)
HebWeb News: Public Meeting at Stubbing Wharf (October 2012)
HebWeb Forum: Brown's site (March-May 2012)