Wednesday, 19 June 2013

June is coming to Hebden . . . finally
Interviewed by Paul Clarke
After five decades in the business folk Legend June Tabor is finally coming to Hebden Bridge but as a jazz singer with her trio Quercus which might surprise her fans.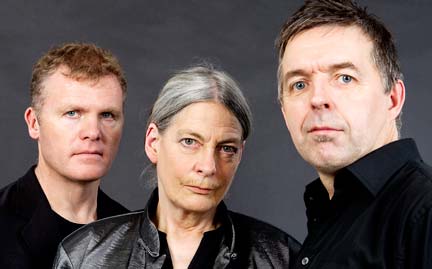 "Not really as I've been working with pianist Hugh Warren for 25 years now, and he comes from a modern, classical and jazz background, and over the years a lot of people I've played with have come from a non-folk background so this is just what I do," says June.
"I have no preconceptions about what musical background people should come from and the kind of material I approach is always mixed. It might be from traditional sources, modern song writing or it could be from a jazz background. The instrumentation I use for each song is to my mind whatever is appropriate for the song."
Quercus means oak in Latin and this rock solid trio is completed by sax virtuoso Ian Ballamy for their gig at the Birchcliffe Centre on Tuesday 25 June as part of Hebden Bridge Arts Festival. So what can her fans expect?
"It will be exactly as it is on the album so everything from traditional songs, contemporary songs, some jazz standards with absolutely superb playing from messers Warren and Ballamy.
"I'm always learning and if you work with good musicians then you learn something from them. It is just a sense of playing with people as I always do who are masters of their instrument and who can bring another voice and interpretation to the words, which are most important thing in what I do."
And for June it is the song that matters most and a classic example is her otherworldly take on Joy Division's post punk classic Love Will Tear Us Apart.
"What a song that is. That is the whole point of what I do, I'm an interpreter, I don't write so I just find good songs. They are always have to have good words and the lyrics of Love Will Tear Us Apart are fantastic.It is an entire relationship with its ups and downs,plus the absolute heartbreak of knowing something isn't going to work, all in 12 lines.
"Songs like that are ones that speak to me so I can transmit what the song gave me to the audience, and hopefully they are able to use their imaginations to paint their own picture."
June's commitment to her craft was recognised by her peers when she picked up the Best Folk Singer of the Year at last year's BBC Folk awards.
"I won in 2004 and to get it again with the Oyster Band project was great. I couldn't believe it and when I got home I put on the TV on and there it was on the red button 'June Tabor sweeps the board at folk awards'. I kept putting it on to see my name on the telly."
Hebden Bridge has kept the folk flame alive through thick and thin so it seems strange that June has never played here.
"Yorkshire is always a good place to play as the people give incredible attention to what you do and there is an enthusiasm for the music, and I've had some great concerts at the Square Chapel. I used to go the Bradford's Topic club and I'm really forward to finally coming to Hebden Bridge.
"The kind of work I do in a trio like Quercus is about being in good surroundings like the Birchcliffe Centre where the audience is given every chance to sit comfortably to concentrate on the music which I think we definitely get in Hebden Bridge which is great."
Tickets for Quecus on Tuesday 25 June are available from the Hebden Bridge Festival Box Office at the Town Hall (Mon-Sat 10am - 4pm /Sunday 12pm - 4pm) or online.
Previously, the Festival on the HebWeb