Tuesday, 16 July 2013
BROADCAST LIVE THEATRE AT THE PICTURE HOUSE
Something wicked this way comes
Macbeth to be broadcast live from the Manchester International Festival
Tickets update: Sold out.
Saturday 20th July at 8:30pm (doors 7:30pm)
National Theatre Live will broadcast Manchester International Festival's electrifying production of Macbeth, with Kenneth Branagh (My Week With Marilyn, Hamlet) in his first Shakespeare performance in over a decade as Macbeth, and Alex Kingston (Doctor Who, ER) as Lady Macbeth.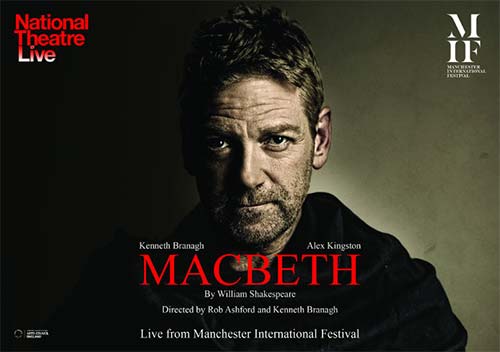 Directed by Olivier and Tony Award-winner Rob Ashford and BAFTA Award-winner Kenneth Branagh, this unique production of Shakespeare's tragic tale of ambition and treachery unfolds within the walls of an intimate deconsecrated Manchester church.
Advance tickets priced £15 (£14) available via We Got Tickets (booking fees apply) and from the Picture House during opening hours (no booking fees, cash only & no telephone bookings). All seating is unreserved.
Tickets are selling really well so please book as early as possible to secure a seat.
See last Friday's BBC interview with Kenneth Branagh
What they've said:
BBC: Kenneth Branagh's first appearance as Macbeth has confirmed him to be an "intemperately exciting Shakespearean actor" in what is a "great" production of the play, critics have decided.
Independent: Alex Kingston is an impressive Lady Macbeth and Branagh brings a terrific intensity of apprehension to the lead in a production that hurtles forward with just the right unstoppable momentum for a tragedy in which "what's done cannot be undone".
Guardian: Branagh has a crisp authority in Shakespeare. He whisks through the verse, refreshingly treating it as information rather than self-expression. He unpicks knotty passages and brings the meaning close to home, making the abstract seem immediate.

Previously, on the HebWeb
HebWeb News: The Audience live from Gielgud Theatre, London
2 June 2013